The American 14.6 is definitely one of the best small sailboats you can find. She is designed for the beginning sailor or those who are seeking a large, stable sloop that offers hassle-free sailing. This sturdy, deep-cockpit daysailer features a 6-foot 2-inch beam, fiberglass kick-up rudder, weighted fiberglass centerboard, and a large built-in storage compartment under the deck. The large cockpit offers room for four adults with generous freeboard, comfortable seats and backrest, and includes locations for drink coolers or a battery box at the end of the seats. The American 14.6 is also equipped with an advanced rudder system that can be raised or lowered from the cockpit and is designed to kick-up and spring down as necessary. The main and jib contain 112 square feet of Dacron sail which - combined with the wide beam, hard chine, and flat bottom hull - performs well in light breezes or a stiff wind. The wide flat bottom hull shape also allows for minimal draft with the board up, approx 4-6".
Other standard features include color-coded main and jib lines, simple up and down colored lines for centerboard control, and a tabernacle mast allowing for quick stepping and easy retrieval at the end of the day. Also included are motor mount bracket, hatch door for forward storage complartment, and a topping lift system.
This boat is constructed of hand-laid fiberglass with closed cell floatation and non-skid flooring in the cockpit. Anodized spars and Harken blocks among other quality parts assure years of maintenance free use for the new owner. The 700 lb. rated galvanized trailer, which includes a mast stanchion and winch, can easily be pulled behind today's smaller cars. Price package includes boat, sails, and galvanized trailer ready for a day on the water.
The American 14.6 is recognized as an extremely stable, roomy, dry, daysailer providing fun for all ages and we know you and your family will enjoy sailing this fantastic daysailer.
Contact us for a deal on a new daysailer for this season! Don't wait too long, with everyone wanting to get out of the water last year (social distancing at is best) we were backordered as much as 10-12 weeks much of the season. Get your boat on order now for delivery in the spring or early summer.
Specifications
Length
14 ft. 6 in.
Beam
6 ft. 2 in.
Max Draft
3 ft. 6 in.
Dry Weight
340.0 lbs.
Length At Waterline
13 ft. 5 in.
Keel Type
Centerboard
Draft Board/Drive Up
0 ft. 4 in.
Mast Height
20 ft. 6 in.
Working Sail Area
112 sq. ft.
American 14.6 Parts
Mast Raising Slide Show
Sours: https://www.americansail.com/products/boats/american-146
The First 14 SE introduces the world of modern racing skiffs to recreational sailors in an accessible, stable and easy-to-handle sport dinghy. She is designed to be sailed without trapeze, and you can easily adjust the sail area depending on the wind strength or crew size, without compromising sailing experience, thanks to two centerboard positions. This high-performance, fast and exciting sailing boat will directly connect you with the elements – the sea and wind. In addition, joining the One Design Class allows you to become a part of the largest recreational community of like-minded sailors. It enables you to test your skills on the racecourse and enjoy good company ashore.
Freedom on the water is enhanced with unique removable wheels that will allow you to explore distant shores without the need to return to the starting point. The most hidden, wild and beautiful beaches are now as easily accessible like never before.
On land, she is light enough to be transported on a car roof, so you can take her with you anywhere. Thanks to her flat bench design, she can be easily transported when turned upside-down, and her dividable mast and equipment easily fit inside the hull, so you can still fill your trunk up with your family's belongings.
COMMUNITY
The International Owners Community and events calendar enable owners to challenge themselves on long-distance sailing.
Joining the One Design Class gives you access to the largest recreational community of like-minded sailors. It enables you to test your skills on the racecourse and enjoy good company ashore.

Sours: https://www.beneteau.com/us/first-se/first-14-se
The Paine 14 – A Herreshoff – inspired daysailor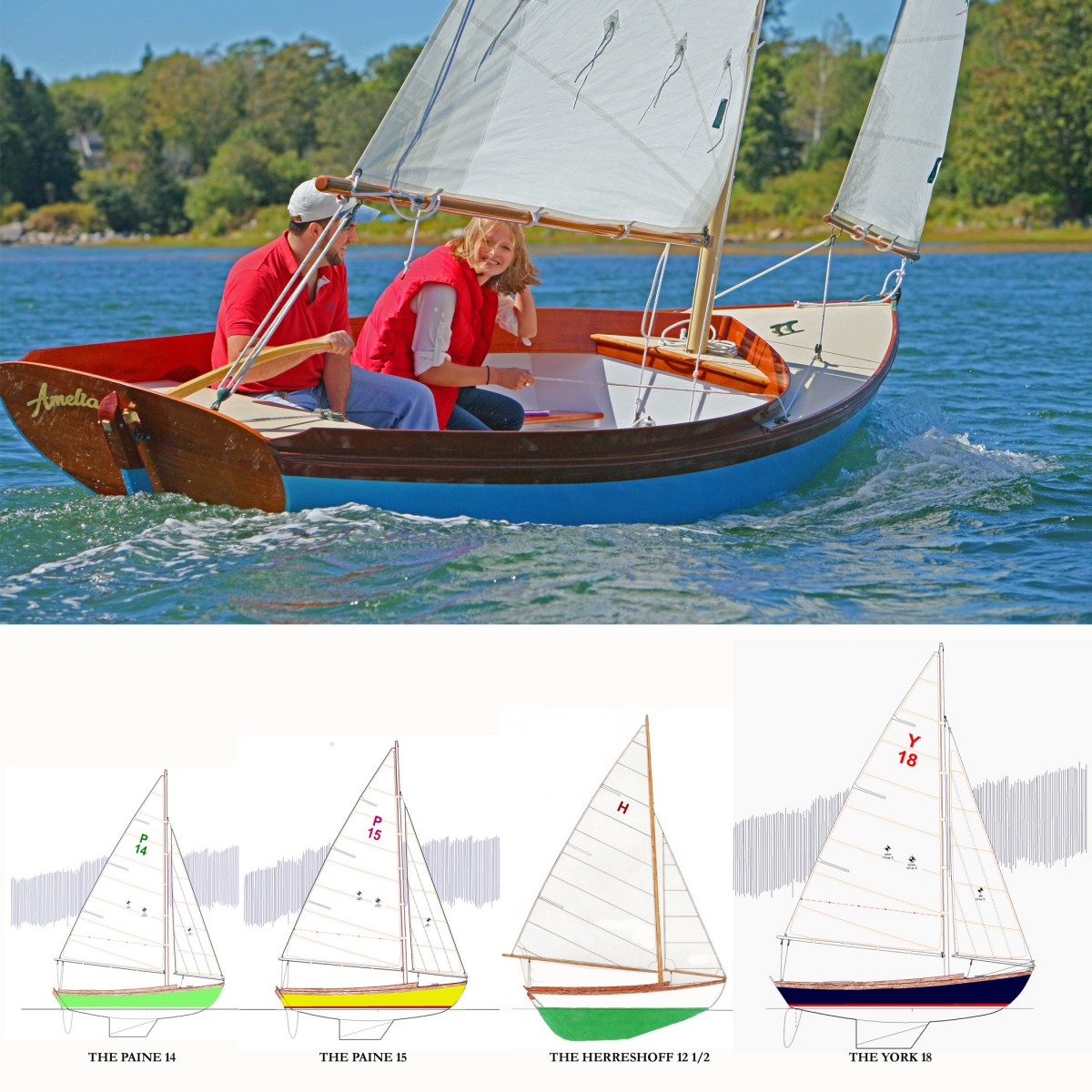 CHUCK PAINE's FLEET OF MODERN KEELBOAT DESIGNS. And their progenitor, the wonderful Herreshoff 12 1/2.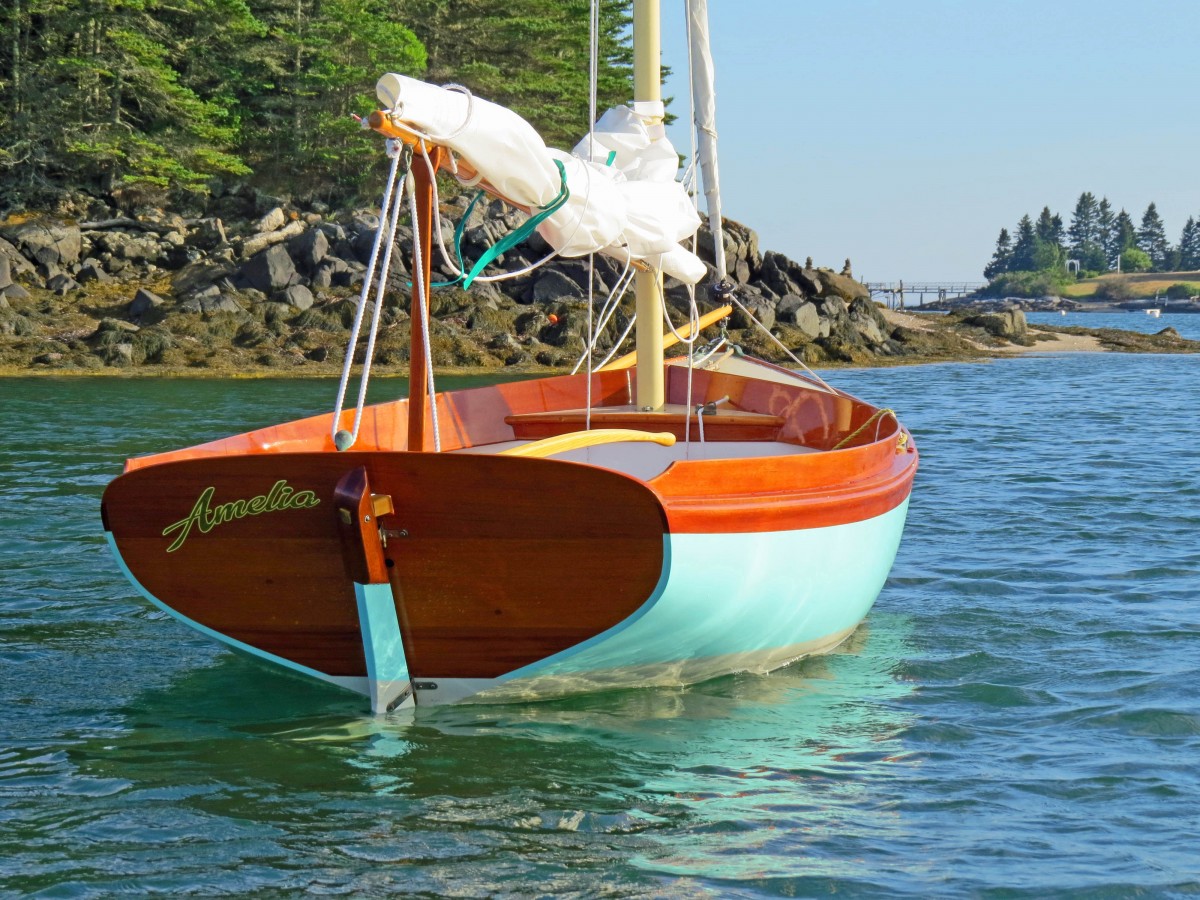 Unlike most centerboard boats of this size, she can be kept on a mooring.   Many centerboard boats will capsize in a squall.
Tired of owning and spending lots of money on a boat you never have time or available crew to enjoy? Read on. If you have a length restriction at 14 feet, this is the sailboat you'll actually USE. (It has been largely supplanted by the LEVANT 15, which is larger and faster and owing to investments made by its builder, even cheaper)  The PAINE 14 is a scaled-down adaptation of the venerable and much-loved Herreshoff 12 1/2, with a much lower wetted surface hull, fin keel, carbon fiber mast and separate rudder. They are now built in seamless epoxy cold-molded wood construction at French & Webb Boatbuilders, Inc. of Belfast, Maine. At approximately 10% smaller in length, breadth and depth, she preserves much of the "big boat" feel of her predecessor thanks to a lead ballast keel that accounts for nearly half her entire weight, but is optimized for easy trailering, maintenance, launch and retrieval, and home-stowage in your garage. The prototypes shown in these photos have been built and tested, many small refinements have been made, and the boat is now in a word, perfect. The PAINE 14 may be either gaff or marconi rigged though for quick setup and takedown and an edge in performance, the latter is preferable. The size of this design was chosen for its ability to be easily lifted and stowed on the deck of a motoryacht… without this limitation the larger Levant 15 and York 18 might probably be the better choices.
Want to know just how fast a PAINE 14is in light airs?  Watch the video below.  In her appearance she pays homage to her predecessor, Chuck Paine's 83- year old Herreshoff 12 1/2. Then you'll see that like the very best boats, she is so fast she "makes her own wind" when going to windward in light airs.
Amelia from Jim Dugan on Vimeo.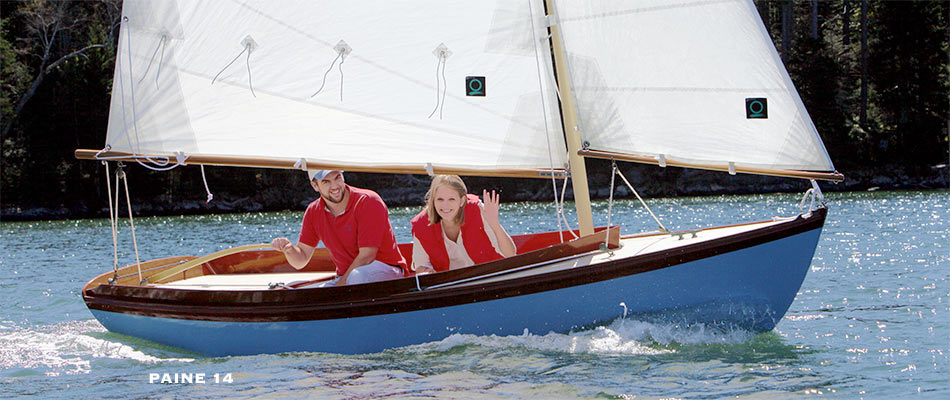 You just can't slow this beauty down! And even if you could make it go slow, it's gorgeous.
The PAINE 14is in every possible way optimized for trailering behind a standard-sized automobile or lifted by a yacht's crane or a canal-side boat lift. Her carbon fiber mast requires no stays and weighs with its halyards a mere 20 pounds, so it is as easy to deploy as that on a Laser dinghy. Easier, actually, as the sail need not be attached before stepping the mast, and is simply swung up into its Herreshoff-type mast ring, Iwo-Jima style. We have invented a nifty way to attach the mainsail to the mast very quickly… no tedious fitting of little slides to little tracks, so the boat can be launched and gotten going in a short amount of time.
STRAP OPEN

STRAP CLOSED
The simple Velcro-strap attachments render obsolete tracks and slides, and mast hoops, with all of their expense and tedium, and make short work of getting a small boat rigged and sailing.
AVAILABLE WITH "PAINE DVT" ROLLER- REEFING, SELF- VANGING SYSTEM!
The PAINE 14AMELIA was the first yacht ever fitted with the PAINE DVT jib-vanging system. Until now all jibs, and jibs set on jib-booms especially, had the annoying habit of losing effectiveness as the jibsheet is paid out. The jib clew would rise, rather than rotate around the headstay as one would prefer. When this happens the lower part of the jib becomes overtrimmed and stalls, while the upper part is let out too much and loses all its drive.
The PAINE DVT invention consists of a series of fiberglass battens, fitted parallel to the luff, and extending from the leech to the foot of the sail. These battens both stiffen the leech of the sail as do other battens, but in extending to the foot of the sail prevent it from rising.  (Note some other photos in this website show the conventional jib, which is also available).
The PAINE DVT at work.
Off the wind, the sail goes OUT, not UP!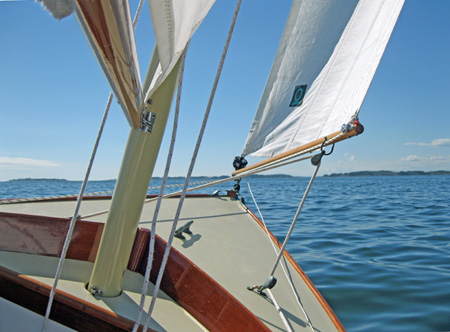 Note that the leech of the jib remains parallel to the luff even though the sheet has been let out
Even let out this much, the angle of the sail to the wind is nearly constant from foot to head.
Make no bones about it, though, inidividually hand-built by the few remaining American craftsmen with nearly half of its weight in cast lead ballast and lots of beautifully varnished (or painted)  mahogany trim, this is in every respect, including its construction cost and the need for yearly maintenance, a true yacht of the old school. But you don't need a mooring or a marina slip with this one, just a garage or boathouse.
MIND THE GAP!
This design has a balanced rudder, making it exquisite to helm. This means that some of the rudder blade area is forward of the pivot axis. This is great for the helm balance, but since the aft end of the boat has deadrise, as soon as the rudder is swung off-center, a gap opens up between the rudder and the hull. It's like a forward facing pair of scissors.
One week a few summers ago I took my friend Dennis sailing. It was blowing pretty hard, and just as I cast off the mooring a gust caught us on the wrong tack, forcing us to sail over the dinghy painter which was tied to the mooring float. Needless to say, in she went, and almost immediately we were tethered stern to wind, and a lot of it. The forces involved are huge. There was no choice but to wrestle the mainsail down- no small feat― and roll up the jib to remove the pressure. Then fish around underwater with the boom crutch to finally release the jammed rope, near the point of exhaustion. Not exactly a day of elegant relaxation on the water.
Then just to drive the point home we sailed over a lobster pot line an hour later and did the same thing all over again!
I was determined that this would never happen again. I considered the other ways that have been used to mitigate the problem: A windsurfer fin installed just forward of the rudder, or pieces of shock cord that stretch across the open maw- but neither is entirely proof against a jam for as we all know on a sailboat, if anything possibly can go wrong, it will! So I have invented an absolutely jam-proof solution to the problem. Since many other designs have the combination of a balanced rudder and veed hull, I offer my solution for your benefit. It will be fitted to all PAINE 14s and LEVANT 15s and YORK 18s and any similar yachts I might be asked to design in the future.
What I did was to swing the rudder off-center to its maximum possible turning angle. Then I extended the top of the rudder up until it just cleared the hull at this angle. Of course then when you articulate the rudder toward the centerline there is a hull in the way. This I carved away into a section of the surface of a cone, such that the top of the rudder just "sweeps" the concave cone with a paper-width of clearance- far too little for anything to force its way into the gap.
It works great. The amount of turbulence created by the little discontinuity is trivial. And no more embarrassing and potentially dangerous rudder jams!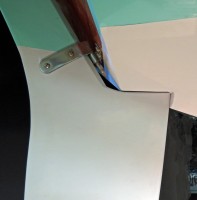 This shows the rudder on centerline.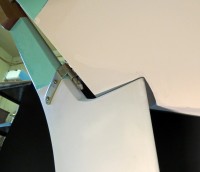 Swung all the way to one side, showing the absence of any gap.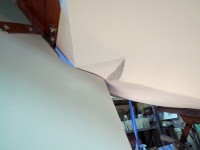 Showing it swung the other way. No way anything larger than a fishing line can get into the gap!
Dimensions
LOA
14′ 0″
LWL
11′ 2″
BEAM
5′ 3″
DRAFT
2′ 3″
DISPLACEMENT
860 lb
BALLAST (LEAD
395 lb
SAIL AREA
99 sq ft
D/L RATIO
271
SA/DISP RATIO
18.8
This is the loveliest sailboat you could ever own. It's hand-built, piece by piece, so only the most cogent sailors can justify owning one. But if you can, it will delight you until your final breath! What the world needs now is certainly not more boats―there's plenty of clapped-out junk out there―but manifestly far better ones that truly enhance their owners' lives. You can't give away old fiberglass boats today, and with good reason. But the few emergent classic sailing designs of obvious and lasting merit are the unique bright spot in boating that makes sense today―the only thing that is selling and rightly so―and the PAINE 14and its larger sisters the LEVANT 15  and YORK 18 are the most beautiful examples of this emerging phenomenon. We believe the times are right for small, classy, easy to get going and transport, investment quality manageable sized yachts that unlike virtually anything currently available in fiberglass, will be loved for its entire lifetime by its owner and left to his kids and by them to their kids. With reasonable maintenance, they're built to last that long.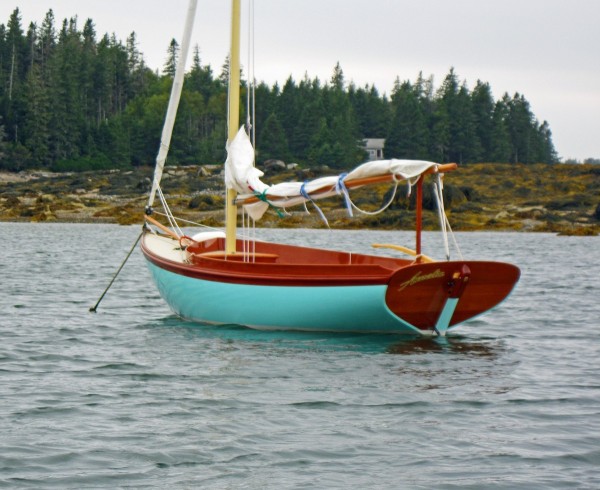 She's waiting… Whenever you're ready.
The boating field today is experiencing a wholesale "flight to quality" and flight from consumer-crap. Do we still really believe that a molded fiberglass hull glued to a molded fiberglass deck, with ugly extruded aluminum spars, no varnished wood, and not an ounce of lead to keep it upright, cheap as that may be to produce and sell, is a yacht? An intelligent few of today's water-lovers are choosing to spend their leisure time in something of intrinsic quality, beauty and unquestionable value. The PAINE 14and its larger sisters provide the sensible alternatives that truly enhance the lives of those privileged enough to afford time spent aboard her, and their classic design will endure long enough to become a family heirloom.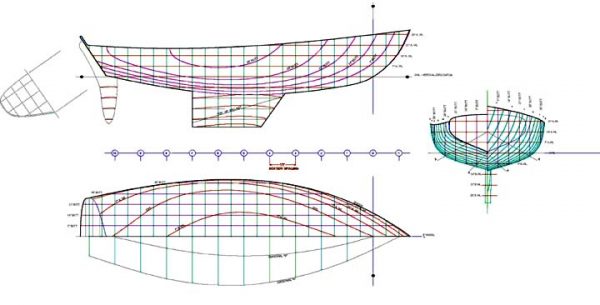 Shallow draft, heavily lead-ballasted, with moderate wetted surface and a NACA-foil laminar flow keel, the PAINE 14is delightfully fast and easy to handle, store, or trailer to a new destination every summer weekend.
A TRUE MINI-YACHT
In a single phrase, the PAINE 14is "A TRUE MINI-YACHT."  The yacht is light enough to be easily trailed behind a moderate sized automobile—no truck or SUV or surge brakes are required. The first one, named REDWING, was built in New Zealand.  The second one built―AMELIA, was built in America. Both now reside aboard motoryachts.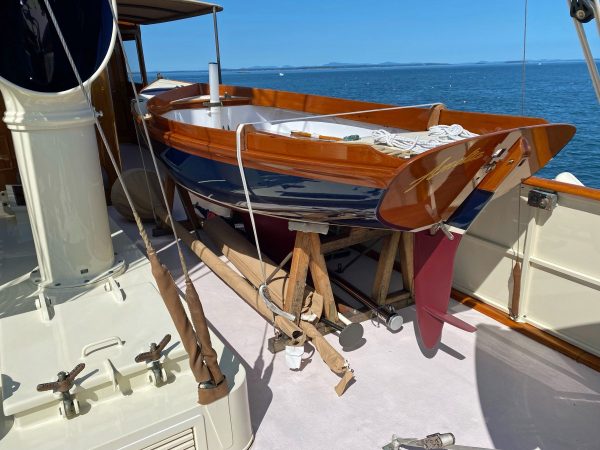 AMELIA aboard her mothership.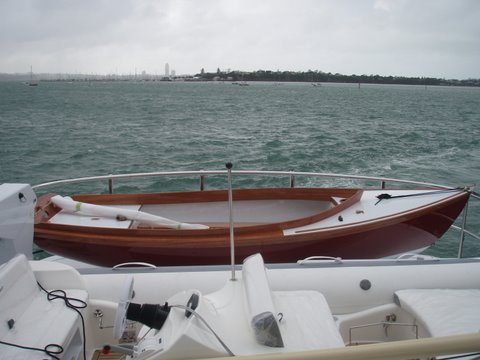 REDWING aboard her mothership.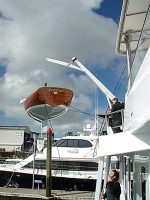 At roughly 850 pounds she is light enough hoist easily with a boat crane.
A custom-fitted galvanized trailer with integral tongue-extender makes launching and retrieving a snap. And at 860 pounds, they can be easily handled by most shipboard boat cranes. The carbon fiber mast requires no stays and is simply swung up into a bronze retainer fitting in a matter of seconds. Unlike a Laser, or any other unballasted dinghy, she is impossible to capsize, and easy to sail mile after mile without athletic ability. You sit "in" her, not "on" her, and there is no need for "hiking out"—you sit on bench seats with properly angled seatbacks (coamings) at just the right height. In enough wind, of course, she could be swamped but has forward and aft flotation tanks to keep her afloat. And in the off-season she fits right into your garage where you can perform the yearly maintenance yourself at near negligible expense, and proudly show her off to your dinner-guests. Or if you lack the time or skills to maintain her yourself, the boatyard fees to keep her in Bristol condition will be so trivial as to make you laugh at the folly of owning anything much bigger.
UNSINKABLE, AND SELF-RESCUING.
Just how safe is a PAINE 14? To find out we conducted an intentional swamping to show you. Would she turn turtle, or go to the bottom? Chuck tried to swamp her by standing on the gunwale and leaning out as far as he could, hanging onto the mast. At 180 pounds and rocking the boat violently, the coaming tops could not be gotten close to underwater. Only by bailing the ocean in could he finally swamp her. She floated with the lowest point of the coaming 10 inches above the surrounding water, and was very stable. You could sit in the boat all day long like this and she would not sink. Though like Chuck, you might eventually decide to bail her out, raise the mainsail, and sail away.
Will she sink?

Fully swamped.
You can watch a video of the intentional swamping by clicking here:
Amelia sinking
The performance of the PAINE 14is, as one might expect from her numbers, downright stimulating. The helm is nicely balanced in both light airs and heavy. Its acceleration in a puff is amazing―in less than a couple of boat lengths it accelerates to hull speed. With the full jib and a reefed main, it can handle 15 to 20 knots of wind. And in stronger winds, she can be sailed under complete control without the jib―an extremely rare capability amongst today's fleet of small boats. This is also helpful in picking up a mooring or coming alongside a dock or your larger yacht. You can roll up the jib first, clearing the foredeck and its mooring cleat of the nasty slapping jib-boom, and get safely cinched up with a clear field of view.
Those who have read Chuck Paine's books on yacht design will recall that one of his bugaboos in the latter years of his career was self-rescue. If you fall overboard from even a yacht of low freeboard like this, it is impossible to get back aboard. You can imagine the potential consequences. So Chuck made the decision that no future design of his would lack this important capability. The PAINE 14is fitted with a simple rescue step on the trailing edge of the rudder. You never know it's there until you need it. But if you ever do, you'll thank its designer a thousand times over.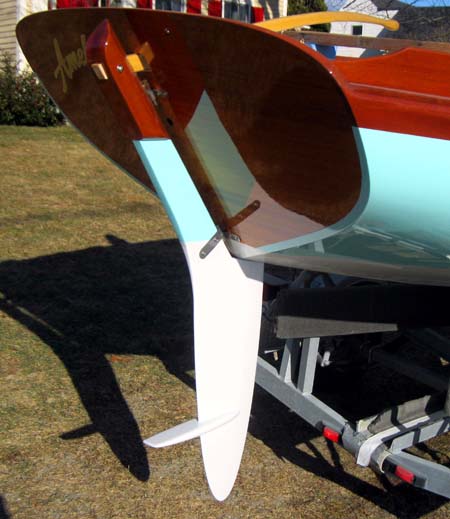 The beautifully crafted rudder with its integral rescue step.
ONE PERFECT POSSESSION
We believe the ethic of filling multiple houses, then rented storage containers with unloved and unused material objects, with all of the environmental damage and unserviceable debt that this might entail, is in precipitous decline. The wiser among us will build their future lives around ONE PERFECT POSSESSION. For thosewho revel in exploring remote locales without the noise and expense of internal combustion, it's time accept the reality of the 21st century, rid yourself of that unused leviathan you can no longer afford nor find crew to operate, and join the renaissance in easily usable sailboats of eternal beauty. Though far from cheap, you can commission a PAINE 14for what you pay in a few years' maintenance and storage fees for your unloved and unused thirty-something foot white elephant, and you'll actually USE your PAINE 14, as will your progeny!
The yachts are available only in hand-built epoxy consolidated cold-molded wood. In any case the yachts will be beautifully hand-finished with a great deal of painted trim or varnished hardwood to look as beautiful of those from the past century.  French & Webb custom boatbuilders in Belfast, Maine, now have the rights to build a sistership for you, at a price of between $80,000 and $90,000 depending upon specification. A custom-designed galvanized trailer with integral tongue extender will enable the yacht to be easily launched on reasonably angled ramps. Its price is US$ 4500.00 plus shipping to your destination from Raleigh, SC. (Prices may change owing to inflation).
Todd French and his crew would gladly enhance your life and that of your progeny by building another for you. D0n't hesitate― our federal reserve are seemingly unwilling to constrain inflation and the price will surely rise as a result.  Better to own and spend a lifetime enjoying a lovely sailing yacht today than have your wealth confiscated tomorrow.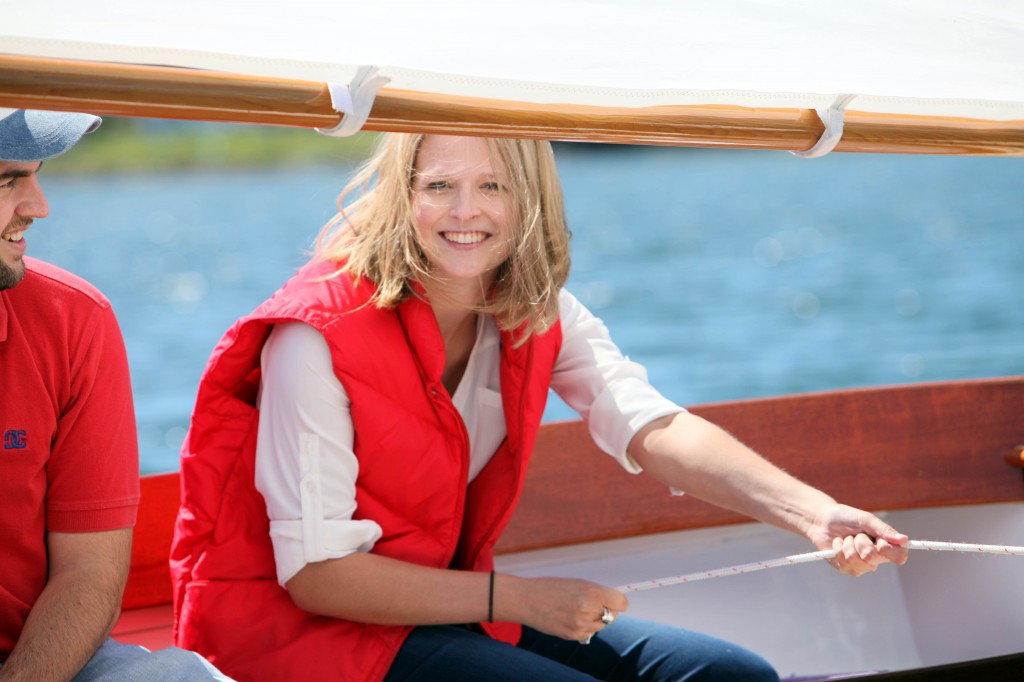 Take her sailing in your PAINE 14 and you'll make her smile.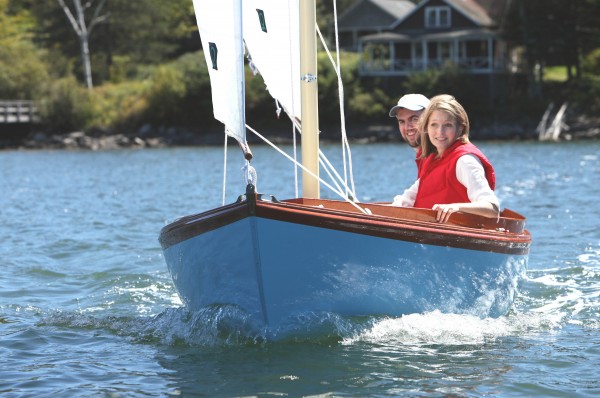 No need for hiking in your PAINE 14… just showing off.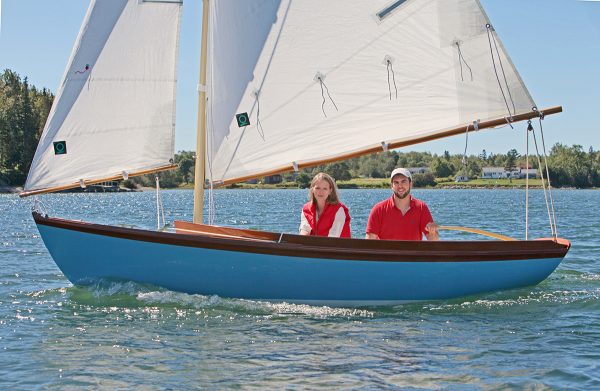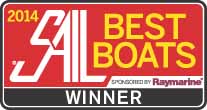 The editors of SAIL Magazine know excellence when they see it. The PAINE 14was chosen "Best Boats of 2014" in the daysailor category. FRENCH & WEBB of Belfast, Maine, builds the boats domestically, of WEST System cold- molded wood. Or if you live abroad you may hire your local boatyard to build one for you.
Click here to see what SAIL Magazine had to say:
http://www.sailmagazine.com/best-boats/sails-best-boats-2014-paine-14
Further information may be obtained from:
CHUCKPAINE.COM LLC  P.O. Box 114, Tenants Harbor, Maine  04860-0114
Phone: (207) 372-8147
Email: [email protected]
This design is featured in both of my recent books; MY YACHT DESIGNS and the Lessons they taught me, and THE BOATS I'VE LOVED- 20 Classic Sailboat Designs by Chuck Paine. Both are beautiful, full colored, first class books which give you lots more information on this design, and can be purchased on this website.
Click here to read more about the Paine 14
A full set of study plans is available for $25 emailed to you in PDF format.
PDF Study Plans: $25- no shipping, sent via email
Sours: https://www.chuckpaine.com/boats/paine-14-trailerable-sailboat/
Top 5 Small Sailboats / Daysailers Under $100K 2021-2022 - Price \u0026 Features
Lido 14 Sailboat, a W.D. Schock Exclusive
The Lido 14 Sailboat
A History
The Lido 14 sailboat is exclusively manufactured by W.D. Schock Corp.
Lido 14 history begins with Barney Lehman, boat builder and designer. Barney, best known for his Lehman series of dinghies, had been in development of a 14 foot version of his successful Lehman 10 when he sold his business to W.D. "Bill" Schock. Bill, a successful small boat builder, completed the work that Barney had started by creating a fractional sloop rig, increasing the boat's beam for stability, adding internal seat tanks for comfort and buoyancy, and providing a foredeck and a deck stepped rig rather than the Lehman's traditional keel stepping.
The year was 1958 and the location was Newport Beach, California. Newport Beach is one of the sailing centers of the nation, due primarily to the mild weather and the extensive sailing environs of Newport Bay. The bay, naturally created by the void between coastal bluff and a peninsula running along the Pacific Coast, was originally nothing more than sandbars and silt from estuaries. Dredging and development led to a navigable harbor containing eight islands, thirteen yacht clubs and boating associations, thousands of "cottages" large and small, nearly an equal number of boats, and 26 miles of shoreline. It is an ideal location for family sailing and served as the impetus to build a simple, fun, and comfortable sailing dinghy.
What followed is nothing short of spectacular. Within three short years, almost 1000 boats had been built. By 1970, with the total approaching 3000. Of these, a very large percentage involved in competitive racing around the nation. It was common for relatively minor regattas to have 60 or more boat and major regattas having limits of 100. As with all one-design boats of the era, the popularity of the Lido 14 peaked in the mid-70's. By 1980, the total number of boats constructed had risen to nearly 5000 but the number of new boats was quickly decreasing. A testament to the quality of the construction is that boats built in 1960 are still actively racing and will continue to sail many years to come given a little maintenance and loving care. Perhaps to the chagrin of W.D. Schock Corp., the availability of quality used boats sustains the popularity of the Lido 14, providing an unmatched entry into the wonderful world of small boat sailing!
Reference: Lido14.0rg
Sours: https://wdschockcorp.com/lido-14
Sailboat 14
Lido 14
Sailboat class
The Lido 14 is an Americansailing dinghy that was designed by Barney Lehman and W.D. Schock and first built in 1958.[1][2]
The design was derived from the Lehman 14.[2]
Production[edit]
The design is built by W. D. Schock Corp in the United States. When it was introduced it became a quick commercial success, with 1,000 boats completed in the first three years and almost 3,000 by 1970. The success of the design was instrumental in the company expanding to become a major builder of sailboats. A total of 6,100 boats have been completed and it remains in production.[1][2][3][4]
Design[edit]
The Lido 14 is a recreational sailboat, built predominantly of fiberglass, with wood trim. It has a fractionalsloop rig, with gold-colored anodizedaluminum spars and a loose-footed mainsail. The hull features a spooned plumb stem, a near-vertical transom, a transom-hung rudder controlled by a tiller and a retractable centerboard that is raised with stainless steel straps. Both the rudder and centerboard are made from foam-cored fiberglass. It displaces 310 lb (141 kg) and has positive flotation under the seats and in the bow compartment.[1][2]
In 1995 the boat was redesigned with a new two-piece mold to simplify construction, plus many other changes.[1]
The boat has a draft of 4.25 ft (1.30 m) with the centerboard extended and 5 in (13 cm) with it retracted, allowing beaching or ground transportation on a trailer.[1]
For sailing the design is equipped with a 2:1 mechanical advantageouthaul and a boom vang. The jib has a padded eye for a whisker pole, which is a factory option, along with hiking straps.[2]
The design as used as a one-designracer and has a Portsmouth Yardstick racing average handicap of 99.6. It has a large cockpit that can accommodate six adults, but it is raced with a crew of two sailors.[2]
Operational history[edit]
In a 1994 review Richard Sherwood described the boat as a "child's boat, racer and sailer. The Lido 14 evolved from the earlier Lehman 14 via a rather complete redesign including sheer, seats, foredeck, and sail plan. The cockpit length allows for six adults on full-length seats. The seats, with a bow compartment, provide flotation. Only limited modifications are allowed for racing, as the intention is to keep Lido a simple, limited boat."[2]
See also[edit]
References[edit]
External links[edit]
| | |
| --- | --- |
| | Wikimedia Commons has media related to Lido 14. |
Sours: https://en.wikipedia.org/wiki/Lido_14
Capri 14.2 Rigging Guide
Best Daysailers Under 20 Feet
See more articles
Small daysailers can offer daytime rides that match an array of aesthetic sensibilities, budget caps, and requirements for portability, security, speed, and alternate propulsion.
The term daysailer is a tricky one, because any sailboat can head out of the harbor for a daytime sail, even those equipped to cruise overnight or for longer periods. Yet when your sailboat is shorter than 20 feet, you'll usually find it's easier to get underway, easier to handle under sail, and cheaper to buy and maintain. If that sounds like good value to you, take a look at our list of some of the best true daysailers we know of.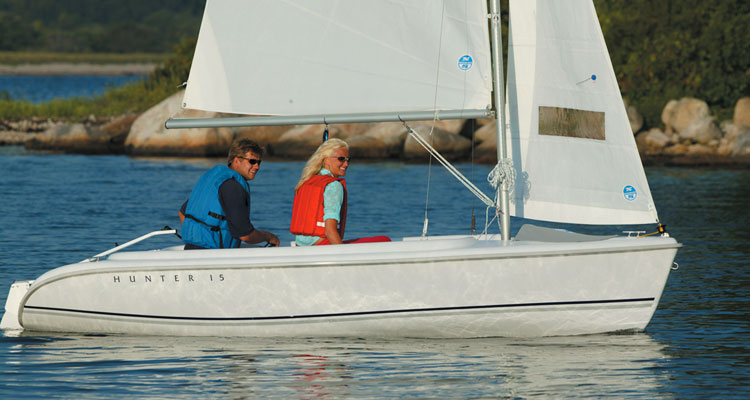 The Hunter 15 is easy to own, and fun to sail.
Hunter 15
If you're looking for an affordable, new, low-maintenance knockabout for teaching your kids to sail, the Marlow-Hunter 15 may be your best bet. With fiberglass construction and high freeboard, you can do a lot to this boat without capsizing, breaking it or falling out of it.
The 15's self-bailing cockpit means that shipped water can find a fast exit, and the wide beam will keep her steady no matter what crazy jibes or crew-weight shifts happen along the way. Up to four can sail together and at the end of the day, you can store it on a trailer in your garage. Best of all, there's no wood to varnish and Marlow-Hunter can get you out on the water with a new boat for right around $10K.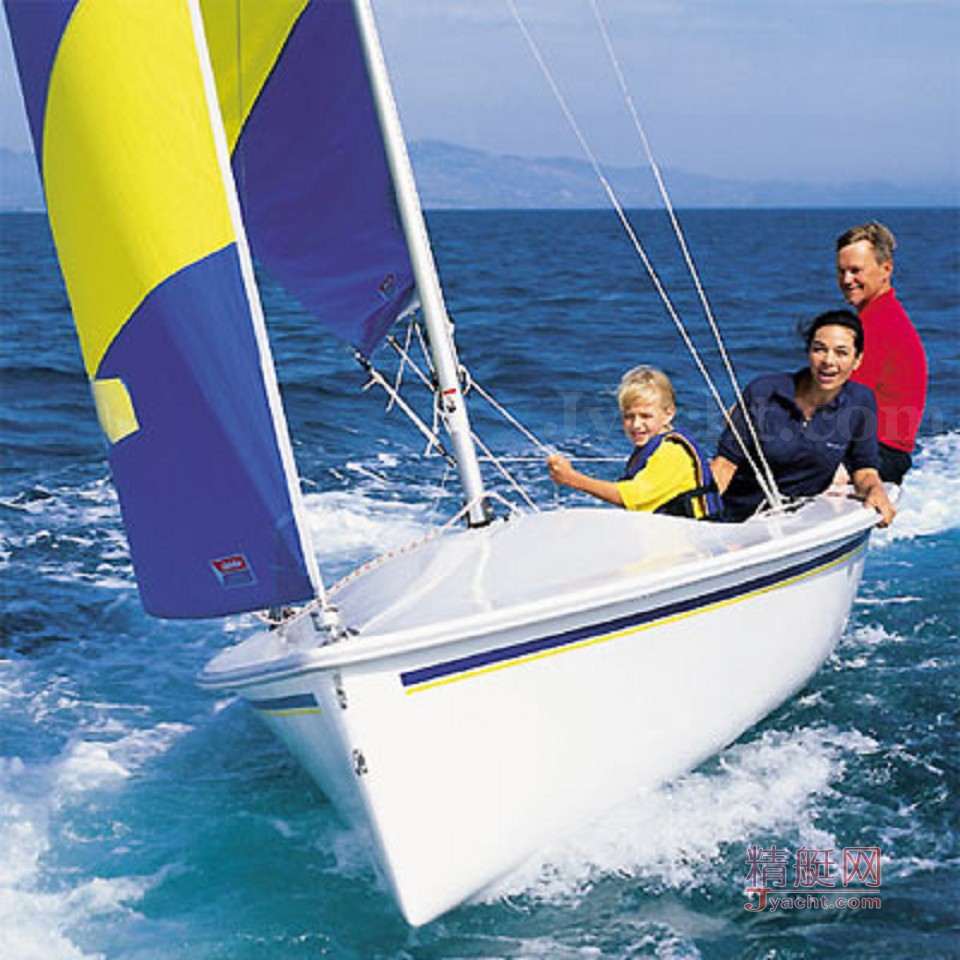 The Catalina 16.5 is a classic example of a daysailer.
Catalina 16.5
Catalina Yachts may be known for their larger cruising boats, but they build plenty of small ones, too. The Catalina 16.5 is a hand-laminated fiberglass sloop that's one of their most versatile and can be purchased with a choice of centerboard (draws 5" with the board up) or a shoal-draft keel (4'5"). Buy the centerboard version if you need to store on a trailer; the lead-keel version has the stability to remain parked at the dock or on a mooring.
Like all boats built by Catalina, this 16'4" boat has a huge self-bailing cockpit. Forward, there's stowage space and a waterproof hatch. Standard equipment includes hiking straps and a tiller extension, so you can get out on the side deck for good visibility forward and a bit of spray in your face. New boats are priced in the $10,000 range.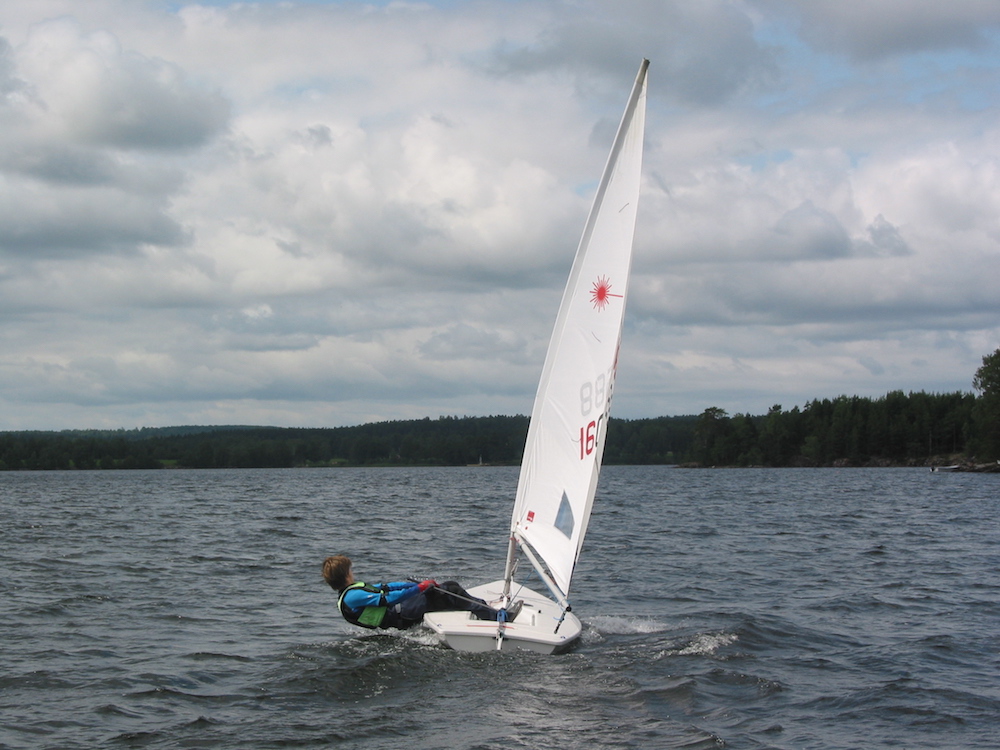 Bring out the competitive daysailer in yourself, with the Laser.
Laser
For exercise and adrenaline rush in a breeze, or just plain smooth sailing in lighter winds, the 13' 10" Laser dinghy is a great choice for one or two adults. That's assuming you're OK with the fact that the fiberglass boat's light weight and powerful sail makes it easy to capsize—as well as recover.
The Laser is raced as an international sailing class; competition ranges from Olympic sailing championships to simple club races. However, most of the 200,000 boats that have been built over the years are simply sailed for fun, in part because the 1969 design has a single sail, a two-part mast, daggerboard and kick-up rudder that make it relatively easy to store, transport and launch. Builder LaserPerformance sells new boats for less than $7K, and also offers different sized rigs and sails, plus spare parts. As you can imagine, used boats are also readily available.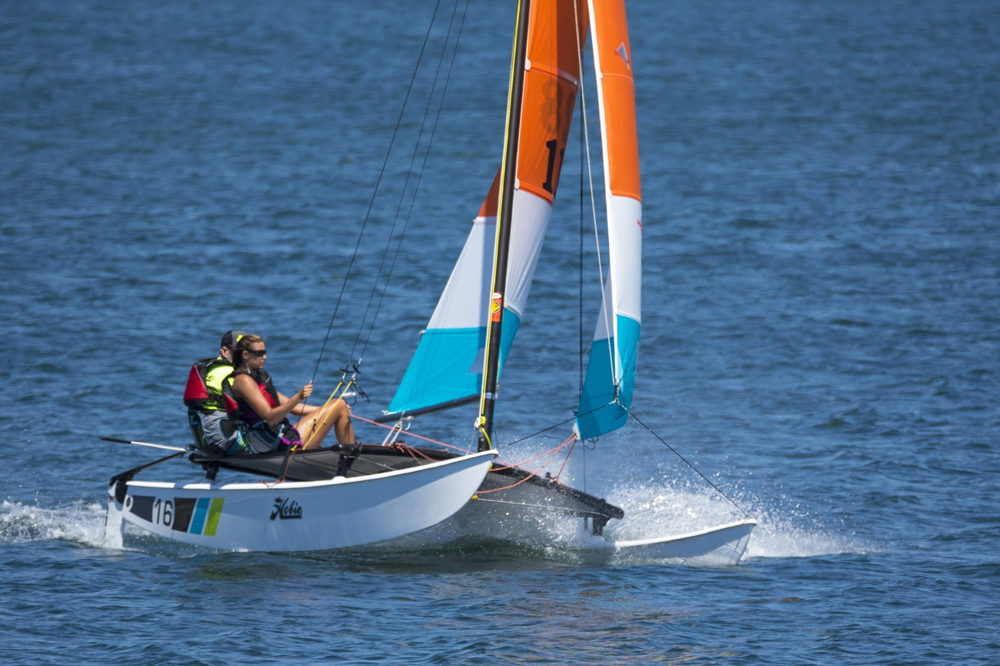 The Hobie cat is famous for fun in the sun—and in the water.
Hobie 16
Another long-lasting design with a great turn of speed and space for four on its trampoline is the Hobie 16 beach catamaran. More than 100,000 of these have been launched since 1969 when they made their debut in Southern California. The Hobie 16 is trailerable, can carry a crew of four, and weighs only 320 pounds.
The 16's asymmetric fiberglass sandwich hulls have kick-up rudders, which means you can sail the boat all the way up onto the beach. The jib and main provide a sail area of 218 square feet. Equipped with a spinnaker, douse kit and trailer, the boat comes with plenty of high-speed gear for the money (roughly $12,000 new) and she's a fun toy that your kids (and you) won't tire of all summer.
The Hobie Cat Co. sells new boats and you'll find both new and used for sale on boats.com.
For a smaller, simpler and more durable Hobie, try the 13-foot Hobie Wave. It's a lower performance design but still plenty of fun. It's fitted with a boomless mainsail and roto-molded hulls for about half the price of the fiberglass 16.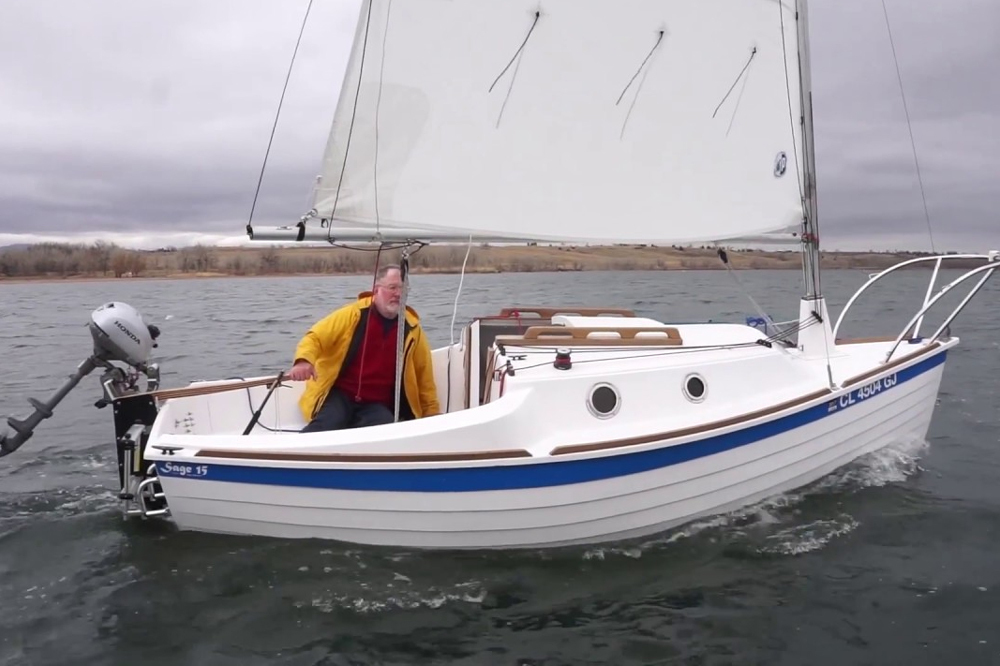 Here's a design for which we stretch the definition of a daysailer, since the Sage 17 doubles as a pocket cruiser.
Sage 17
Designed by Jerry Montgomery in 2009, the Sage 17 is a stable little go-anywhere sloop.Solid no matter where you stand, the boat has a carbon-fiber deck, cabin roof, and transom, with balsa core in the horizontal deck areas. All of that is mated to a faux-lapstrake fiberglass hull made with vinylester resin. The result, according to her designer, is a 1,300-pound boat that is lighter and faster than his '70s design, the very popular Montgomery 17.
The Sage 17 sells with a loose-footed main and a working jib that sheets inside the lifelines, but can also carry outboard genoa tracks for optional, larger headsails. There's a 400-pound lead keel and a 120-pound centerboard and a kick-up rudder that won't leave you stranded when sailing in skinny water. The draft is 1'9" with appendages up and 3'11" when down. Below, there's a V-berth and sitting headroom, plus a range of cruising options that include a great day-sailing feature, a portable MSD. Pricing is in the $25K range.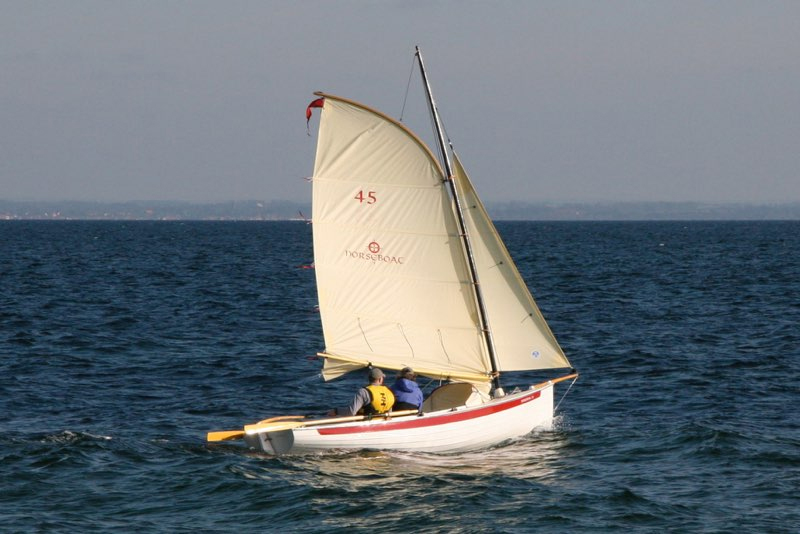 The NorseBoat is one of a kind, and can be both sailed or rowed.
NorseBoat 17.5
Here's something completely different—a boat that bills itself as the "Swiss Army Knife of Boats" because you can sail it or row it. With traditional styling, the NorseBoat 17.5 is a performance boat whether human or wind-powered that features two rowing stations and lots of room to stow stuff.
The mast and sails are an option, although it would hard to daysail without them. New boats are offered with sailplans featuring a fully battened mainsail set either on an unusual curved gaff or a rigid headboard. The mast is free-standing and made of carbon fiber, and you can also set the optional furling headsail from the sprit. For maximum ease of use, you can trailer the boat and store it in your garage.
The NorseBoat 17.5 sells for about $20,000. It has a fiberglass hull with a lot of sheer (to make it easier to row) and an optional varnished ash cockpit. You can also have a hand-crafted wooden tiller, 90-inch spruce oars and seats that you may find on a sculling boat. So if there's wind you can sail and when you feel the need to exercise, you can row it in a nice straight line all up and down your lake, river or bay.
If this style of boat appeals, you might enjoy 7 Ultimate Camping Cruisers: Back to Basics Boating.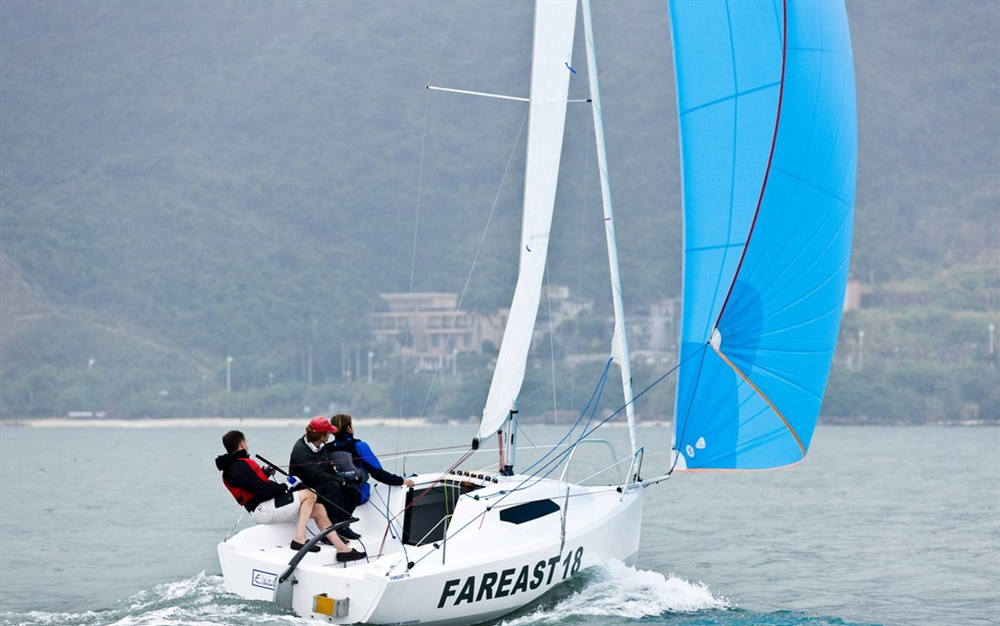 With overnighting abilities one could argue the FarEast is more than a daysailer, but it's still quite small and easy to handle.
FarEast 18
Built in China, the FarEast 18 is a 19-foot Simonis Voogd design that emphasizes high speed with low maintenance at a relatively modest price. It carries a square-top fully battened mainsail and a sprit-flown asymmetrical spinnaker. A kick in the pants for buoy racing, this daysailer can compete with six crew, but will also sleep three below if you decide to stay out overnight.
The boat features a contemporary bulb keel with carbon structure, vacuum-infused foils, a vacuum-infused fiberglass/foam-core hull, and a contemporary bulb keel that combine to deliver plenty of punch at any point of sail. Best of all, the FarEast 18 can be rigged and launched by one person. And with a displacement under 1,500 pounds, you can trailer this high-tech sailboat easily. With the rudder off and the keel retracted, the boat will float in only one foot of water. If you'd like to read more about it, see the Fareast 18 review on our UK sister-site.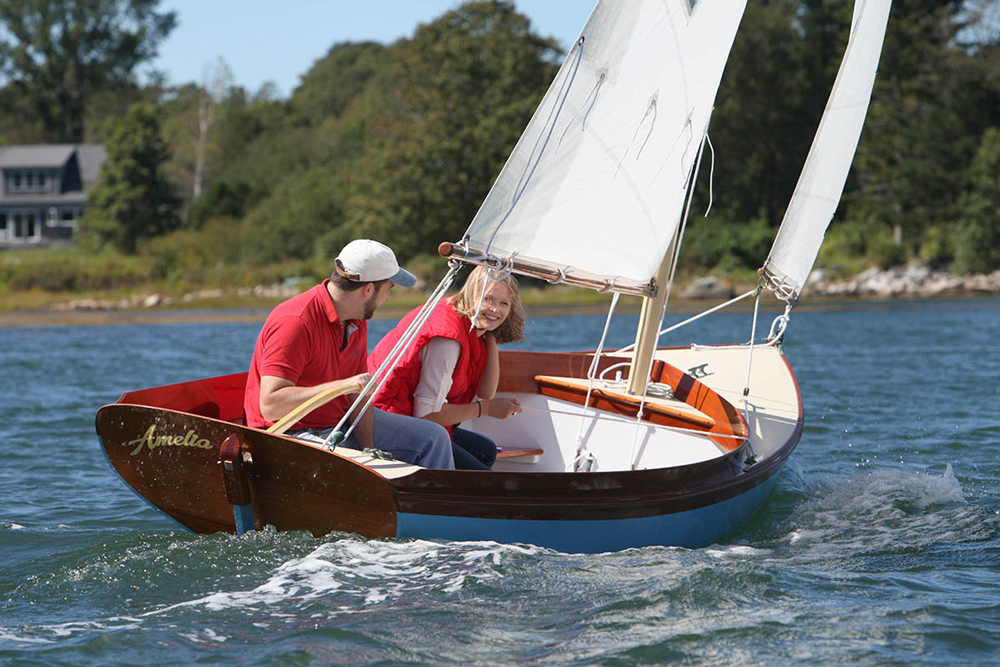 The Paine 14 is ready, if you want to enjoy some painless daysailing.
Paine 14
If you want a classic beauty with up-to-date performance, look at the Paine 14, named for its well-known designer, Chuck Paine, and styled purposely after the century-old Herreshoff 12 1/2, e. The Paine 14 is scaled down—about 10 percent smaller in all dimensions—and lighter. With a modern fin keel and spade rudder, she'll sail faster and be more agile, yet she maintains stability with a lead-ballast keel close to half her overall weight.
Built of cold-molded wood/WEST epoxy, the Paine 14 looks like a boat your dad might've sailed as a kid. With varnished gunnels and transom, this boat has old-time appeal. But Paine gave her modern features including a carbon mast and a new way to attach sails so the boat is ready to sail in minutes. The Paine 14 may be rigged with either a gaff or Marconi rig and can be trailered behind a standard car.
On the other hand, maybe you find your eyes straying to the original Herreshoff 12 ½, which was designed by Cap'n Nat Herreshoff in 1914 and remains one of the most beautiful daysailing classics on the water. The 1,500-pound gaff-rigged sloop is 15'8" long (12'6" on the waterline) and extremely stable thanks to its beam and full lead keel. The H Class Association can fill you in on the rest.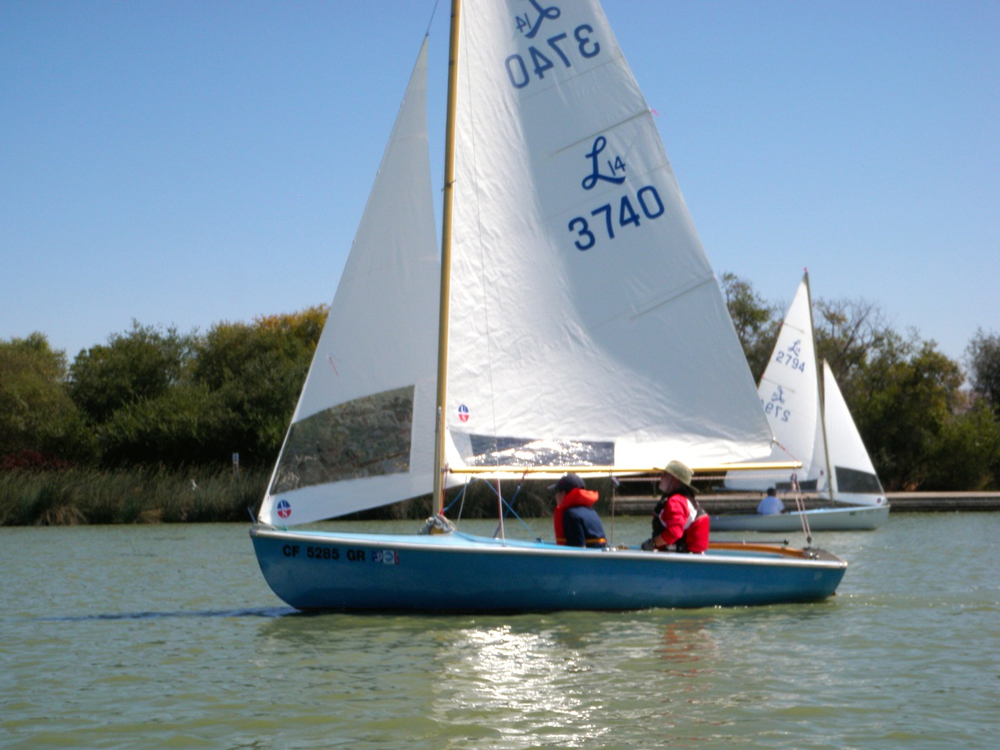 Designed by W.D. Schock in 1958 in response to the earlier Lehman 14, the Lido 14 taught generations of sailors what to do and not do in the course of learning to sail.
Lido 14
Most sailors learned to sail in a daysailer, and this article's author has a soft spot for the Lido 14 because that's what she learned to sail on. In fact, my first outing on a Lido 14 included an impromptu swim as we turtled the boat (i.e. when the mast is pointing the wrong way). We then had to swim and pull the boat to shore to bail it out.
The small boat has seating for six but can be singlehanded and even raced short-handed. Two hundred boats were ordered the first year the model was launched, and 40 years later, approximately 6,300 Lido 14s had been built. Today, although new boats are no longer available, you can easily find used boats for sale, a very active owner's association and lots of one-design racing in different parts of the country.
To expand your search for daysailers and bargain sailboats, we recommend reading Best Daysailers, 20 Feet and Up and 10 New Bargain Sailboats: Best Value Buys. You can also do a wide search of daysailer listings from sailing dinghies on up.
Written by: Zuzana Prochazka
Zuzana Prochazka is a writer and photographer who freelances for a dozen boating magazines and websites. A USCG 100 Ton Master, Zuzana has cruised, chartered and skippered flotillas in many parts of the world and serves as a presenter on charter destinations and topics. She is the Chair of the New Product Awards committee, judging innovative boats and gear at NMMA and NMEA shows, and currently serves as immediate past president of Boating Writers International. She contributes to Boats.com and YachtWorld.com, and also blogs regularly on her boat review site, TalkoftheDock.com.
Related Articles
View All
Best Daysailers, 20 Feet and Up
Sea Ray 205 Sport: Best-Selling Bowrider Over 20 Feet
Best Boat Brands
Sweet Feet
Best Sailing Watches
Best Boats Under 25k
Best Pontoon Boats
Best Starter Boats In 2021
Sours: https://www.boats.com/reviews/best-daysailers-under-20-feet/
Now discussing:
.
120
121
122
123
124