Polymorphous low-grade adenocarcinoma of the upper lip with metachronous myoepithelioma of the buccal mucosa
Examples of multiple minor salivary gland tumors, synchronous or metachronous, are uncommon. We report a patient who initially presented with polymorphous low-grade adenocarcinoma (PLGA) and subsequently with myoepithelioma. A 91-year-old white woman presented in 2009 with a 1-cm, firm, nontender, well-circumscribed nodule of the left side of the upper lip extending to the anterior buccal mucosa. Excisional biopsy revealed PLGA. While the margins were positive, further treatment was not recommended due to the patient's age. In 2011, the patient returned with a 1.5-cm, asymptomatic mass of the left buccal vestibule. Excision of the lesion revealed a circumscribed proliferation of epithelioid and plasmacytoid cells arranged in spherical or whorl-like islands and immersed in a mucinous stroma, consistent with myoepithelioma. The PLGA recurred 3 years after initial diagnosis. Excision was again associated with positive margins, and again no further treatment was recommended. A few months later, at a scheduled follow-up appointment, she presented with a painless nodule of the left upper lip, consistent with recurrent PLGA. One month later, the patient died of unrelated causes. We also present a literature review of multiple minor salivary gland tumors.
Sours: https://pubmed.ncbi.nlm.nih.gov/24268388/
Address:
515 Delaware Street, SE
7-368 Moos Health SciencesTwr
Minneapolis, MN 55455
Attn: Advanced Education in Periodontology
Chair
Daniel D. Skaar, DDS, MS, MBA
[email protected]
Postdoctoral Director
Flavia Lakschevitz, DDS, PhD, MSc
612-625-9107
[email protected]
Predoctoral Director
 Elham Akhlaghi, DDS
612-626-0440
[email protected]
Dean
Keith Mays, DDS, MS, PhD
612-624-2424
[email protected]
Website:
www.dentistry.umn.edu
University of Minnesota participates in the Postdoctoral Dental Matching Program for Periodontics
Application Deadline:
August 1
Application Fee:
Applications accepted through PASS, we participate in MATCH program
Start Date:
3rd week of May
Accreditation Status:
A - Approval Without Reporting Requirements
Number of Faculty Members:
4 full-time; 6 part-time (9 faculty members are board certified)
Accept students not trained in a US or Canadian dental school?:
Yes
Length of Program in months:
36 months
State License Required:
No
Degrees/Certificates Offered:
Certificate in Periodontology, option for MS or PhD in related fields
Prerequisites:
DDS or DMD Degree, International student are required to submit a TOEFL > 102
Tuition per year:
Tuition and fees $20,288, 1st year, $23,729, year 2 and 3
Instruments & Equipment:
$4,208 per year
Salary and/or Stipend:
$7,700 1st year, $9,832, 2nd and 3rd year
First Year Enrollment:
3
Ratio of Acceptances to Applicants:
1:10
Specific Training and Duration of each in hours:
Pathology 35; anesthesia 45; implants variable 40; nitrous oxide variable 4; IV sedation variable 60
Hours spent in Clinical patient treatment:
28 per week
Type of Implant System Taught:
Astra, Nobel Biocar, Zimmer, 3i
Number of Implant Cases Completed per Residency:
15-50+ cases with 50 - 100 implants placed
Percent of Time spent in courses/lectures/seminars:
25%
Percent of Time spent in research:
15%
Percent of Time spent in clinical:
55%
Percent of Time spent in teaching:
5%
Clinical Setting:
Dental school
Associated Hospitals:
Fairview-University of Minnesota Hospital
On-Call Arrangements:
Yes, on a rotational basis.
Average Number of Surgical Procedures per residency (excluding implants):
150-250
Average Number of Cases completed per residency:
80-125
Research Requirements:
Mentor directed research project with MS or PhD thesis
Residency Programs available in other Dental Specialties:
GPR, Oral Medicine, Oral Pathology, Oral Prosthodontics, Orthodontics and TMD
Sours: https://www.perio.org/education/MN-UMN.htm
Here's a summary of the most important stuff about our General Pathology (DDS 6253) course for Summer, 2021.
Syllabus
You can download a copy of the current syllabus here.
Objectives
General Pathology will give you a basic understanding of the foundational aspects of pathology, such as inflammation, tissue repair, and neoplasia. This will prepare you for the Systemic Pathology course given in the fall semester of the D2 year, as well as for your Oral Pathology course.
Director
The Course Director is Kristine Krafts, M.D. Please feel free to email me at [email protected] with any questions you have regarding the course.
Textbook
The textbook used in this course is Kumar V, et al (eds): Robbins Basic Pathology, 10th ed., Philadelphia, WB Saunders. It's totally optional; so you should use it however it benefits you. You might find it useful to reinforce the content you receive in lectures. Then again, you might just have enough to read, in which case, you can focus on the lectures (and the lecture ppts), and you'll be fine.
Lectures
Our lecture schedule is on the lectures page.
Assessments
There are three quizzes spaced fairly evenly throughout the course (dates and times are on our lectures page). We'll use Zoom for these sessions, and we'll do the quizzes using Kahoot – that way I can see how you guys are doing, and address any issues right then and there. There's just one exam at the end of the course.
Grading
Quizzes 1 – 3 are worth 15 points each, and the exam is worth 50 points, for a total of 95 course points. Your quiz and exam scores will be added together (no weighting or anything, just a straightforward point total). Your point total will be compared to the total course points, and grades will be determined as follows:
A = 90 – 100% (85 – 95 points)
B = 80 – 89% (76 – 84 points)
C = 70 – 79% (66 – 75 points)
Grades will be posted on Canvas.
Sours: https://dentalstudentpathology.com/about_general_path/
ENT Pathology: Oral Pathology Slide Seminar w/ Dr. Wenig
Oral & Maxillofacial Pathology Biopsy Service
We Diagnose. We Treat. We Teach.
We are the University of Michigan Oral & Maxillofacial Pathology!
ABOUT
For over 60 years, the University of Michigan School of Dentistry has been home to the Oral and Maxillofacial Pathology Biopsy Service composed of board-certified faculty members with extensive training in the clinical, radiographic, and histologic interpretation of lesions occurring in the head and neck area including the oral cavity and the jaw bones. Because of our educational focus, our pathologists are able to apply relevant clinicopathologic correlations to help ensure accurate diagnoses and recommendations for disease management based on contemporary standards of care. As members of an academic medical center, we provide you and your patients an oral diagnostic service based on latest research and innovation in health care.
Pathological diagnoses are faxed or mailed within 24 hours of soft tissue specimen receipt, with exceptions for hard tissue, special stains, direct immunofluorescence studies and cases sent on consult. We accept most medical insurance carriers and bill the patients directly. We serve the needs of clinicians throughout the United States.
SERVICES
Our histopathology laboratory offers a wide range of diagnostic services that address the needs of dentists, oral and maxillofacial surgeons and other dental specialists. These services include:
Standard tissue processing
Immunofluorescence testing
We perform direct immunofluorescence studies on specimens where additional testing is needed for a definitive diagnosis of a mucocutaneous disorder such as mucous membrane pemphigoid, erosive lichen planus, or pemphigus vulgaris. Please note that immunofluorescence testing requires the submission of specimens in formalin as well as Michel's or Zeus solution which is available free of charge, by contacting our service.
We are available to discuss patient biopsy results and "next steps" after diagnosis including expedited referral to University of Michigan Oral and Maxillofacial Surgery.
For direct patient evaluation and management as well as CBCT interpretation please contact the Dental Faculty Associates.
TEAM
Our five pathologists are Diplomates of the American Board of Oral and Maxillofacial Pathology and provide diagnoses for common and complex oral diseases, including periodontal inflammation, odontogenic lesions, benign and malignant tumors of the oral and maxillofacial region, salivary gland tumors, autoimmune conditions involving the oral cavity, and complex oral manifestation of systemic diseases.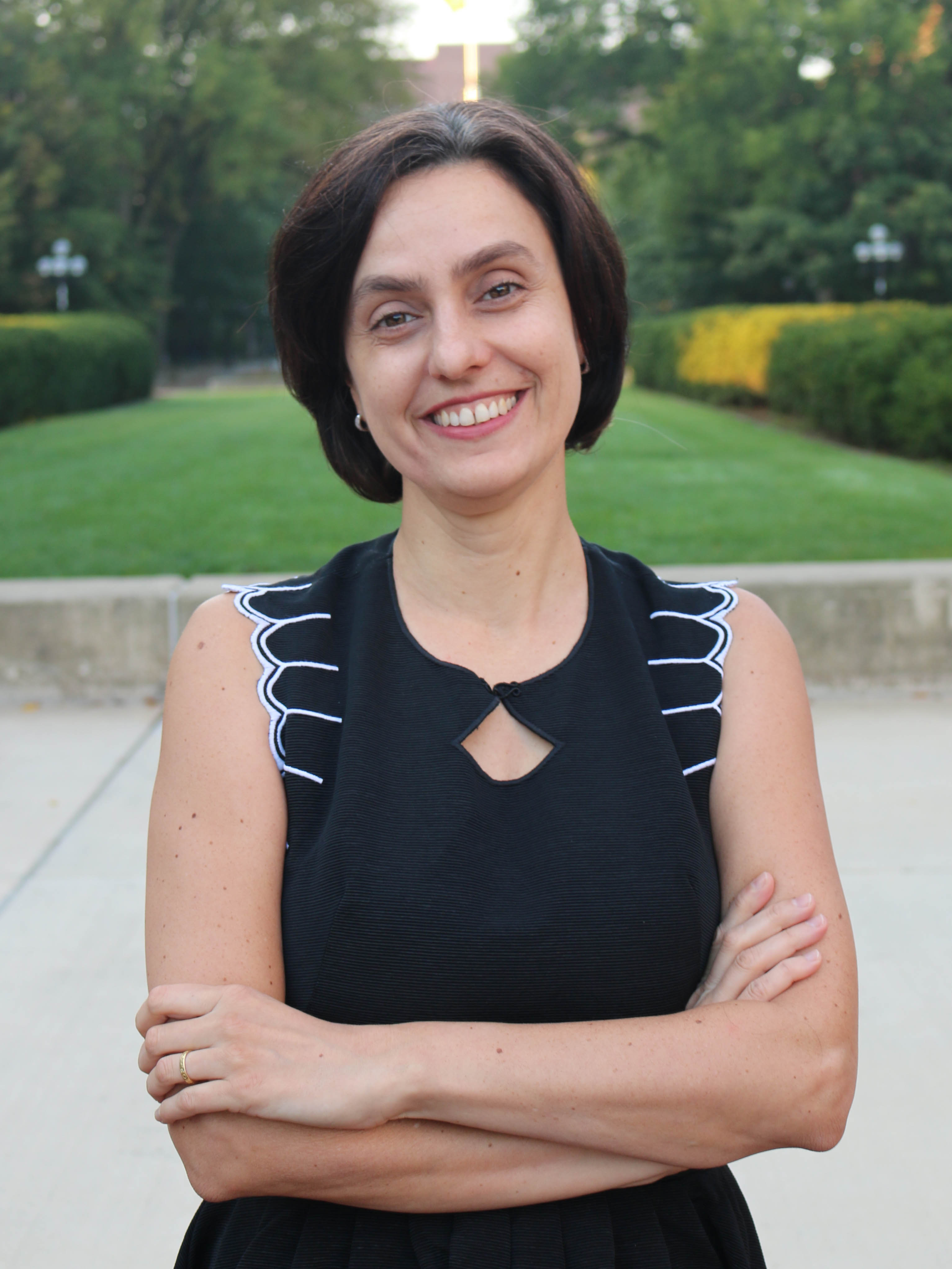 Theodora Danciu, DMD, DMSc
Director
Dr. Danciu is a Clinical Associate Professor at the University of Michigan School of Dentistry and a consultant for the VA Ann Arbor Healthcare System. She graduated with a BA in Mathematics from the University of California, Berkeley after which she completed her DMD at Harvard University. She continued her training at Harvard where she obtained a Doctor of Medical Sciences degree as well as a certificate in Oral and Maxillofacial Pathology. After two years as Instructor at Harvard, she joined the University of Michigan in 2007. Dr. Danciu is the recipient of numerous teaching awards both at Harvard and University of Michigan and research awards including the National Research Service Award and the National Institute of Health Transition Career Development Award. She currently serves on several committees at the School of Dentistry, American Academy of Oral and Maxillofacial Pathology, American Dental Association and American Association for Dental Research.
Publications
Nisha D'Silva, BDS, MSD, PhD
Dr. D'Silva is an oral pathologist, cancer biologist, and educator. She is Associate Chair in the department of Periodontics and Oral Medicine. Dr. D'Silva is the Donald Kerr Endowed Collegiate Professor of Oral Pathology and Professor of Dentistry at the University of Michigan. She is also Associate Professor of Pathology at the University of Michigan Medical School and a member of the University of Michigan Comprehensive Cancer Center. Her research in head and neck cancer focuses on biomarkers and molecular mechanisms of tumor progression and treatment resistance. She has published over 70 scientific papers; her research is funded by the National Institutes of Health (NIH). Her work has been recognized by several awards including the Rod Cawson Prize from the International Association of Oral Pathologists and the Royal College of Physicians and Surgeons of Glasgow. She also received the Michigan Institute for Clinical and Health Research Distinguished Clinical and Translational Research Mentor award and the University of Michigan Crosby Award for women in science and engineering. Dr. D'Silva received her dental degree at the University of Bombay, India, followed by a Residency in Oral and Maxillofacial Pathology and a Master's degree at Indiana University, Indianapolis. She received her PhD at the University of Washington, Seattle.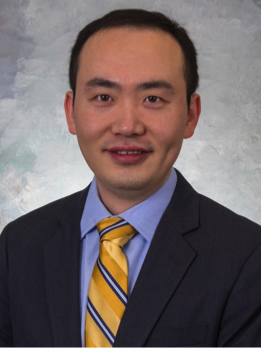 Yu Leo Lei, DDS, PhD
Dr. Lei is an Assistant Professor of Dentistry at the University of Michigan School of Dentistry. He holds joint appointments with the Graduate Program in Immunology, Translational Oncology Program, U-M Comprehensive Cancer Center, the University of Michigan Medical School. He serves on the editorial board of a number of journals, including Oral Surgery Oral Medicine Oral Pathology Oral Radiology. He has also served on the Nomination Committee of the American Academy of Oral and Maxillofacial Pathology. Dr. Lei completed a residency in Oral and Maxillofacial Pathology at the University of Pittsburgh Medical Center (UPMC), following his PhD training at the Lineberger Comprehensive Cancer Center, the University of North Carolina at Chapel Hill. He then completed a Head and Neck Oncology fellowship at the University of Pittsburgh Cancer Institute. Dr. Lei was a Research Assistant Professor at the Department of Otolaryngology, University of Pittsburgh School of Medicine.
Dr. Lei is has received well-respected clinical and translational research awards, including the Leon Barnes award for Head and Neck Pathology research from the United States and Canadian Academy of Pathology. He is the principal investigator of a translational immunology research laboratory.
Publications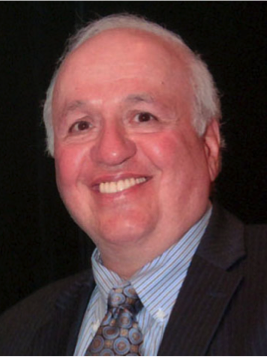 Peter J. Polverini, DDS, DMSc
Dr. Polverini is the Jonathan Taft Distinguished University Professor of Dentistry and dean emeritus, University of Michigan Dental School and Professor of Pathology, University of Michigan Medical School. Dr. Polverini holds a bachelor's degree in biology and a DDS from Marquette University. He completed specialty training in Oral and Maxillofacial Pathology at the Harvard School of Dental Medicine and was awarded the Doctor of Medical Sciences degree from Harvard University. He has held faculty appointments at the University of Pittsburgh, Northwestern University and the University of Minnesota where he served as professor and dean of the School of Dentistry.
Dr. Polverini has a distinguished scientific career in the field of vascular and cancer biology where he has long been a leader and influential figure. More recently, he has focused his attention on the educational and workforce implications of new integrated care delivery models and healthcare policy implications of the emerging personalized healthcare environment.
Dr. Polverini is a Diplomat of the American Board of Oral and Maxillofacial Pathology, Fellow of the American Academy of Oral and Maxillofacial Pathology, and a Fellow of the American Association for the Advancement of Sciences. He is a recipient of the Distinguished Scientist Award in Oral Medicine and Pathology from the International Association for Dental Research, the Birnberg Research Medal Award for Excellence in Dental Research from Columbia University College of Dental Medicine, the Distinguished Alumnus Award from Marquette University School of Dentistry, the William J Gies Award for Vision by a Dental Educator from the American Dental Education Association Gies Foundation, and past President of the American Association for Dental Research. Dr. Polverini is an elected member of the National Academy of Medicine.
SUBMISSION INFORMATION
To submit a specimen, please download a biopsy submission form.
BIOPSY KITS
We provide free of charge, UPS prepaid 2-day shipping labels and biopsy service kits. Our kits have biopsy submission containers with formalin solution and, upon request, Zeus/Michel's solution for specimens requiring direct immunofluorescence studies.
You can drop your UPS package off at UPS drop box location or have your regularly scheduled UPS driver take the package or call 1-800-PICK-UPS (1-800-742-5877) to schedule a pickup at your office.
---
General Specimen Submission Information
(including submission during winter months and for direct immunofluorescence (DIF) studies)
---
Request a biopsy service kit: [email protected]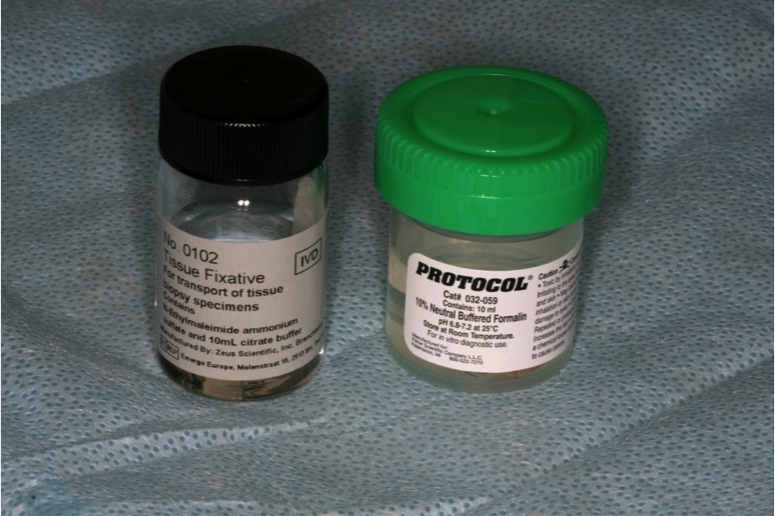 BILLING & PAYMENTS
For questions regarding your bill please call APS Medical Billing at 1-800-594-1876.
To pay your bill using a credit card please call 734-647-4246.
CONTACT
Oral & Maxillofacial Pathology Biopsy Service
1011 N. University, Room G018
Ann Arbor 48109, MI
Phone: (800) 358-1011
Fax: 734-764-2469
Email: [email protected]
Collection and Handling: Specimens should be procured using accepted surgical techniques. Because of the small size of most oral specimens it is especially important to avoid inducing crushing artifact through the injudicious use of clamps or forceps. Placement of a suture in the specimen prior to removal will allow for handling without damage. Use of electrosurgical instruments for the removal of small, delicate specimens should be avoided because of the possibility of heat damage and distortion. In some cases, physical damage to a critical area of a specimen may render it inadequate for diagnosis and a comment to that affect will be made in the pathology report.
Labeling: Specimen containers and lab requisitions must be labeled with the full name of the patient and the submitting doctor and date the specimen was collected. If an improperly labeled specimen is received by the laboratory, a reasonable attempt will be made to confirm its identification. To expedite service, all pertinent areas of the lab requisition should be completed. If some information is not available, please state this on the requisition. Inadequately identified specimens will not be accepted for processing.
Fixation: Specimens should be fixed in the buffered formalin solution supplied free of charge, by our laboratory. Specimen volume should not exceed 10% of the fixative volume. Larger specimens should be divided and submitted in multiple containers. Over time the fixative may evaporate from stored specimen containers. These should be discarded or returned to this laboratory for refilling, because the fixative cannot be reconstituted. Biopsy kits, which include UPS prepaid shipping labels, lab packs, specimen bottles with fixative, and lab requisition forms are available free of charge.
Transportation: Transportation of your specimen using your UPS prepaid mailing label and lab packs is the preferred way to send your specimens. You can call UPS to arrange pickup of your specimen or place them it a UPS drop box. Specimens may also be sent to us using US mail but this can delay the delivery of your package and the possibility of it being lost in the mail without any tracking capability. Specimens can also be hand-carried to the laboratory. Please call 1-800-358-1011 to coordinate hand delivery if you or your patient would like drop off a specimen.
Specimens Submitted in Zeus/Michel's Solution for direct immunofluorescence (DIF) studies:

Tissue must be placed in Zeus/Michel's solution

Keep solution refrigerated until needed
Do not freeze tissue or solution

Tissue must reach our laboratory within 72 hours of the biopsy

Please use our 2 day UPS label & lab pack for sending your specimen to us

In addition, please submit a separate tissue specimen in formalin for conventional H&E histology

Please use our 2-day UPS label & lab pack for sending your specimen to us.
Submission during the winter months
Specimens sent during the winter months (December through March): The following procedure should be used in order to avoid freeze damage to specimens in transit to the laboratory.
Fix specimen in formalin solution for 24 hours.
Decant formalin and replace with 70% alcohol prior to mailing. Ethyl alcohol is preferred but methyl alcohol or isopropyl alcohol is acceptable following formalin fixation. Please note, formalin is a hazardous waste and must be handled as such.
Adherence to the above procedures will insure expeditious handling and optimum quality of biopsy specimens. We look forward to serving you and your patients.
Sours: https://media.dent.umich.edu/sites/biopsy/
Pathology umn oral
.
Diagnostic Oral Pathology - Case 1
.
You will also be interested:
.
354
355
356
357
358