9 Bible Verses to Usher You Into the Presence of God
---
---
Sometimes the most powerful motivator for me to slow the busyness of life to BE with God is a simple invitation, spoken straight from His Word.
To such an invitation, my spirit can't help but say, "yes!"
As I talked with one of my nearest, dearest friends this week, she mentioned a list she'd curated of Bible verses about spending time with God. My interest was piqued, and I asked her to send me a copy.
I spent the next morning looking through and carefully reading all of her verses. I also thought and prayed about which ones I would add to the list. Together we came up with a great list I think.
Just looking at this sweet list filled me with such peace and joy in this beautiful relationship to which God has called me. To which he has called you.
It's breathtakingly intimate and personal.
So now, I'm giving you this gift of invitation into God's presence. (Let's be honest, this gift is straight from God and so holy.)
Please take some time to carefully pray through these verses. If one stands out to you, speaks to you, motivates you, and inspires you, please take the time to copy it down and put it where you'll see it and be reminded.
Then follow through… spend time with your Abba.
9 Verses to Usher You Into the Presence of God
Isaiah 50:4
"The Sovereign Lord has given me his words of wisdom,
so that I know how to comfort the weary.
Morning by morning he wakens me
and opens my understanding to his will." (NLT)
Jeremiah 33:3
"'Call to me and I will answer you and tell you great and unsearchable things you do not know.'" (NIV)
Psalm 46:10
"He says, 'Be still, and know that I am God;
I will be exalted among the nations,
I will be exalted in the earth.'" (NIV)
Psalm 42:1-2
"As the deer pants for streams of water,
so my soul pants for you, my God.
My soul thirsts for God, for the living God.
When can I go and meet with God?" (NIV)
Psalm 84:1-2
"How lovely is your dwelling place,
Lord Almighty!
My soul yearns, even faints,
for the courts of the Lord…" (NIV)
James 4:8
"Come near to God and he will come near to you. Wash your hands, you sinners, and purify your hearts, you double-minded." (NIV)
John 15:5
"'I am the vine; you are the branches. If you remain in me and I in you, you will bear much fruit; apart from me you can do nothing.'" (NIV)
Psalm 27:8
"My heart says of you, 'Seek his face!'
Your face, Lord, I will seek." NIV)
Hebrews 10:19-22
"Therefore, brothers and sisters, since we have confidence to enter the Most Holy Place by the blood of Jesus…let us draw near to God with a sincere heart and with the full assurance that faith brings, having our hearts sprinkled to cleanse us from a guilty conscience and having our bodies washed with pure water." (NIV)
---
I've found scripture writing to be a sweet and effective way to focus myself in on God's word. That's why I created this 30 Scripture Writing Plan. It's themed around the sections of scripture that have helped me set my heart on heaven more than any others.
Join me as I share some of my favorite Bible verses with you.
New to this community? Start here, friend. 
Pin it here >>
Success! Now check your email to confirm your subscription.
Sours: https://www.embracingasimplerlife.com/9-bible-verses-to-usher-you-into-the-presence-of-god/
Come As You Are
Bible verses about come as you are
Many people wonder does the Bible say come as you are? The answer is no. Worldly churches love this phrase to build members. Whenever I see or hear this phrase being used usually people mean to come and stay as you are. They say don't worry, God doesn't care that you live in sexual immorality come as you are.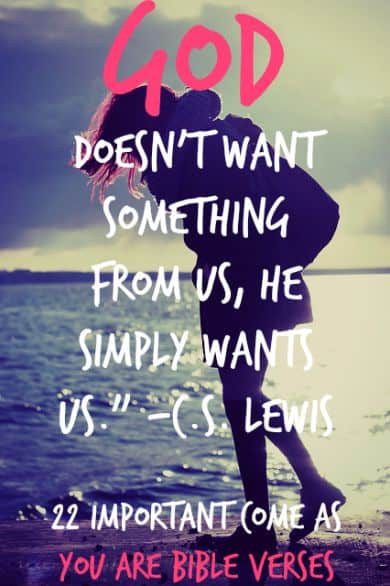 God doesn't care that you are a club hopper come as you are. The church today is married to the world. We don't preach the whole gospel anymore.
We don't preach on repentance or sin anymore. We don't preach on God's wrath anymore. False conversion is growing faster than true conversion.
God's word means nothing to many people. I am in no way saying that the church shouldn't be welcoming or that we have to clean up all the bad stuff in our lives before we can be saved.
I am saying that we shouldn't allow people to think that it's OK to remain in rebellion. I am saying that true faith in Christ alone will change your life. Salvation is a supernatural work of God. Come as you are, but you won't stay as you are because God is working in true believers.
Quote
"God doesn't want something from us, He simply wants us." -C.S. Lewis
Scripture does say to come. Put your trust in Christ.
1. Matthew 11:28 "Come to me, all you who are weary and burdened, and I will give you rest."
2. John 6:37 "Everyone whom the Father gives me will come to me, and the one who comes to me I will never send away."

3. Isaiah 1:18 "Come now, let's settle this," says the LORD. "Though your sins are like scarlet, I will make them as white as snow. Though they are red like crimson, I will make them as white as wool."
4. Revelation 22:17 "The Spirit and the bride say, "Come." Let anyone who hears this say, "Come." Let anyone who is thirsty come. Let anyone who desires drink freely from the water of life."
5. Joel 2:32 "But everyone who calls on the name of the LORD will be saved, for some on Mount Zion in Jerusalem will escape, just as the LORD has said. These will be among the survivors whom the LORD has called."
True faith in Christ will change your life. Repentance does not save you, but repentance, which is a change of mind that leads to a turning away from sin is the result of true salvation in Christ.
6. 2 Corinthians 5:17 "Therefore if any man be in Christ, he is a new creature: old things are passed away; behold, all things are become new."
7. Galatians 2:20 "I have been crucified with Christ, and it is no longer I who live, but Christ lives in me. So the life I now live in the body, I live because of the faithfulness of the Son of God, who loved me and gave himself for me."
The people of Corinth did not continue to live in sin after they were saved. They were made new.
8. 1 Corinthians 6:9-10 "Or do you not know that wrongdoers will not inherit the kingdom of God? Do not be deceived: Neither the sexually immoral nor idolaters nor adulterers nor men who have sex with men nor thieves nor the greedy nor drunkards nor slanderers nor swindlers will inherit the kingdom of God."
9. 1 Corinthians 6:11 "And that is what some of you were. But you were washed, you were sanctified, you were justified in the name of the Lord Jesus Christ and by the Spirit of our God."
Scripture teaches us to renew our minds.
10. Romans 12:1-2 "I beseech you therefore, brethren, by the mercies of God, that ye present your bodies a living sacrifice, holy, acceptable unto God, which is your reasonable service. And be not conformed to this world: but be ye transformed by the renewing of your mind, that ye may prove what is that good, and acceptable, and perfect, will of God."
11. Colossians 3:9-10 "Do not lie to one another since you have put off the old man with its practices and have been clothed with the new man that is being renewed in knowledge according to the image of the one who created it."
God will work in a believers life to conform them into the image of Christ. Some Christians grow slower than others, but a true believer will bear fruit.
12. Romans 8:29 "For those God foreknew he also predestined to be conformed to the image of his Son, that he might be the firstborn among many brothers and sisters."
13. Philippians 1:6 "Being confident of this very thing, that he which hath begun a good work in you will perform it until the day of Jesus Christ."
14. Colossians 1:9-10 "For this reason, since the day we heard about this, we have not stopped praying for you and asking that you may be filled with the full knowledge of God's will with respect to all spiritual wisdom and understanding, so that you might live in a manner worthy of the Lord and be fully pleasing to him as you bear fruit while doing all kinds of good things and growing in the full knowledge of God."
False converts take advantage of God's grace and use it to live in rebellion.
15. Romans 6:1-3 "What shall we say then? Are we to remain in sin so that grace may increase? Absolutely not! How can we who died to sin still live in it? Or do you not know that as many as were baptized into Christ Jesus were baptized into his death?"
16. Jude 1:4 "For some men, who were designated for this judgment long ago, have come in by stealth; they are ungodly, turning the grace of our God into promiscuity and denying Jesus Christ, our only Master and Lord."
Scripture teaches us to deny ourselves.
17. Luke 14:27 "Whoever does not carry his own cross and follow me cannot be my disciple."
We must leave our life of darkness behind.
18. 1 Peter 4:3-4 "For you spent enough time in the past doing what the gentiles like to do, living in sensuality, sinful desires, drunkenness, wild celebrations, drinking parties, and detestable idolatry. They insult you now because they are surprised that you are no longer joining them in the same excesses of wild living."
19. Galatians 5:19-21 "Now the works of the flesh are manifest, which are these; Adultery, fornication, uncleanness, lasciviousness, Idolatry, witchcraft, hatred, variance, emulations, wrath, strife, seditions, heresies, Envyings, murders, drunkenness, revellings, and such like: of the which I tell you before, as I have also told you in time past, that they which do such things shall not inherit the kingdom of God."
20. Hebrews 12:1 "Therefore, since we also have such a large cloud of witnesses surrounding us, let us lay aside every weight and the sin that so easily ensnares us. Let us run with endurance the race that lies before us."
21. 2 Timothy 2:22 "Flee from youthful passions. Instead, pursue righteousness, faithfulness, love, and peace together with those who call on the Lord with a pure heart."
False teachers never preach on sin and holiness. They make many false converts.
22. Matthew 23:15 "Woe to you, teachers of the law and Pharisees, you hypocrites! You travel over land and sea to win a single convert, and when you have succeeded, you make them twice as much a child of hell as you are."
It's time to get right with God today!
I plead with you if you don't know the gospel that saves please click on this link to understand the gospel. 
Sours: https://biblereasons.com/come-as-you-are/
Bible Verses about the Second coming
So you also must be ready, because the Son of Man will come at an hour when you do not expect him.

Matthew 24:44Messiah
And let us consider how we may spur one another on toward love and good deeds, not giving up meeting together, as some are in the habit of doing, but encouraging one another—and all the more as you see the Day approaching.

Hebrews 10:24-25communityencouragementequipment
He who testifies to these things says, "Yes, I am coming soon."
Amen. Come, Lord Jesus.

Revelation 22:20Jesus
Therefore keep watch, because you do not know on what day your Lord will come.

Matthew 24:42patience
Look, I am coming soon! My reward is with me, and I will give to each person according to what they have done.

Revelation 22:12Jesusreward
The end of all things is near. Therefore be alert and of sober mind so that you may pray.

1 Peter 4:7restprayer
I am coming soon. Hold on to what you have, so that no one will take your crown.

Revelation 3:11rewardpatience
"I am the Alpha and the Omega," says the Lord God, "who is, and who was, and who is to come, the Almighty."

Revelation 1:8eternal lifereliabilityGod
They were looking intently up into the sky as he was going, when suddenly two men dressed in white stood beside them. "Men of Galilee," they said, "why do you stand here looking into the sky? This same Jesus, who has been taken from you into heaven, will come back in the same way you have seen him go into heaven."

Acts 1:10-11ascensionheavenJesus
And now, dear children, continue in him, so that when he appears we may be confident and unashamed before him at his coming.

1 John 2:28trust
"Look, he is coming with the clouds,"
and "every eye will see him,
even those who pierced him";
and all peoples on earth "will mourn because of him."
So shall it be! Amen.

Revelation 1:7Jesuscrucifixion
Watch out for false prophets. They come to you in sheep's clothing, but inwardly they are ferocious wolves.

Matthew 7:15prophecyclothing
But do not forget this one thing, dear friends: With the Lord a day is like a thousand years, and a thousand years are like a day.

2 Peter 3:8Godpatience
Being confident of this, that he who began a good work in you will carry it on to completion until the day of Christ Jesus.

Philippians 1:6Jesusrebirth
And do not grieve the Holy Spirit of God, with whom you were sealed for the day of redemption.

Ephesians 4:30Holy Spiritsadness
Sours: https://dailyverses.net/second-coming
The Book Of Revelation Is Unfolding Before Our Eyes 2021
.
God verses to coming
.
4 BIBLE VERSES that CHANGED My Whole LIFE - 4 POWERFUL VERSES
.
Similar news:
.
404
405
406
407
408