The 15 Hottest Hairstyle Trends of 2015
In need of some hair inspiration? Look no further – we've got a selection of the hottest hairstyles for spring 2015, straight from the runway. Check it out and find the perfect new 'do.
From boho waves to braids and baby bobs, these are the current and upcoming hairstyles trends.
If you are anything like us, you are probably thinking about changing your hairstyle every other season. Maybe you are bored with your lengths, your cut and style, or your color and you want to escape the rut by trying something new.
Before you start planning your 2015 makeover, take a look at our guide and discover the biggest hair trends. You will find amazing hair ideas for every length, color, and hair type. From relaxed chops to sophisticated looks and intriguing up-dos, you will see cuts that work on all face shapes and styles suited for all ages and hair lengths.
Check with your stylist and see which one of this hairstyle would suit your face shape and features. Ahead, find 15 of the hottest hairstyles this year and perhaps you will find your inspiration.
The stylish bob
Photo: thefashiontag.com
There's no question about it – the bob is 2015's "it" cut. From A-list celebrities and top models to your friends and coworkers, everybody is chopping of their long hair into a bob.
The 2015 bob has evolved, presenting itself with a variety of choices. There's the graduated bob, the shaggy, relaxed chop, the long bob, and the baby bob. There are flat-ironed bobs, wavy bobs, and the ones that look like you've just got out of bed. Marc Jacobs, Anna Sui, and DKNY featured a sort of bob-inspired hairstyle on their show, anticipating the hottest haircut this year.
What's so great about a bob, you ask? Pretty much everything! Bobs are flattering to all face shapes and work with every hair texture, including curly hair. It looks effortlessly chic and casual without requiring too much styling and keeps hair split end-free.
There are various versions of the bob and we will talk about each one further in the article.
Boho Waves
Photo: fashionavecpassion.ro
There's no doubt that bob and lob hairstyles are still strong, but if you would look at runway trends, stylists are sending a clear message: let your bobs grow, 2015 is the year of long hair.
Boho waves are definitely the cut of this season. Relaxed and carefree, they add a romantic and tender vibe to any look. Everyone from Marchesa to Alberta Ferretti and Valentino included hairstyles with naturally wavy finished. For the absolutely boho wave inspiration, you may look through Channel's show for some inspiration (Hello Giselle Bundchen!)
The ponytails
Photo: hairnext.com
A perennial hairstyle, seen on just about every single fashion show for any season, the ponytail never ceases to evolve and transform. However, 2015 hair trends have taken this timeless hair styles to new heights (take Valentino and his waist length segmented ponytails for example), establishing a new trend: the modern long tail. Whether messy or slicked, side swept, or adorned with stylish accessories, the ponytail has turned into a huge trend. With various version of the classic long tail look, it's fairly easy to find one that reflects your personality, mood, and style.
The baby bob
Photo: fashiontag.com
The baby bob was one of the most popular haircuts in 2014 and it will continue to reign in 2015 as well. What we love most about this hairstyle, besides how chic and stylish it looks, is that it seems to be universally flattering. Regardless of face shape, hair texture or age, this hairstyles works on everyone. Still not sure? Take a look at Emma Stone's, Cate Blanchette's, or Jennifer Lawrence's choppy baby bobs.
Braids and twists
Photo: fashionisiers.com
We simply can't get enough of the braided hairstyle. They dominated the spring 2015 runways and rapidly transited into our lives and daily fashion. Whether it's a simplistic braid, a braided bun, a fishtail braid, a messy braid, or some kind of twisted interpretation of the classic style, this hairstyle is ultra-feminine and absolutely gorgeous. Suited for most occasions, they are the best option for an impressive look. For some inspiration, look at Burberry Prorsum, Blumarine, Ralph Lauren, Chloé, or J. Mendel.
Out-of-the-shower
Photo: pretty-hairstyles.com
Wet hair effect is no innovation, but it's making a huge comeback this coming season, which is, we believe, great news for girls with naturally greasy hair. Much loved by top stylists, this super-sleek and effortless out-of-the-shower look is totally glam.
Straight with center parting
Photo: Pinterest.com
Whether it's beautifully braided, slicked back or loose, the center part is an essential hairstyle trend this year. Seen on runways from Erdem to Burberry and Prorsum, this timeless hairstyle is back in the spotlight. Considered less flattering and less fashionable than the deep side-part, which was the absolute king during the previous years, the center parting is, once again, popular. But don't say "Adios!" to side-swept hairstyle yet, because this is still a strong trend.
Side-swept hair
Photo: Pinterest.com
Center parting is not flattering option for every face shape or style. For those who are bored with the middle part or think that this hairstyle doesn't work for them, the side-swept is a great alternative.
From Alexander Wang to Zimmermann and Richard Chai, top designers opted for the side-swept hairstyle and various interesting interpretation, making clear to everyone that this trend is alive and kicking. Stylish and classy, without being too glossy, side swept is the easiest way to make straight, sleek hair stand out. Suited for both day and night events, expect to see a lot of the side-swept hairstyle this upcoming season.
Stylish bangs
Photo: fashiontag.com
Bangs are one of those hairstyles that can liven up an old and boring look. The right bang will highlight your best feature – like your eyes and amazing cheekbones – or help hide a wide forehead.
2015's bangs range from thick to chopped textures and stylish faux 'dos. While it wasn't one of the biggest trends spotted on the runways, what we've seen was especially noteworthy.
If you never had bang before, talk with a stylist before deciding which style will soften your features and enhance your appeal.
Big Buns, Knots and Twists

Photo: imaxtree.com/harparesbazaar.com
What can be more carefree and casual than putting your hair up into a messy bun? Besides the evergreen ballerina bun, 2015's hairstyle is all about experimenting with various interpretations of this classic up-do. Think big buns, relaxed windswept top knots, and rebellious twists. The best part about this hairstyle trend? It can actually be done at home and you don't have to worry about its sleekness – the messier, the better.
The blunt midi cut
Photo: Pinterest.com
Rocked by celebrities like Kendall Jenner, Alexa Chung, and Elizabeth Olsen, the blunt midi cut is a huge trend this season. The beauty of this hairstyle is its striking simplicity – in a world dominated by textures, the blunt mid cut has no layers, just a straight across cut with a bit of feathering at the ends. Fresh and modern, it's the perfect option for girls with thin hair and oval face shape.
Playful accessories
Photo: allure.com
There's no other great way to freshen up a look and turn an ordinary hairstyle into a work of art than adding a bold, stylish accessory. Edgy scarves, wrapped knots and turbans, sleek golden barrettes, and romantic flower motifs, decorative hair ornaments was a hot trend on Spring/Summer 2015 runways.
Long pixie
Photo: hairfinder.com
The long pixie continues to be a hot trend in 2015, but is much messier than its previous version. Bold and beautiful, the right pixie cut will frame your cheekbones, highlight your eyes, and elongate the neck. While it takes a bit of courage to cut your long strands to get a boys look, the long pixies is extremely chic and feminine.
Long pixies were also spotted on the runways, making self-confident women aware of the fact that their edgy hairstyle is up and coming this season.
Bombshell blowouts
Photo: lovemica.com
Voluminous, bombshell blowouts is a big trend this year, from the red carpet to the runways. Achieving the sexy Brigitte Bardot look, with big, sleek curls and lots of volume, may seem difficult, but it's actually a job you can do home, with patience and the right products. A simple search and you will find tens of articles teaching you how to get a star-worthy blowout.
Embrace your curls
Photo: thankgoodimnatural.com
Naturally curly girls usually have a love-hate relationship with their hair. 2015 is the year to leave all negative feelings aside and start embracing your natural curls. Whether you've got waves, coils or serious texture, enjoy your big moment, as curls are more popular than ever.
And here, we are done with our list of the hottest hairstyles of the upcoming season.
Which one is your favorite? Let's continue the discussion the comment section below or on Facebook.
Sours: https://barronslondonsalon.com/15-hottest-hairstyle-trends-2015/
5 Popular Men's Hairstyles For Spring/Summer 2015
Summer-Ready Hairstyles
Just as you'll be making changes to your wardrobe to prep for the sunnier months ahead, it's worthwhile assessing the practicality of your current hairstyle. Is your hair an appropriate length for the warmer weather? Could you try a less fussy style that'll take you from festivals to formal summer events? Read on for a rundown of this season's most popular haircuts and how to make them work for you.
1. The Buzz Cut
Classic and unquestionably masculine, the buzz cut has been trending for a while now and remains the style most requested by my customers. Easily achieved, suitable for pretty much everyone and practical once it starts to heat up, it's a sharp and hassle-free haircut. Before taking the plunge, it's worth having an honest conversation with your stylist about whether they think a buzz cut will suit your specific face shape. It tends to look best on strong, square face types, although it can be adapted to others by manipulating the length and grade used. Next, you'll need to decide on whether you want a uniform length all over (known as a 'butch cut') or a slight difference between the hair on the top of your head and at the back and sides (a crew cut or flattop). If you're looking for a haircut that's low maintenance but still versatile enough to work for both the office and days spent beachside, then the former comes up trumps. Adjustments to consider with this style include leaving slightly more length through top, for a modern take on the French Crop, or opting for a skin fade on the sides, which will produce a dramatic, disconnected appearance that feels extremely contemporary:
How To Style
The only product a buzz cut requires is a heat protector spray with SPF (try Aveda Sun Care Protective Hair Veil or Paul Mitchell Sun Shield Conditioning Spray), which should be applied if you're going to be exposed to the sun. Using a product like this will reduce overall sun damage to your hair and scalp while keeping it hydrated and healthy. It's also worth noting that too much UV exposure can mean your hair ages quicker, leaving it looking and feeling thinner. To counteract this effect, make sure you regularly use a specialist after sun shampoo and conditioner such as Aveda's Sun Hair Care & Body Cleanser or L'Oréal's Solar range.
2. The Fringe
If having a little more hair to play with is preferable, then why not opt for a fringe? Although men tend to shy away from wearing their hair forward, the AW15 runway shows proved that this style is set to be a huge trend come October, so why not get involved now? The downside is that a fringe can make you feel hot, sweaty and uncomfortable in the heat, depending on its length and thickness. However, a little prep goes a long way in making this type of hairstyle work for spring/summer. Start by asking your stylist about possibly cutting your fringe a little shorter, or thinning it out to remove some of the weight that's just not appropriate for the warmer months. If that still doesn't feel comfortable, when it comes to creating the look, try sweeping it across your forehead rather than pulling it down straight:
How To Style
Try to keep this style as relaxed as possible (i.e. no heavy, strong hold styling products) so you can easily run your hands through your hair if it gets uncomfortably hot. If you want to achieve an lived-in look that epitomises long summer days spent at the beach, apply some sea salt spray to damp hair and then either blow-dry into shape, or leave to dry naturally for a more dishevelled, unkempt appearance. This cut is all about texture, so opt for styling products that offer a matte finish and plenty of definition. Just be mindful to avoid those that can 'melt' when they get hot or wet (typically white defining creams or extra wet gels), as you don't want it running down your forehead.
3. The Slick Back
Don't let this style's high shine finish deceive you; the slick back actually works pretty well for the summer. Not only does it keep all your hair off your face, but – provided it's achieved using a slightly wet, dense product – will also stay in place all day. It's best to ask your stylist for a reasonably tight fade around the sides and back for contrast, leaving a good deal of length through the top to allow you to slick back. Those with particularly thick hair will also want their stylist to remove some of the weight, either by point cutting into it or using thinning scissors – both of these techniques will reduce volume and ensure the hair is easier to manipulate. In terms of modifications, not only can you use different products to achieve a different finish – from wet look to high shine – but you can also alter how you choose to style the hair. Quiffs and pompadours look great with a bit of sheen too, so don't feel you are committed to rigidly scraping your hair back:
How To Style
When styling, it's best to start with towel-dried hair so as to minimise volume and get a much slicker, smoother finish. As for products, if your hair is on the finer side, I'd suggest using a pomade or grooming cream to prevent it from clumping together (making it look even thinner) and exposing your scalp to the sun. One of my favourite products for this is American Crew Superglue, which offers a super strong hold. Tigi's Hard Head and Up Front also work well.
4. Wavy/Curly Hair: The Relaxed Quiff
The one thing you don't want to do with naturally wavy hair during the warmer months is over-style it. Heat and humidity can exacerbate unruliness, causing carefully sculpted styles to lose their shape quickly. If you normally straighten your hair, it's probably best to avoid doing so where possible during the height of summer – the results won't last long and it also dries it out even further, adding to the damage caused by sun exposure. Therefore, keep it really simple and classic this season: try a natural, loose quiff (back on-trend for 2015) or push your hair straight back so that it's kept off your face. These type of styles come across extremely nonchalant and ooze effortless cool:
How To Style
If your hair is thick and wavy, then I'd suggest applying a smoothing cream or leave-in conditioner while it's damp, which will help control the volume and also define your hair's natural wave. To style, try using Kevin Murphy Easy Rider or L'Oréal Liss Control – both of which are anti-frizz creams that will help tame your hair. There's no need to be too precise when creating this look; simply use your hands to roughly push, sweep or sculpt your hair into place.
5. Afro Hair: Disconnected Sides
The following advice has been provided courtesy of afro hair specialist Jamie Stevens: This contemporary cut is ideal for spring/summer as it's easy to style and maintain – perfect for guys that want to keep their hair short but not overly kempt. To get this look, your stylist will need to clipper the sides and back quite tight (you could even request a skin fade), in order to create a dramatic contrast with the length of the hair on top, which should be left slightly longer. Adjustments can easily be made when it comes to the length of both the sides and through the top – the latter can be left natural and dishevelled or sculpted with defined edges to produce a stronger overall shape.
Alternative Looks
How To Style
By keeping the hair longer on top, you have a couple of styling options. You can either towel dry your hair and go for a rugged, textured look using a little Matrix Play Back Workable Cream, or you can blow-dry it smooth using a small round bristle brush, then add some Matrix Loosely Defined or Kérastase Form Fatale. If you want to accentuate your natural curl, be sure to use a diffuser on a low to medium heat setting when drying, taking care to use slow, circular movements.
Final Word
As always, it's worthwhile checking with a professional before making any drastic changes to your hair for the new season. Even a subtle tweak in your cut or choice of styling products could make a huge difference to both how you look and feel once the warmer weather finally arrives. Will you be switching up your hairstyle come summertime? How do you adapt your favourite style to suit higher temperatures? Comment below to let us know.
Sours: https://www.fashionbeans.com/2015/5-popular-mens-hairstyles-spring-summer-2015/
If starting off the new year with a stock of guaranteed good hair days is high on your resolutions list, now is the time to grab your trusty supplies and get practicing. And with the ample (and almost shocking) amount of accessible styles that appeared during the spring/summer runway shows, 2015 could be the year that you officially retire your tired topknot and experience your very own hairstyling breakthrough.
Designers paired their warm weather collections with a wide range of styles and details like sophisticated buns decorated with flowers, high and low ponytails, simple braids, and texture that can be achieved and mastered at home in no time. To help you begin in your new year hair prep, we rounded up 10 runway hairstyles for you to try out in 2015.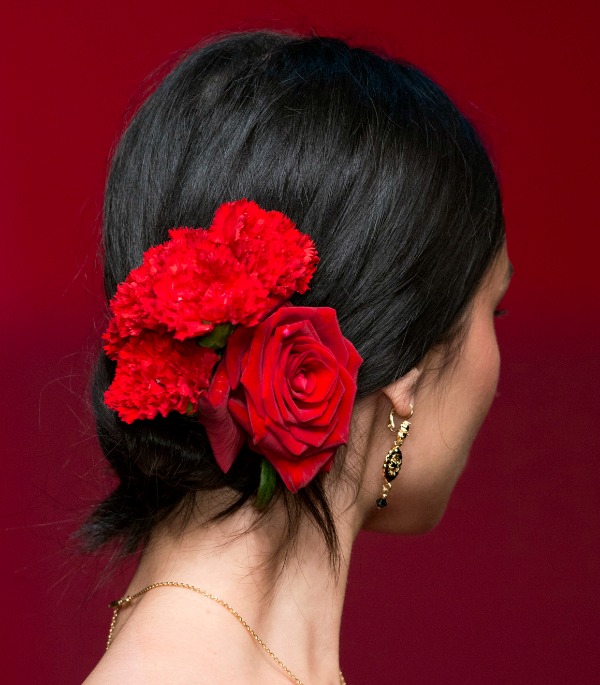 Imaxtree
1. A Low Bun With Floral Details
This look is all about contrast. Pretty, ultra feminine blooms should be paired with a loose, relaxed, and deconstructed coif as opposed to a sleek ballerina bun. Stylists backstage at the Dolce and Gabbana show pulled models' hair back into a bun and secured with pins and left the ends sticking out for an undone look.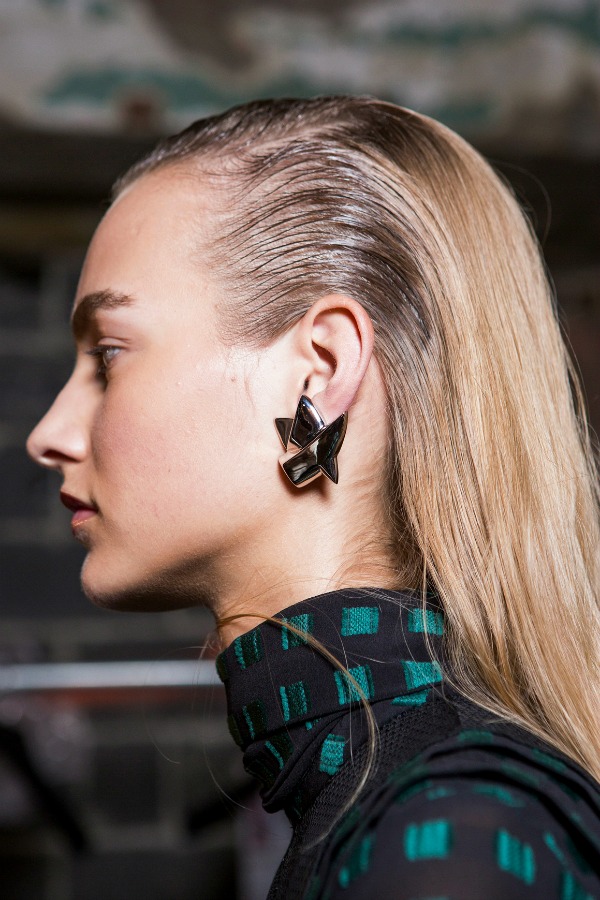 Imaxtree
2. Wet and Slicked Back
Sometimes the wet hair trend can seem a little too daring for your average work day. Ease into it with a look that incorporates the texture only at the roots, like the one at the spring/summer 2015 Proenza Schouler show, and leave the rest of your hair in its natural state. Make a side-part in your hair and apply gel to stick down the hair in the front. Brush back the rest of your hair to create the contrast.
MORE: 101 Braid Hairstyles For Total Inspiration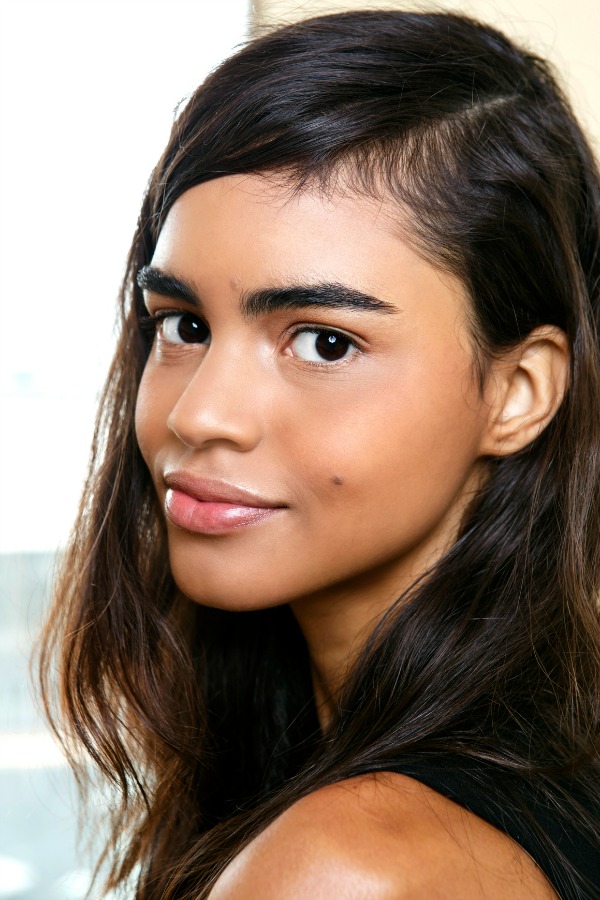 Imaxtree
3. Faux-Bangs
The faux-bangs style is tried and true—and it's coming back for 2015. And if you're still not ready for fringe, you should totally embrace this Tory Burch 'do in the new year. Create a side-part with air-dried, wavy hair and place the front section of hair slightly over your forehead, discreetly securing it with a bobby pin above your ear.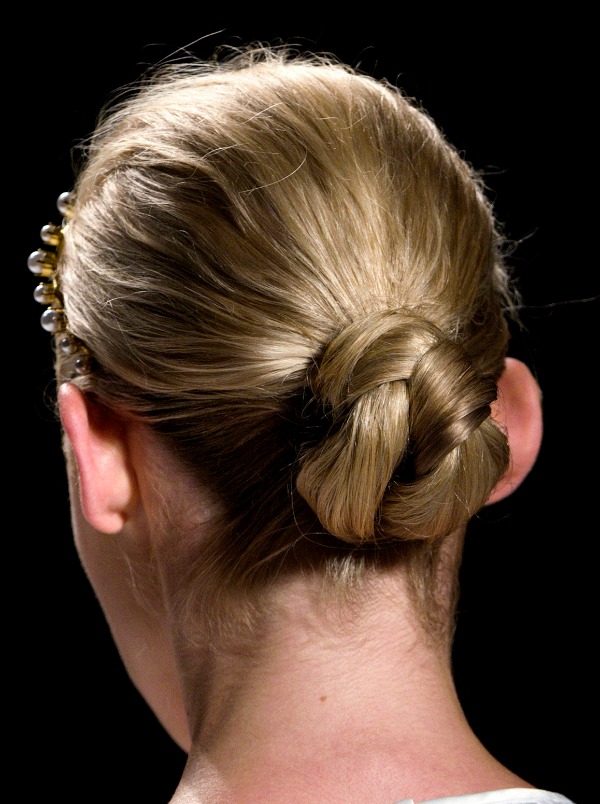 Imaxtree
4. Braided Buns
Create dimension in your updo by twisting your hair into a braided bun. Brush your hair straight back and gather it into a braided coif right above the nape of your neck. Designer Erin Fetherston chose to make her models' look even more girly by accessorizing with delicate headbands.
MORE: Spring 2015 Beauty Trends to Know Right Now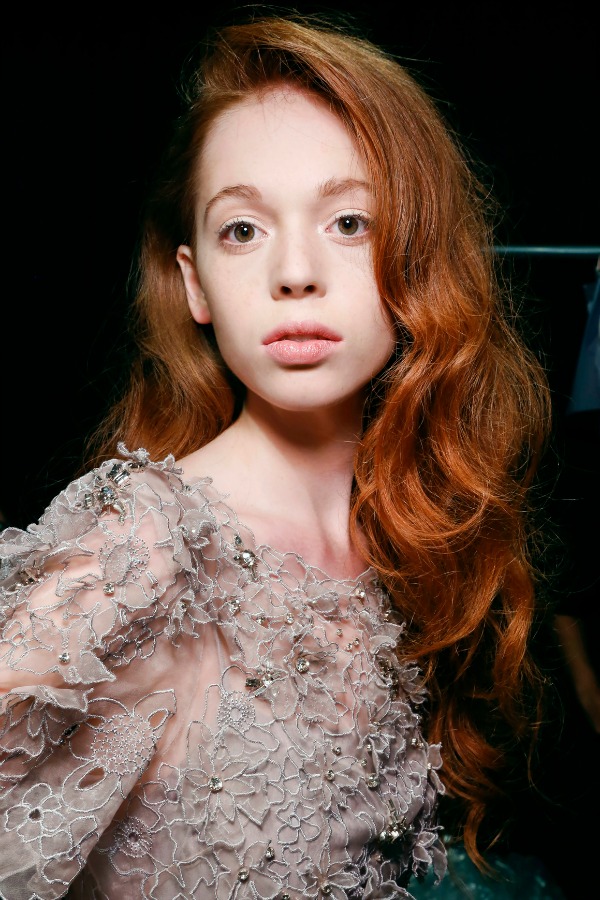 Imaxtree
5. Glam Waves
There is a reason you see these waves on red carpets year after year after year. They're dramatic yet soft enough to be paired with even lace and tulle evening gowns. Give it a go like the models in the Jenny Packham show in 2015 and invest in a set of large hot rollers or a big barrel curling iron.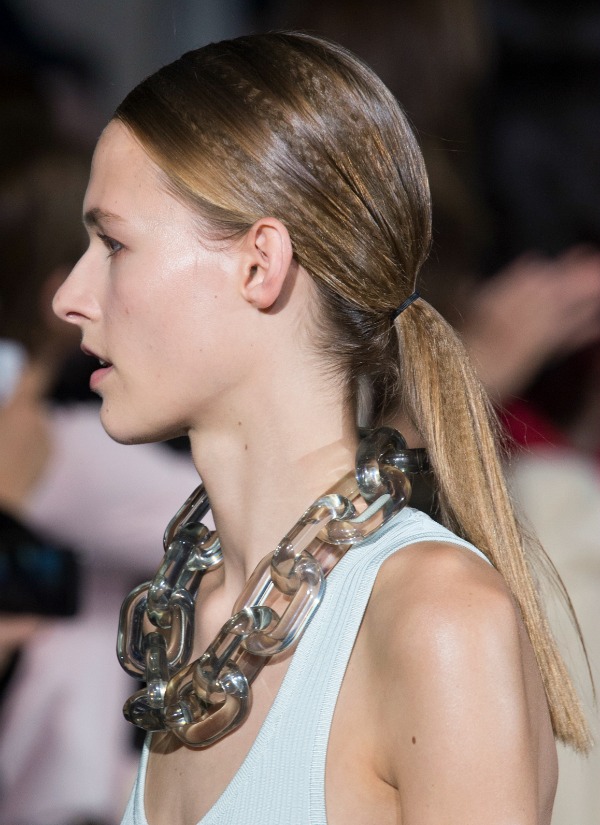 Imaxtree
6. Low Ponytail
It's the quickest way to get your hair out of your face, and when a middle part and fun texture is included, it looks really chic. Stella McCartney's models rocked this look with strands of crimped-looking hair.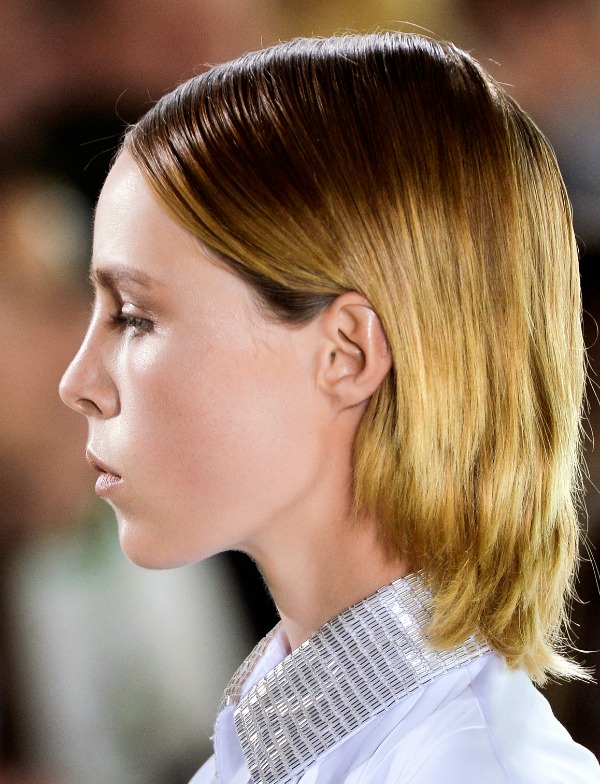 Imaxtree
7. Natural Texture
An excuse to try out a style that takes little to no time at all to create and still looks cute is one we'll always take. The natural hair trend will make its mark this spring, so give it a go with a 'do similar to the one worn on the runway at the Hugo Boss show.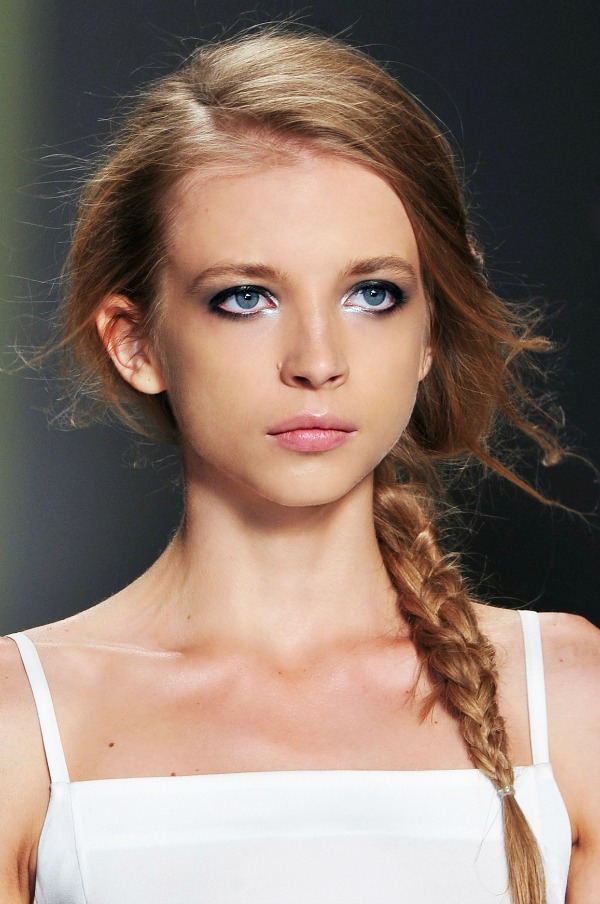 Imaxtree
8. Simple Braids
Don't worry if you haven't perfected the 5-strand braid just yet. Start off 2015 with a loose and simple braid that is worn to the side like the one at the Marissa Webb show.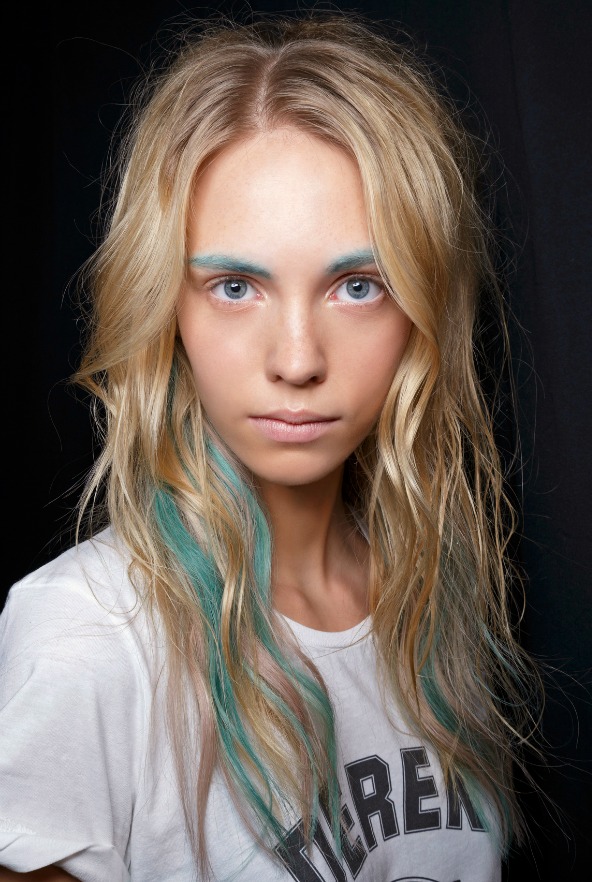 Imaxtree
9. Messy Waves
There couldn't be an easier way to turn a bad hair day into a good one. Use a sea salt spray and scrunch your waves to master this messy look at home. Where you part your hair (and if you try to add in pastel strands like the models at the Badgley Mischka show) is up to you!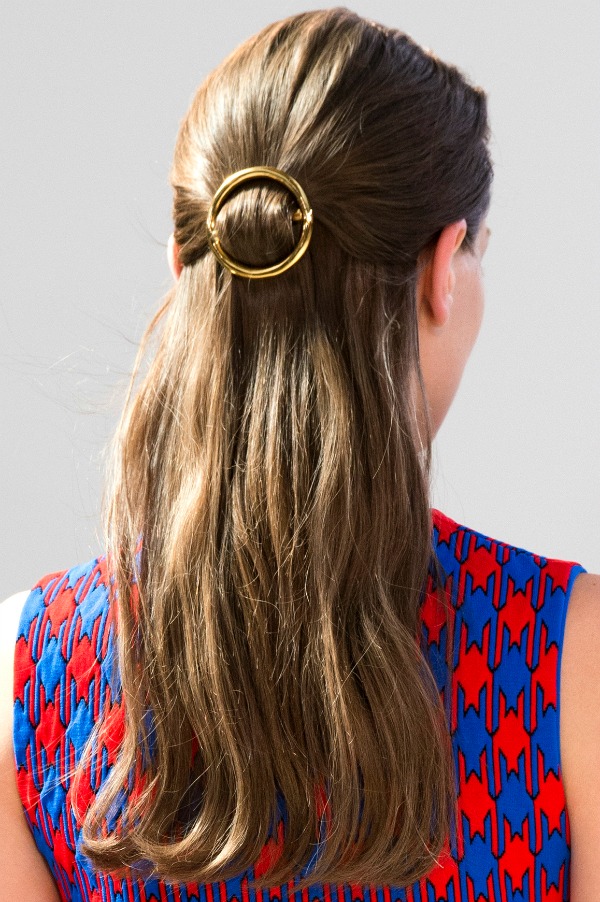 Imaxtree
10. Half-Up and Accessorized
Give barrettes a second chance in 2015. Fasten the top section of natural, air-dried hair with a mod barrette —or one that matches your outfit—similar to the models at the Celine show.
Sours: https://stylecaster.com/beauty/hairstyles-for-2015/
15+ Newest Haircut Ideas and Haircut Trends 2021 - Bob Hairstyle For Every Girls - Pretty Hair
2015's Coolest Haircuts
If you're anything like us, you consider changing up your hairstyle, oh, about 63 times a day. Your length may be bothering you, you may have noticed lots of short styles on the red carpet, or your office wife may have come into work today with a cut so good, you've been eyeing your scissors. Hair ruts are easy to fall into, but not so easy to break — right?
Not so fast. There's a whole new crop of, well, crops heating up for the upcoming seasons. And, because we're curious, we had to know the top trends for 2015. To get the scoop, we chatted with three of the top stylists in the field. These are the people who are creating the looks, so who better to give us the lowdown?
Ahead, find eight cuts and styles that will be huge this year. We're not saying you have to get these, but they're pretty rad jumping-off points. Place your bets now on which one is going to be the baby bob of 2015.
Sours: https://www.refinery29.com/en-us/2015-hairstyle-trends
Hairstyle 2015 popular most of
.
15+ Newest Haircut Ideas and Haircut Trends 2021 - Bob Hairstyle For Every Girls - Pretty Hair
.
Similar news:
.
456
457
458
459
460