Why do Formula Drift cars look that way?
Once upon a time, the livery worn by racing cars was a simple matter. Each country was assigned a color. French race cars were light blue. British racers wore a dark shade of green. Naturally, Italians got red. German cars were silver. American racers competing internationally were white.
But then along came funding from corporate sponsors and livery design soon evolved into much more than merely slapping a company's name across a hood or other body panel.
Livery design has become an industry unto itself, and perhaps in no form of motorsports is it more important than in drifting, where a car's design and appearance play a role in the impact the car has not only on the fans but also on the judges.
Consider the case of Andrew Schulte, the Formula Drift Pro2 driver competing with sponsorship from ClassicCars.com. He drives a Nissan 240SX (aka S13) powered by a Lingenfelter-built Chevy LS7.
Such Nissans with V8 power are not unusual among drift entries. They are considered good choices and reliable for competition. But what makes Schulte's car stand out is the way he expresses himself through the car's Itasha–style livery.
Itasha is a Japanese slang term meaning "Painful Car" as expressed through the use of popular Japanese media such as anime animation characters, Magna comic books and video games.
With a themed combo of background colors, chrome graphics, and highly detailed characters, the impact is immediately felt when the car is seen.
Schulte has been exploring this style since the beginning of his drifting endeavor and has gone through four other designs to become the first driver to introduce the style to Formula Drift.
His philosophy is to "Use the livery to express your style and make sure it is the best representation of you."
Early style designs from Japan's drifting scene in the 1980s and '90s showed influence from zokusha (gang car) and bosozoku (violent speed tribes). As the drifting culture grew, the cars evolved into the display of more graphics and louder, wilder liveries. Known in Japan as hade-hade (flashy car), this became a dominant style in Japanese drifting competitions with sets of holographic and chrome decals in tribal-like patterns spread across the whole body with logos of all the brands used in the car's build.
With the addition of wide-body kits and wings, the goal not only was to show off your drifting skills, but to look good while doing so. The hade-hade style still shows its influence in drift car livery designs today.
Today, sponsors, drivers and designers work together to create a car's image. The primary sponsor often will have a required color scheme for the large logo decal typically placed on the doors where it will be the most visible.
The competition series also has required placement decals like name/number plate, and windshield banner. Tire sponsor decals are clearly visible over the wheel arches, and the rest of the sponsor logos are spread throughout the areas of the car relative to the level of sponsorship to the driver's program.
Then, with input from the driver, a livery designer creates graphics to fit the driver's style while still satisfying the primary sponsor. Most times the colors of the primary sponsor logo are used as part of the livery theme. The driver's racing suit and helmet are matched to the livery color scheme as well.
Regarding body modifications, there are kits designed to replace the front fenders, hood and front and rear bumpers as well as to add side skirts and sometimes a rear wing. So called over fenders widen the car's body and allow for wider tires. Front wheels also are pushed outward several inches with tire tread protruding beyond the fender arches. Formula Drift rules specify how far a car can be altered in such ways.
At some tracks, rear wings must be removed to avoid possible contact with walls or fencing around the course. Where allowed, the wing must be tethered to the car body by cables, and wing end plates are limited to 12 inches by 16 inches.
One reason for making changes to the car's body is to make the body lighter. However, the rule book requires that a uni-body vehicle cannot be modified between the front and rear strut towers, although doors, trunk lid and hood can be replaced with fiberglass or carbon fiber materials, and windows are commonly replace with Lexan plastics.
Some replacement rear bumpers have been designed to flex several inches inward before making contact with the metal bumper bar behind it. Driver's started taking advantage of this with more daring transitions into walls and allowing more of the car to push into the wall with minimal correction.
To address this, Formula Drift made rules required the rear bumper bar to span the width of the rear frame rails, and the bumper tubing must keep the minimal clearance possible between the bumper cover and the bumper bar itself. This fills out the bumper cover area and flexing is minimized.
Some teams experimented with the metal rear bumper on the corners with tubes connected to a joint and the use of small motorcycle shocks and hinges to allow the bumper bar to pivot inward when it makes contact with a barrier. This was shut down due to the high risk of breaking off and striking the chase car. The rule book was changed; the rear bumper bar must be one piece and the use of any kind of pivoting and dampening device is not permitted.
Read more about Formula Drift here.
Sours: https://journal.classiccars.com/2019/09/11/why-do-formula-drift-cars-look-that-way/
Part 1
When it comes to racecars, the first thing that catches your attention is the livery. While I've heard of the saying, 'The car looks good no matter what when it's in the winners circle', I'm not exactly sure if that's true. To me, a strong visual identity is just as important as a reliable engine. A racecar's livery is what people remember and the timeless ones will live on forever etched in our memories.
Each of us have our favorites, and of all the classic liveries, those by Gulf Oil, Jägermeister, Marlboro, Martini, and Castrol really stick out to me. Which got me thinking about all of the liveries I've come across in the North American drifting scene over the years. So I dug through my archives and came up with my 25 all-time favorites.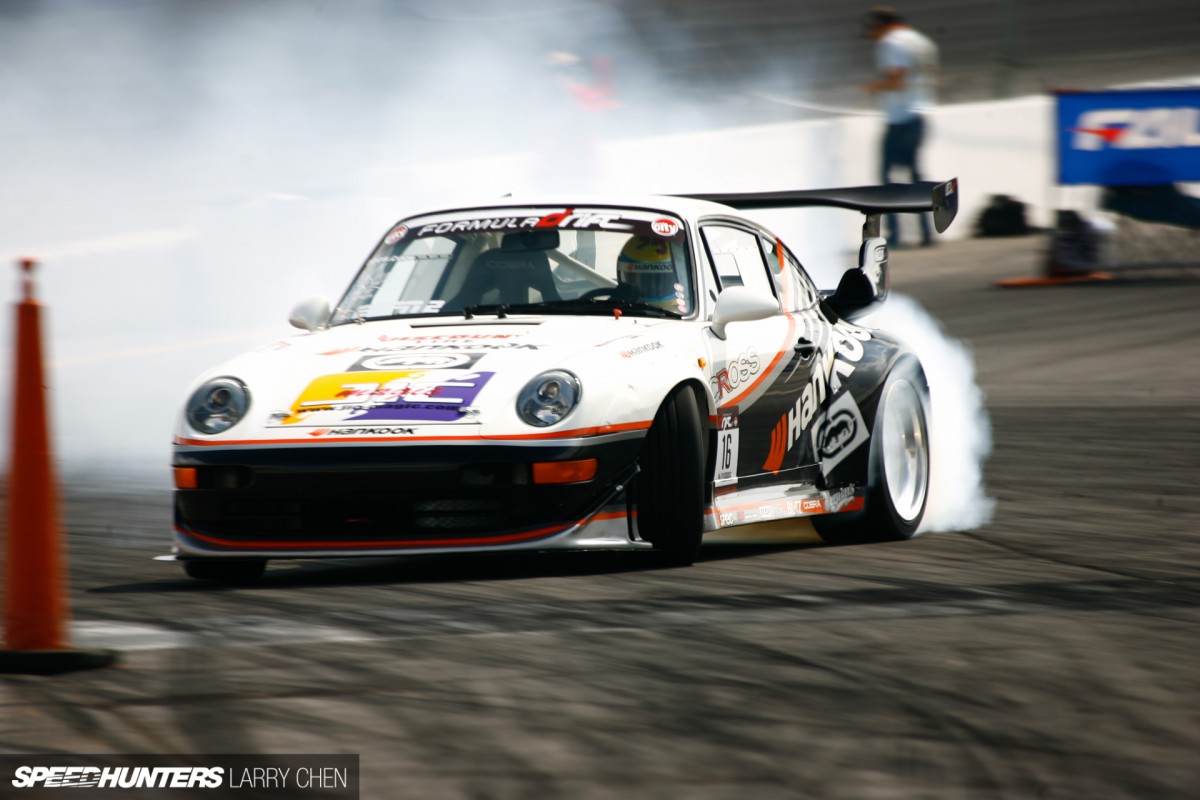 In no specific order, let's begin with this Hankook Tire Porsche drift car. While many drift cars have run the Hankook colors, I think this rear-engined 993 RS wore them the best.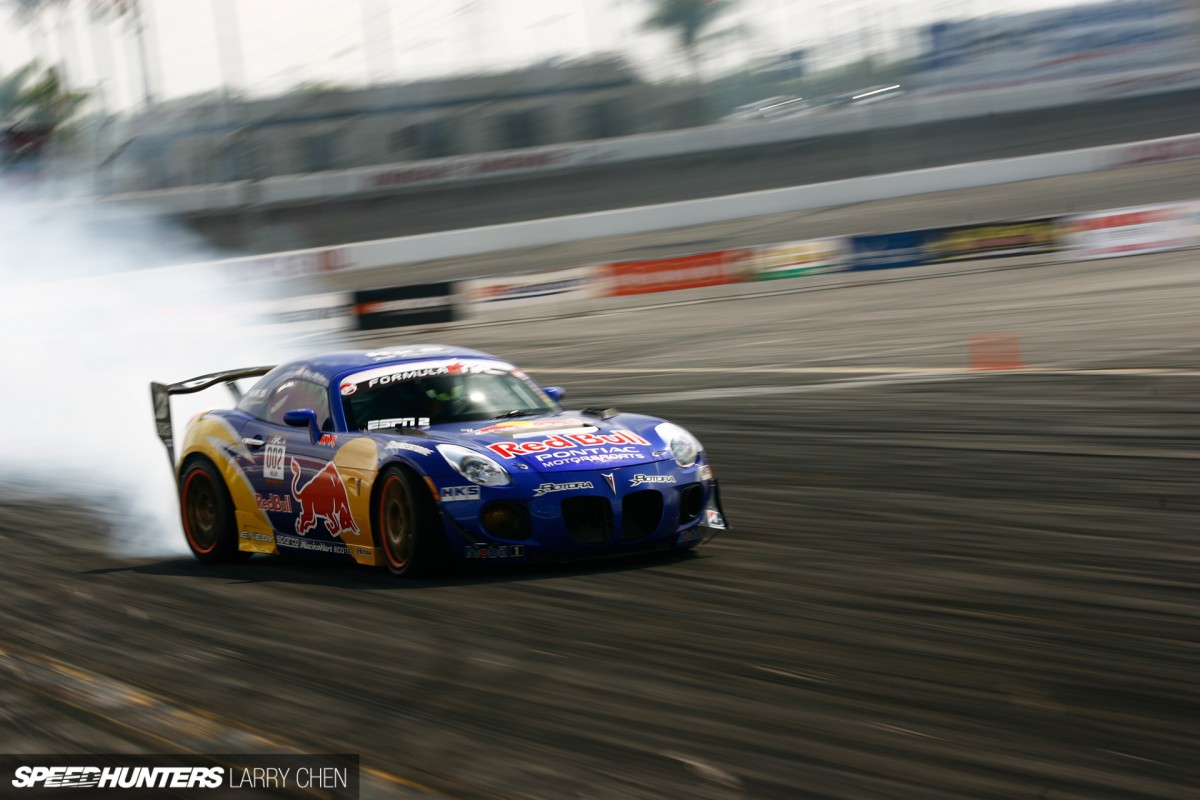 Red Bull has supported the sport of drifting from its stateside beginnings, and they've always had some of the most beautiful racecars on the grid. Out of all of them, I think Rhys Millen's Pontiac Solstice looked the best.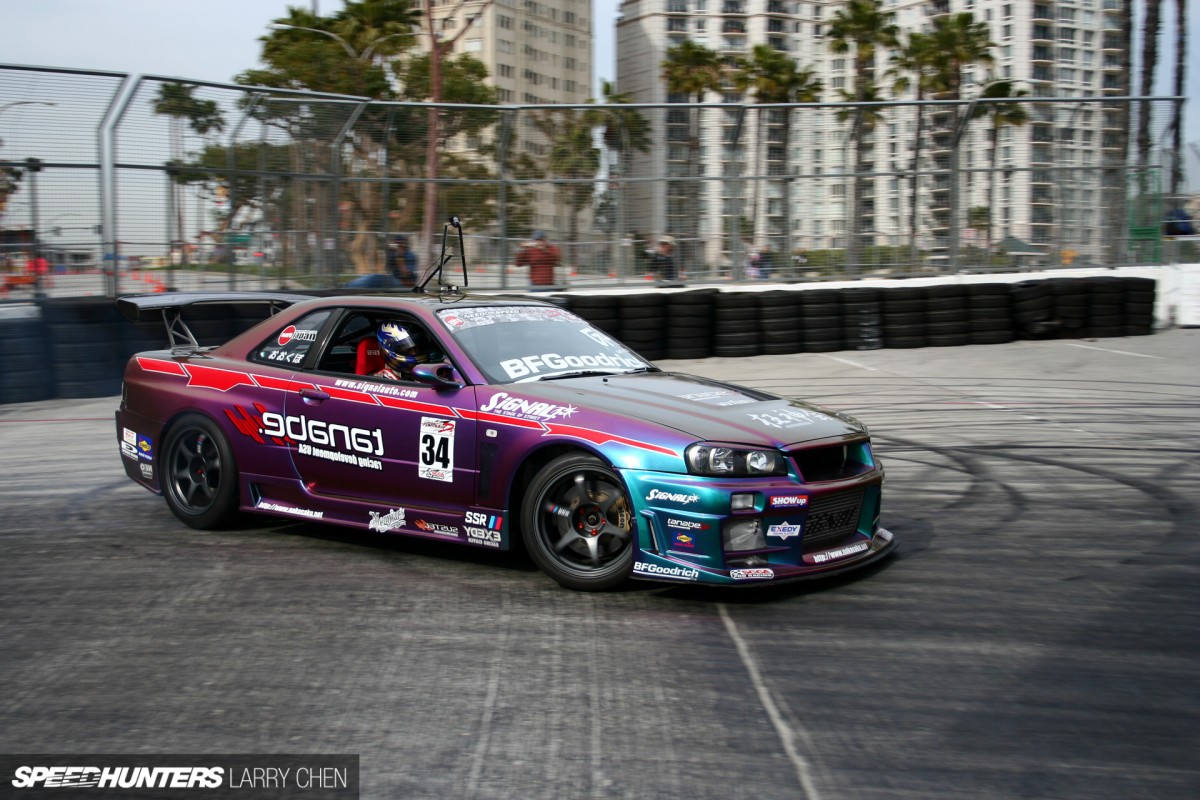 Having an R34 Skyline competing in the Formula Drift series was cool enough in its own right, but the fact that it has Signal Auto's signature Maziora chameleon paint job was the cherry on top. There was no bad angle to shoot this car from.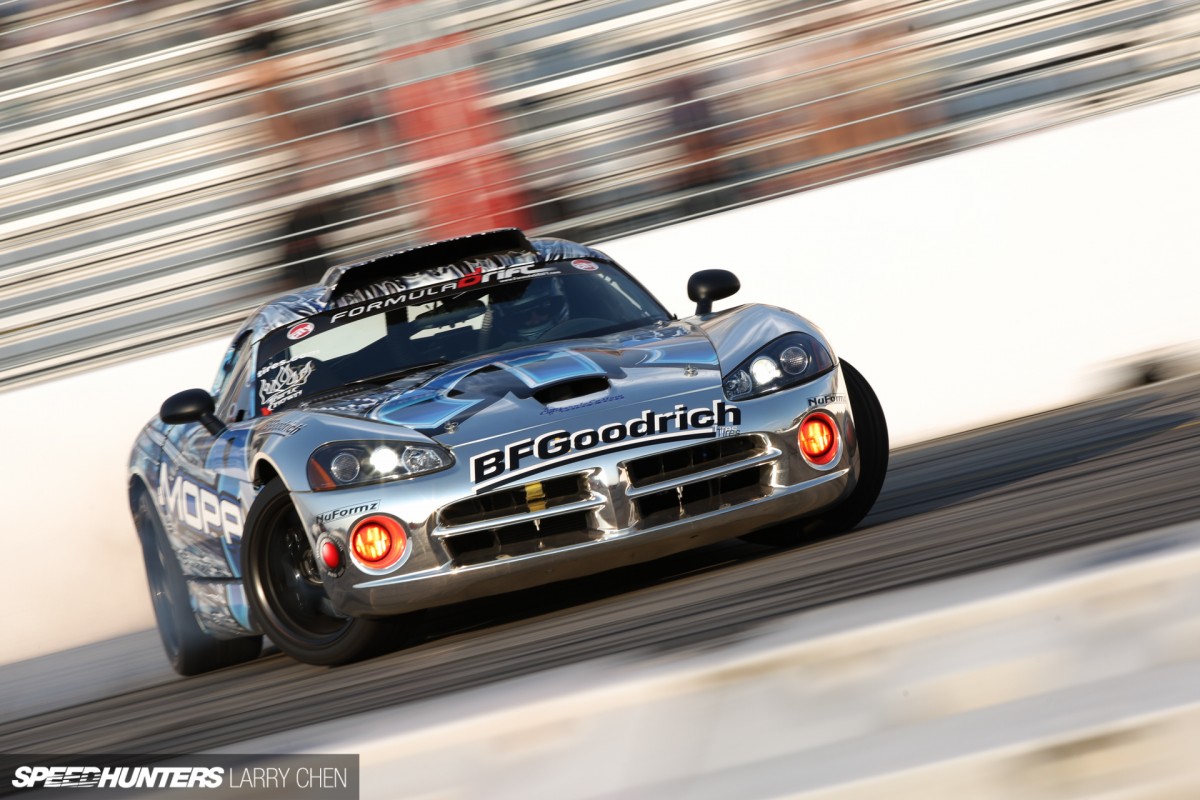 In terms of showstopping liveries, I can't think of anything crazier than Samuel Hubinette's Dodge SRT10. While chrome doesn't usually work on racecars, I feel like this Mopar pulled it off quite well.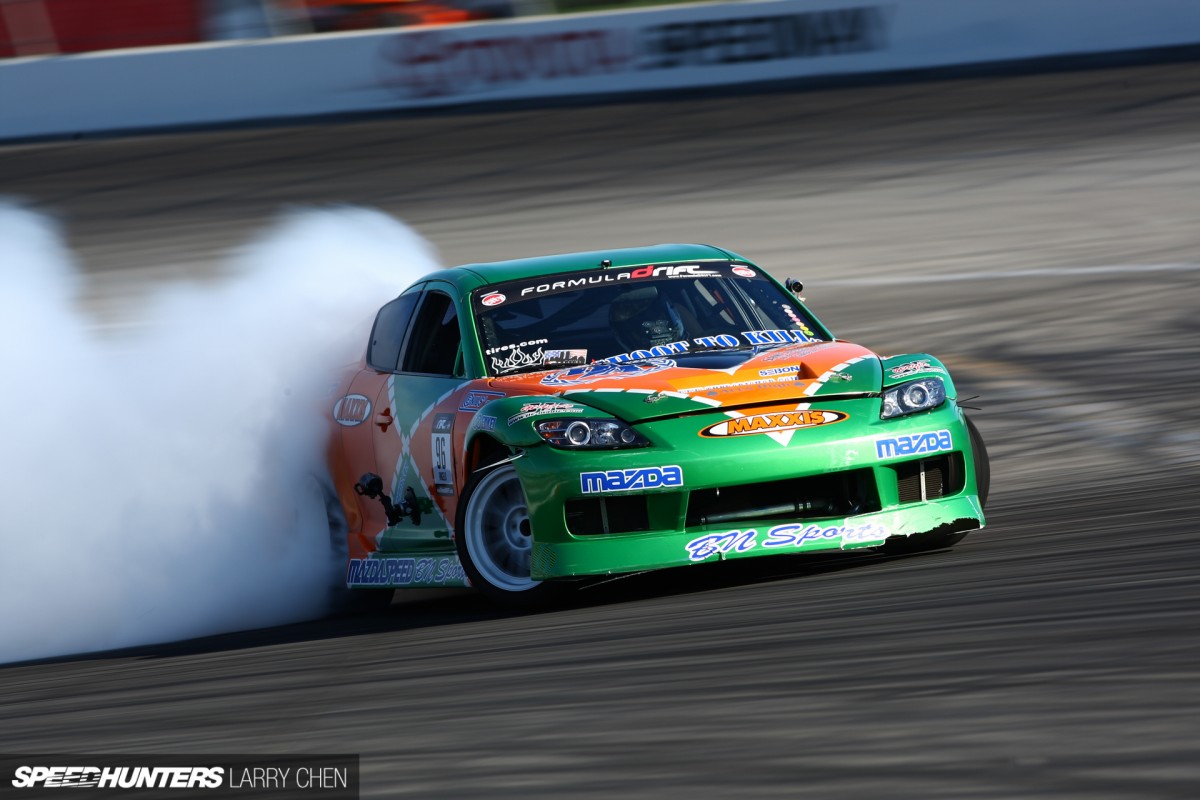 I really like to see teams coming up with original designs for liveries, but sometimes it's nice to see a reboot of a classic. The Mazda 787B Le Mans look actually fit Tony Angelo's RX-8 really well – the colors popped like no other, making it one of the best looking drift cars of its time.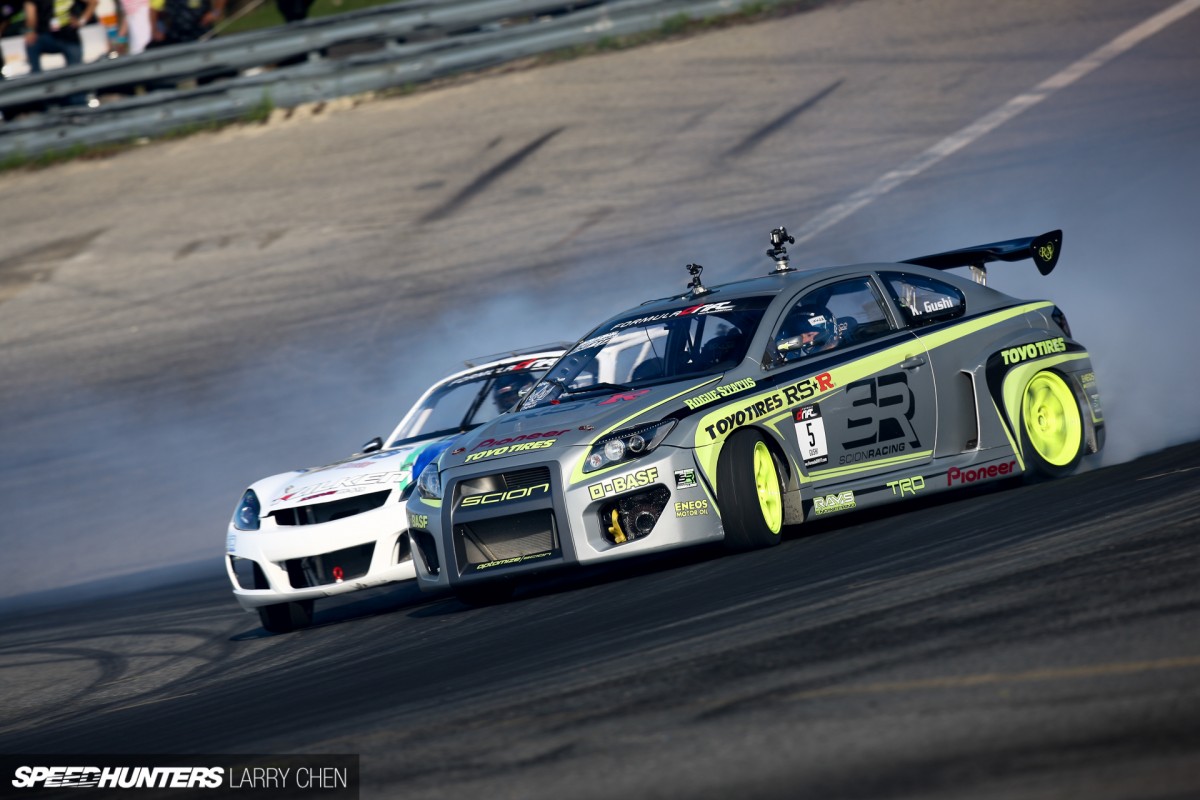 Unique paint combinations will always stand out and Ken Gushi's BASF/Scion Racing livery looked amazing against the tC's neon colored wheels.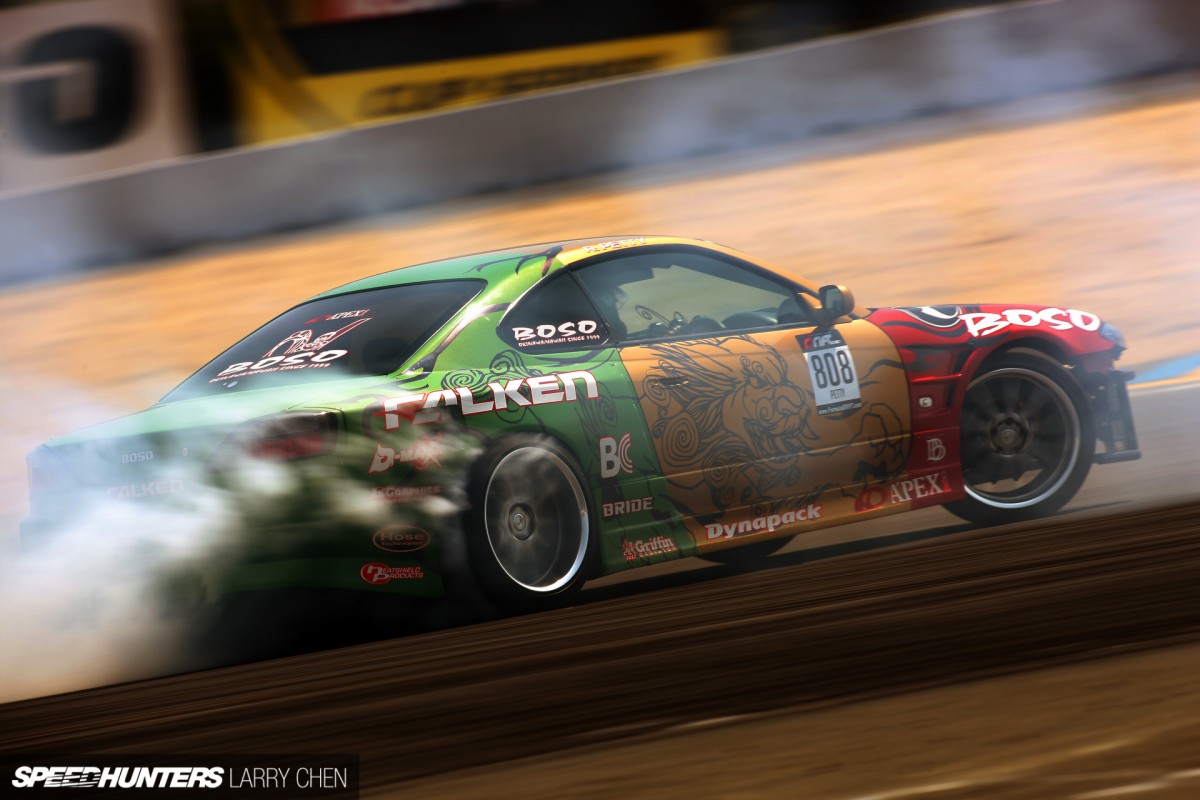 In terms of liveries that shook the drifting world, Ross Petty's Rasta-inspired S15 comes to mind. There were a slew of copycats after this car debuted in 2009, but none of them came close to the style that the Garage Boso S15 had.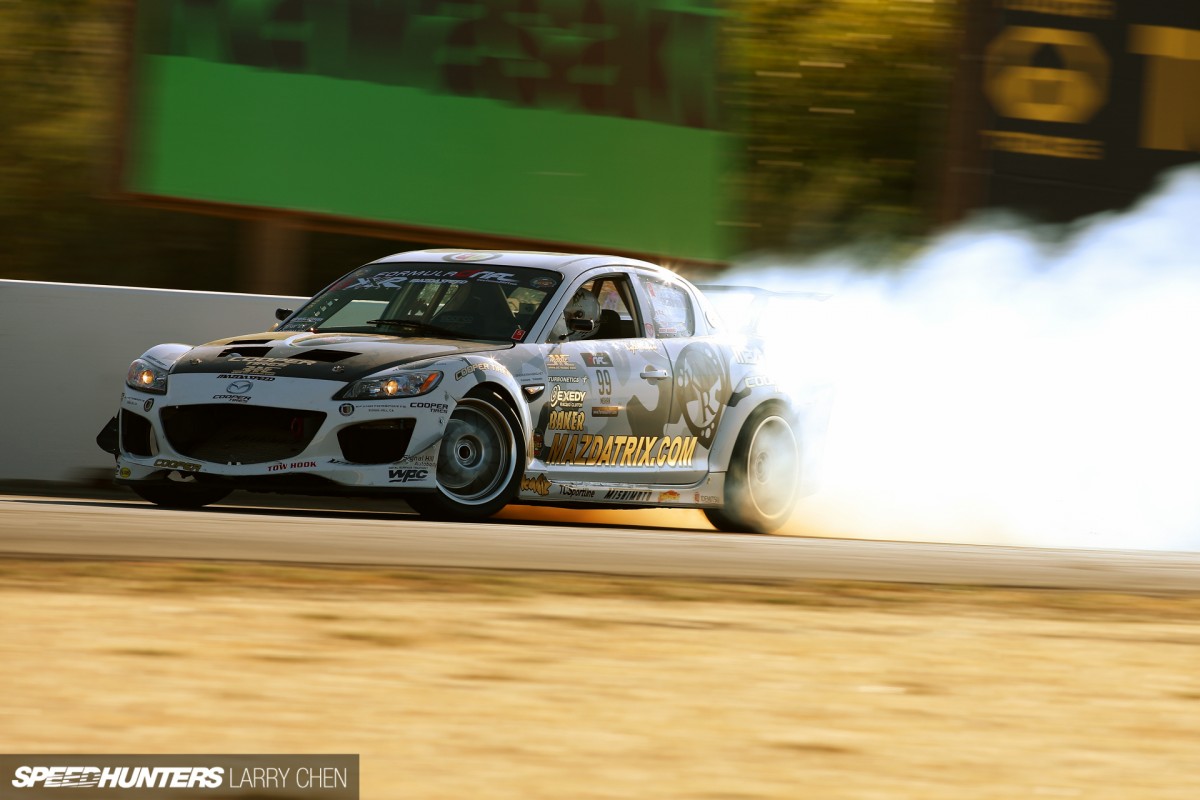 While the RX-8 was a less than desirable street car, there were plenty of race versions that looked amazing. Out of all the revisions Kyle Mohan's car went through, I still like the original camo scheme the best.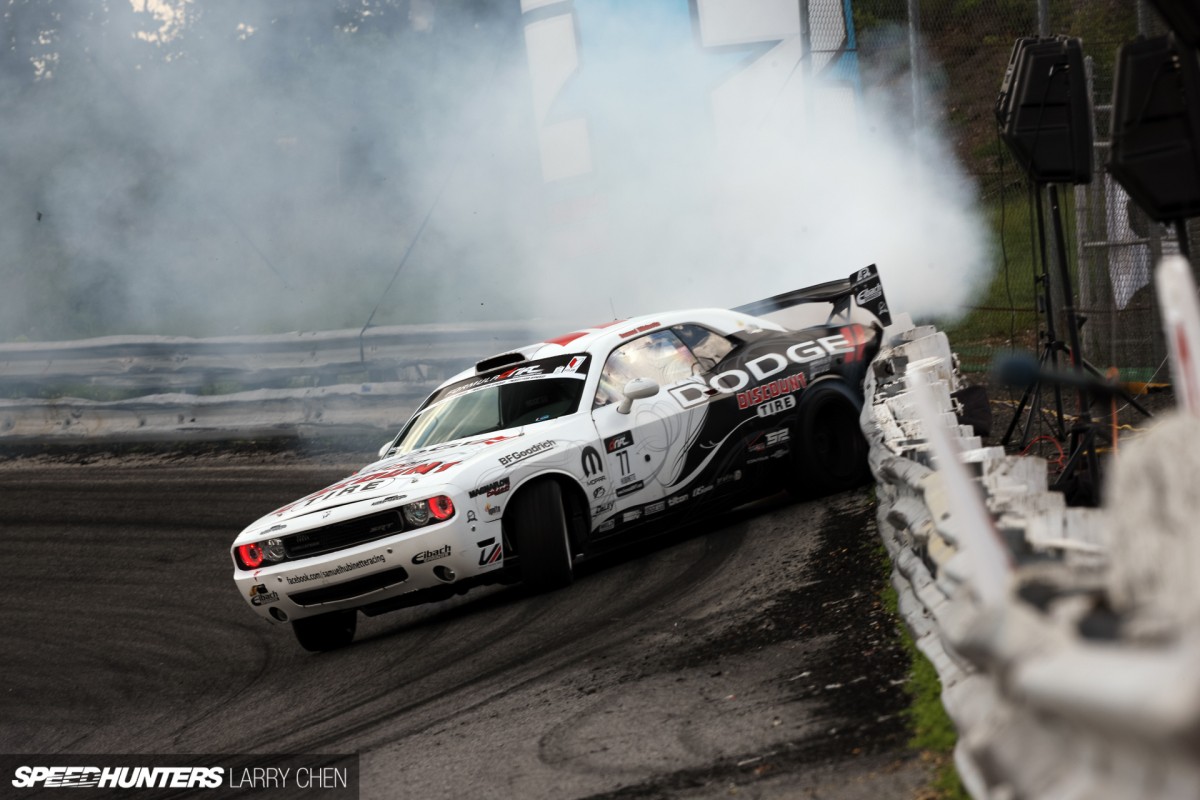 Sometimes the most simple things can set off a car's look, and the red running lights on this Dodge Challenger are the perfect example. Although, as you can see here, Kenny Moen decided to put his own spin on what the bodywork should look like.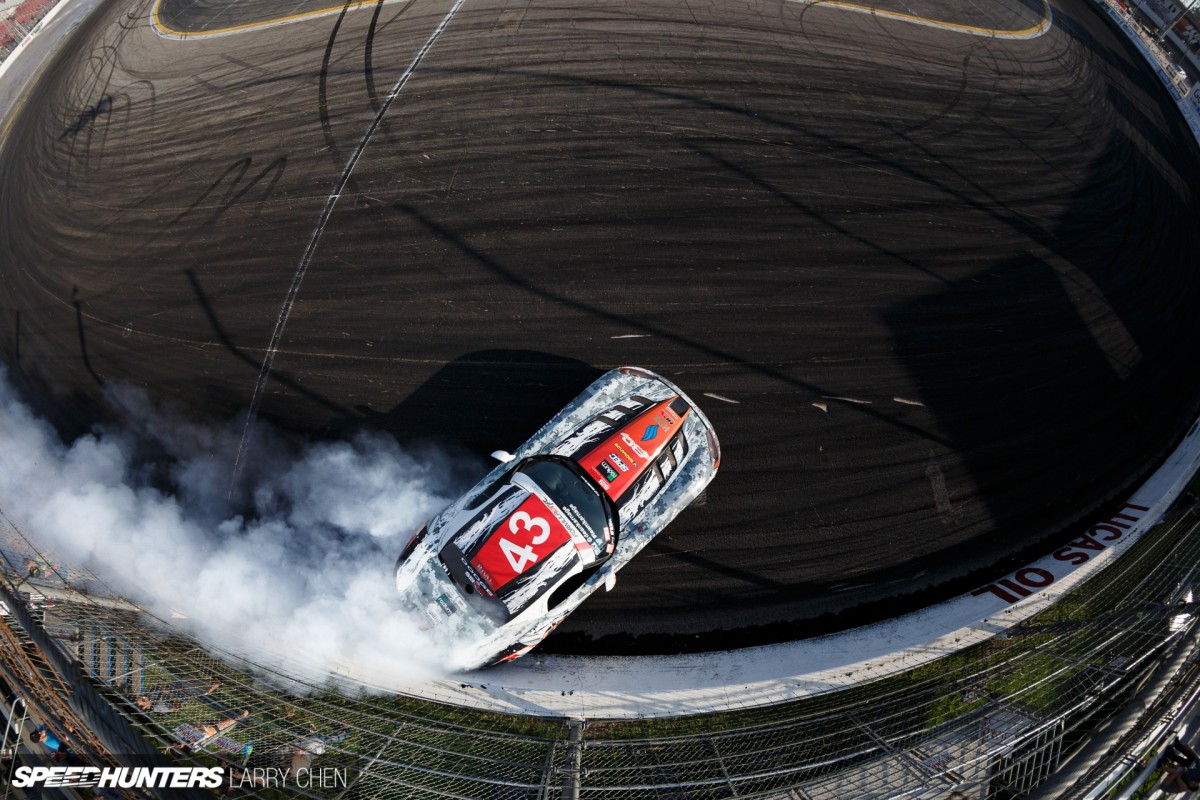 The last Dodge on my list belongs to Dean Kearney's tire slayer. It looks amazing from all angles, but best from above. Many teams neglect the roof of the car, but I just love how it gives a completely different perspective on this digi-camo livery.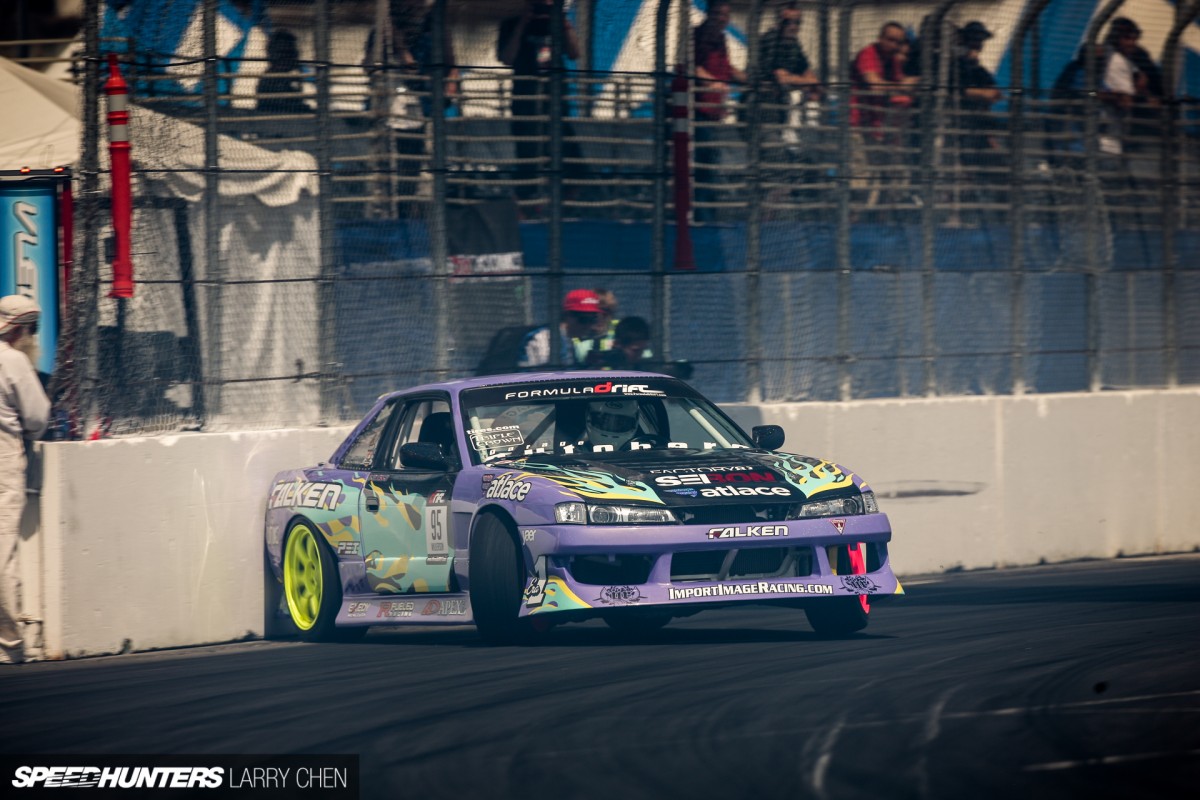 In terms of original and iconic American liveries, Walker Wilkerson's S13 is probably one of the most notable. While many privateers skimp out in this department, Walker went out of his way to run something that stood out, which made him a crowd favorite.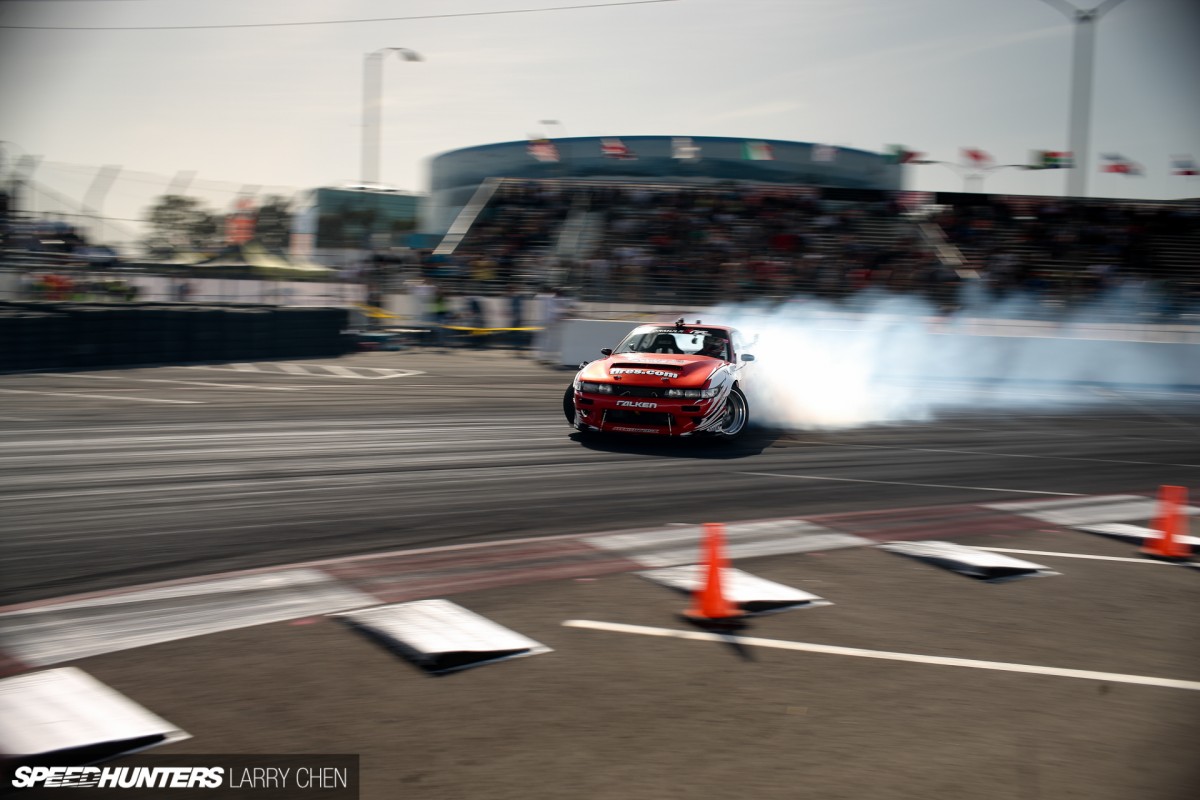 Continuing with S13s, my all-time favorite S13 drift car has to be Daijiro Yoshihara's championship-winning Discount Tire car from 2011. I just love the way the car looks when it's sideways, and this variation with the red and white accents really stood out.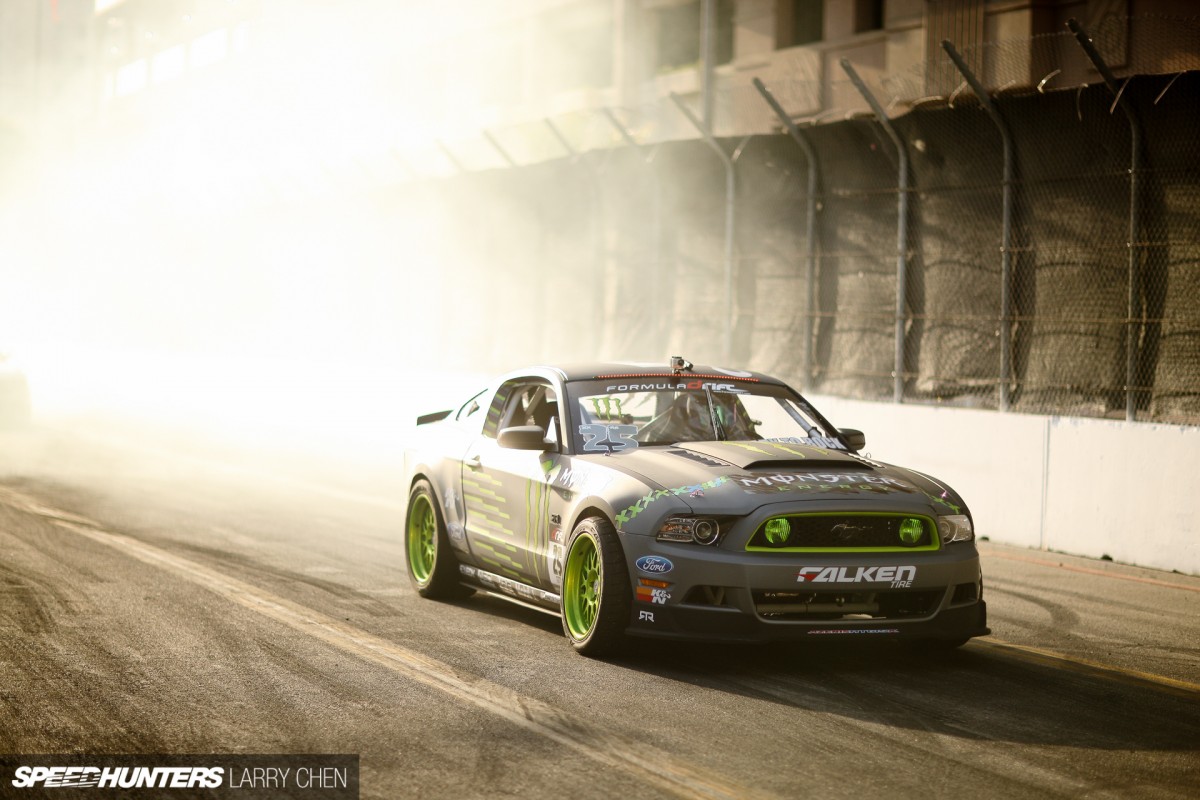 While there have been plenty of Mustangs in and out of the paddock, the Frankenstein-inspired livery for Vaughn Gittin Jr.'s 2012 Mustang was my absolute favorite. It really worked with the lines of the car and the green highlights set it off nicely.
Part 2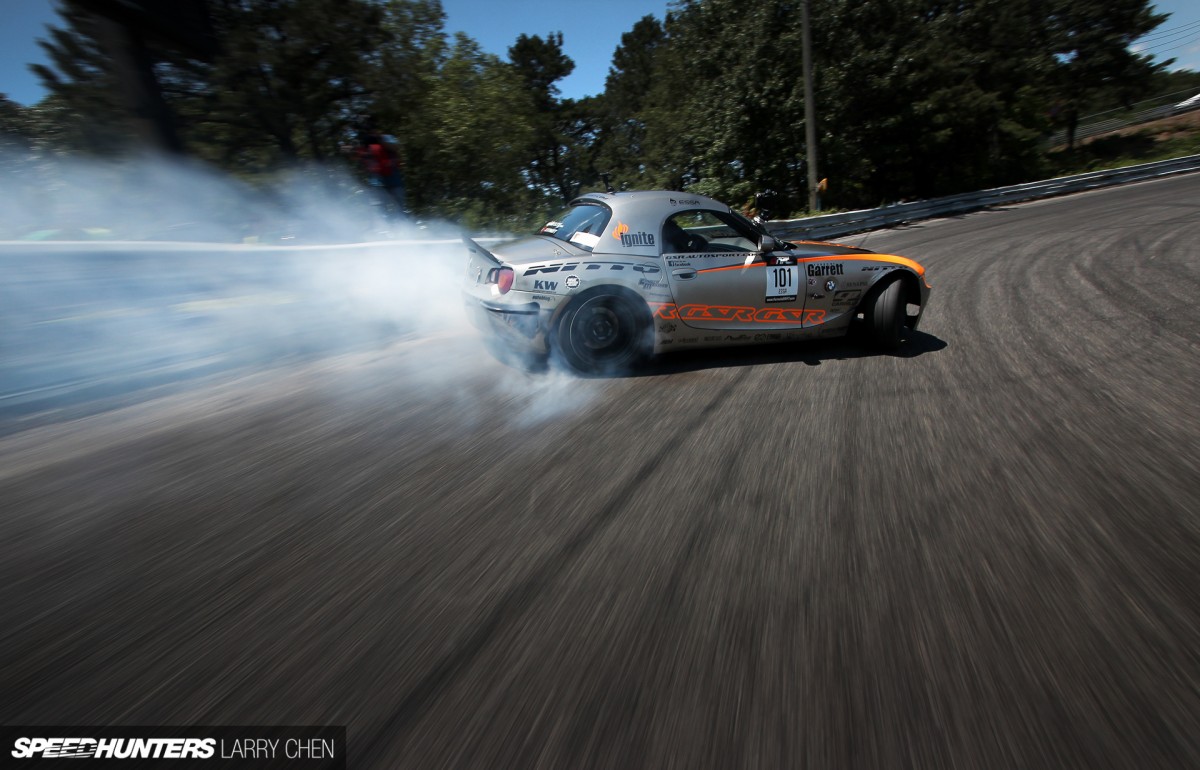 Sometimes simple is the best way to go. Mike Essa did his best to develop the Z4 chassis for drifting, but unfortunately he didn't achieve the results that he was hoping for. It's too bad because the car looked absolutely amazing.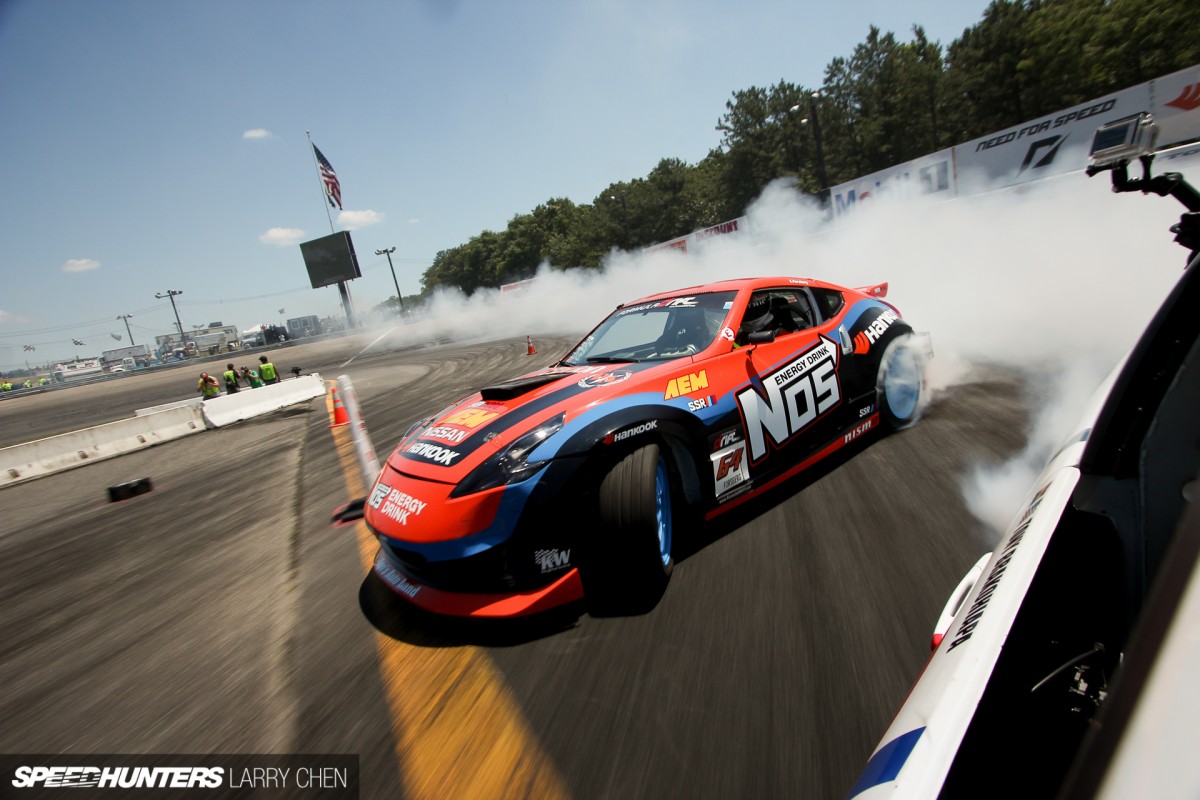 Many Nissan Z cars have competed in the FD field but I have to say that Chris Forsberg's 2012 livery suited the car the best. While I like the all-carbon look from the 2014 season, I love the orange more – which may or may not have something to do with my own Z, Ole Orange Bang.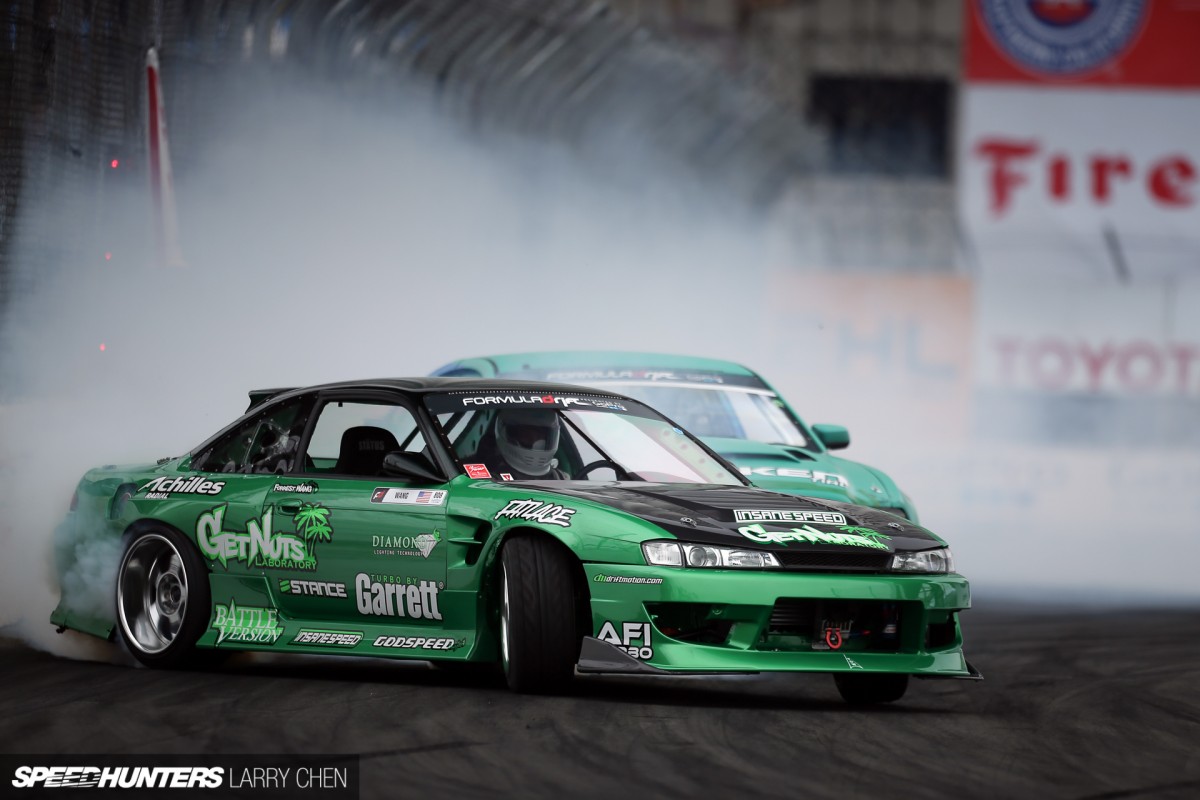 Forrest Wang has always had incredible style and his S14 was probably one of the best looking cars on grid in 2013. While the design was simple, it looked stunning from all angles. Rumor has it that he is building an S15 for the 2015 season, so I am curious to see what it will look like.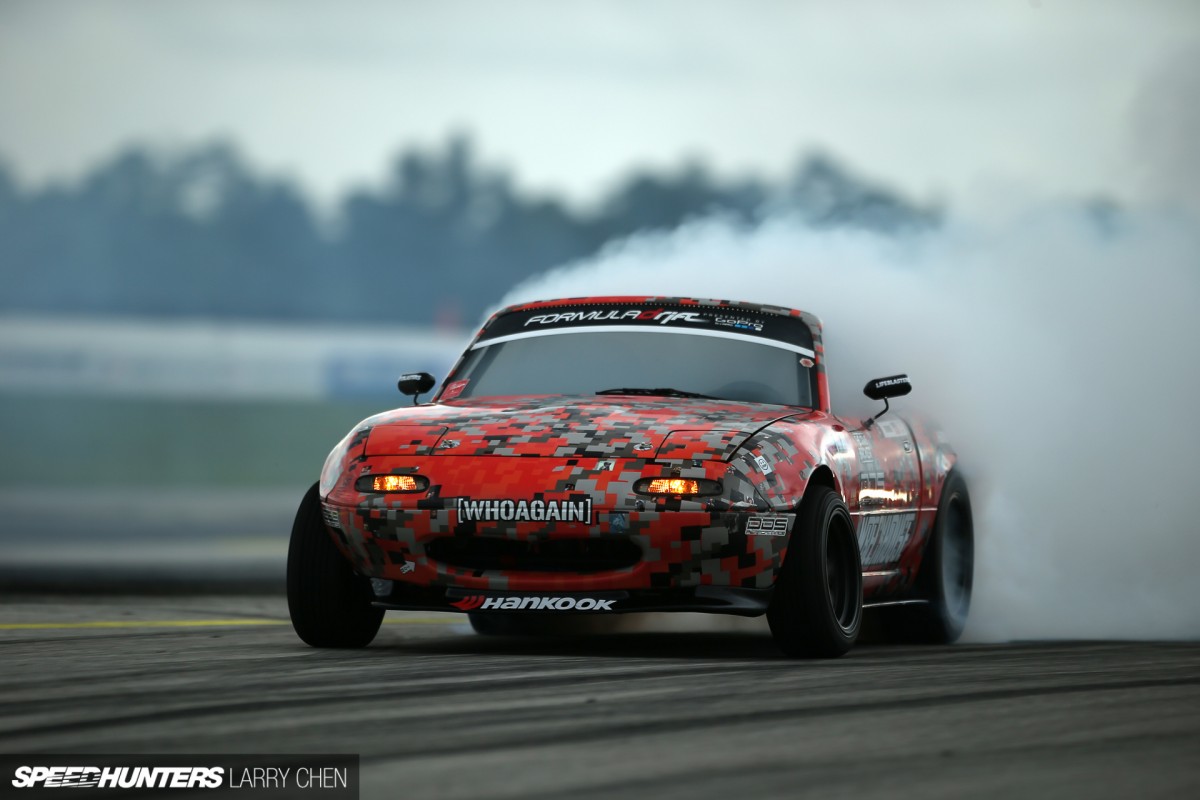 Maybe I have a soft spot for orange cars, but there is just something about Danny George's Miata that I really like. Perhaps it's because the car was totally out of place, but I loved how he incorporated photos of his supporters into its livery.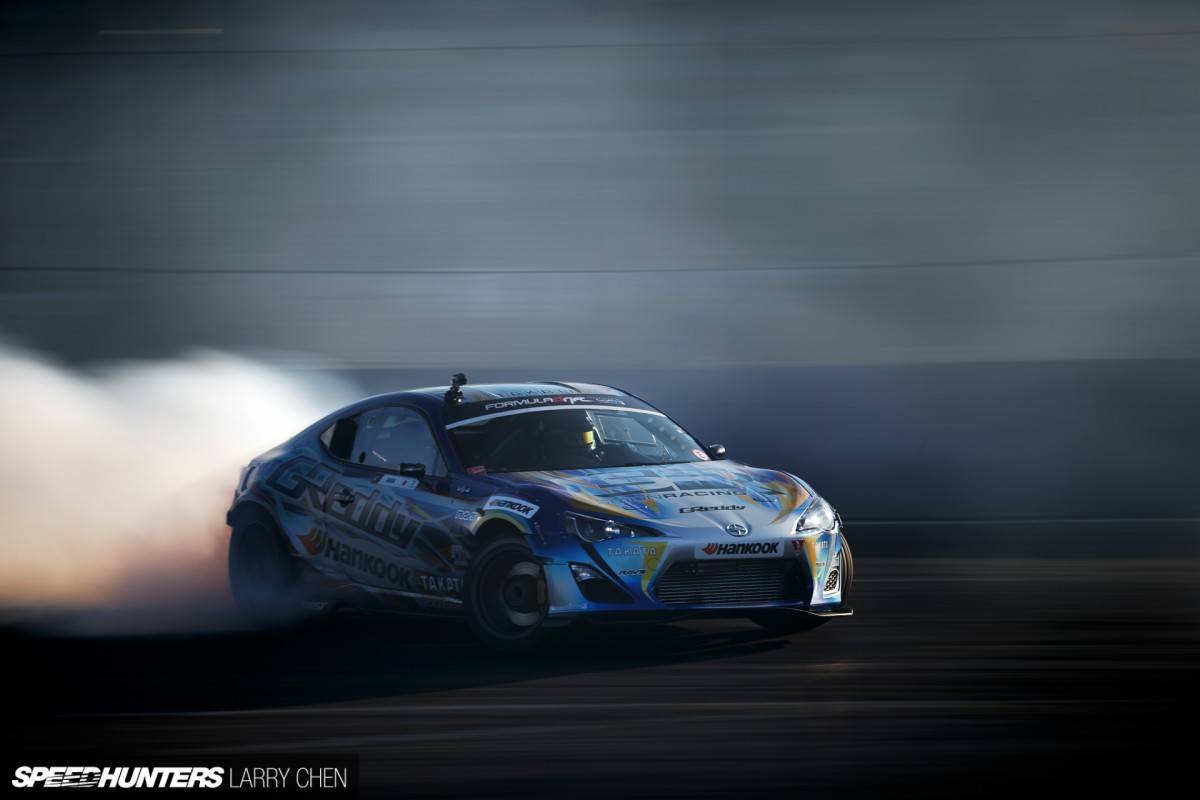 The GReddy Scion FR-S driven by Ken Gushi has gone through three liveries, but I think this very Japanese-looking wrap from the 2013 season fitted in perfectly with the styling of the 86.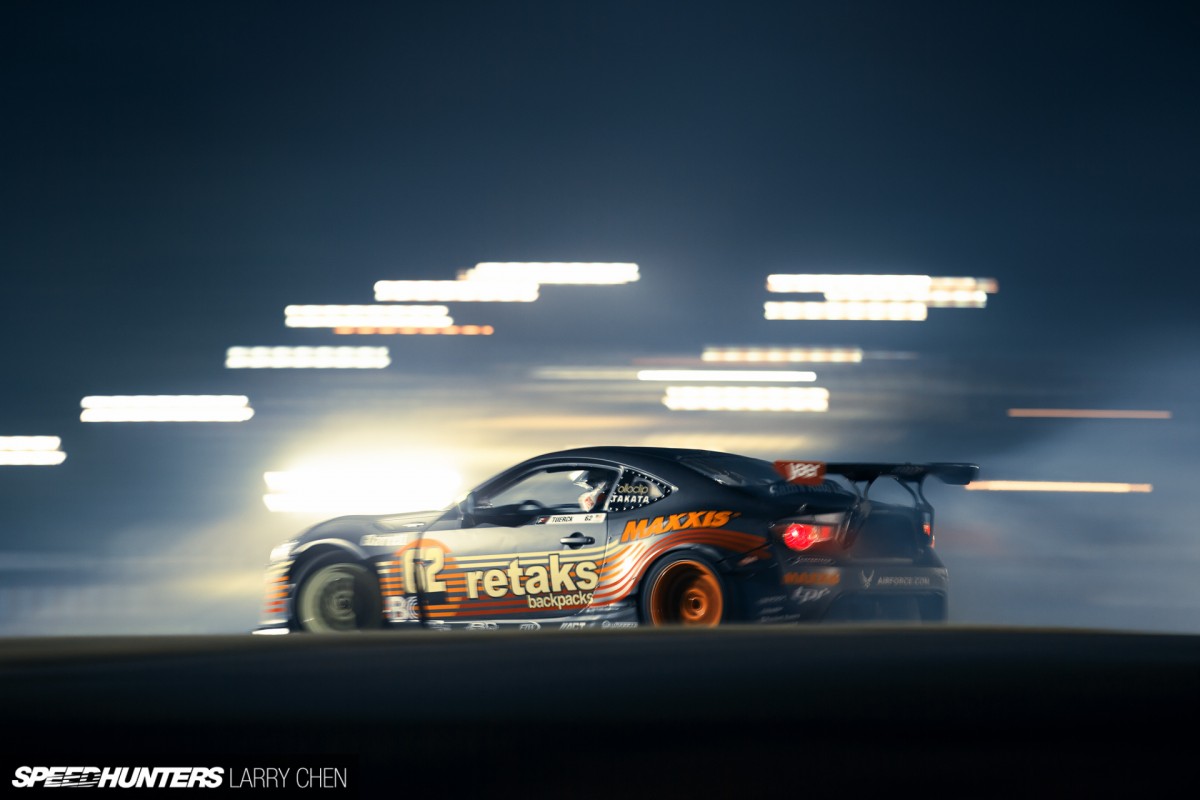 Retaks-sponsored cars have always looked great, but this past year's FR-S driven by Ryan Tuerck takes the cake. I love the colors and the mismatching wheels that set it off perfectly.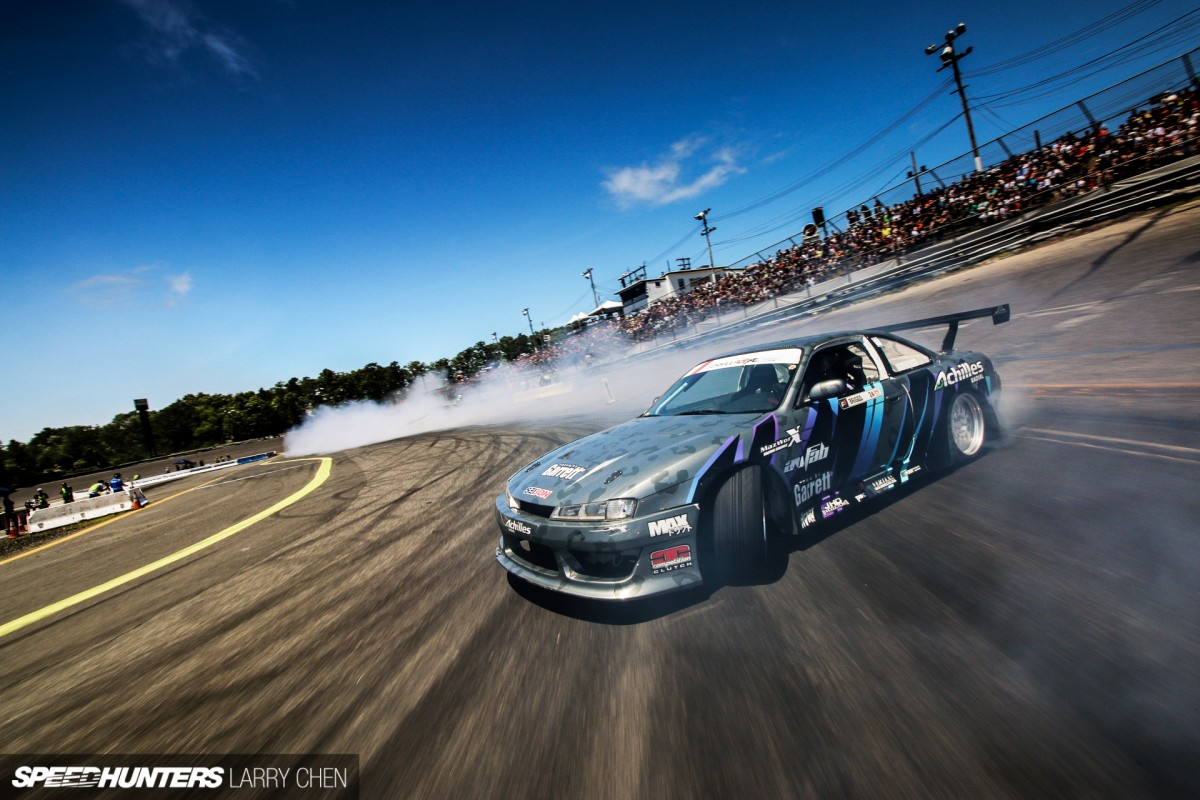 While the whole cheetah print thing has been done to death in recent years, it'll still look great if executed properly. Dave Briggs is unique in that he is the only one left running a Nissan inline four cylinder turbo motor, so it's only fitting that he has a unique livery for his S14.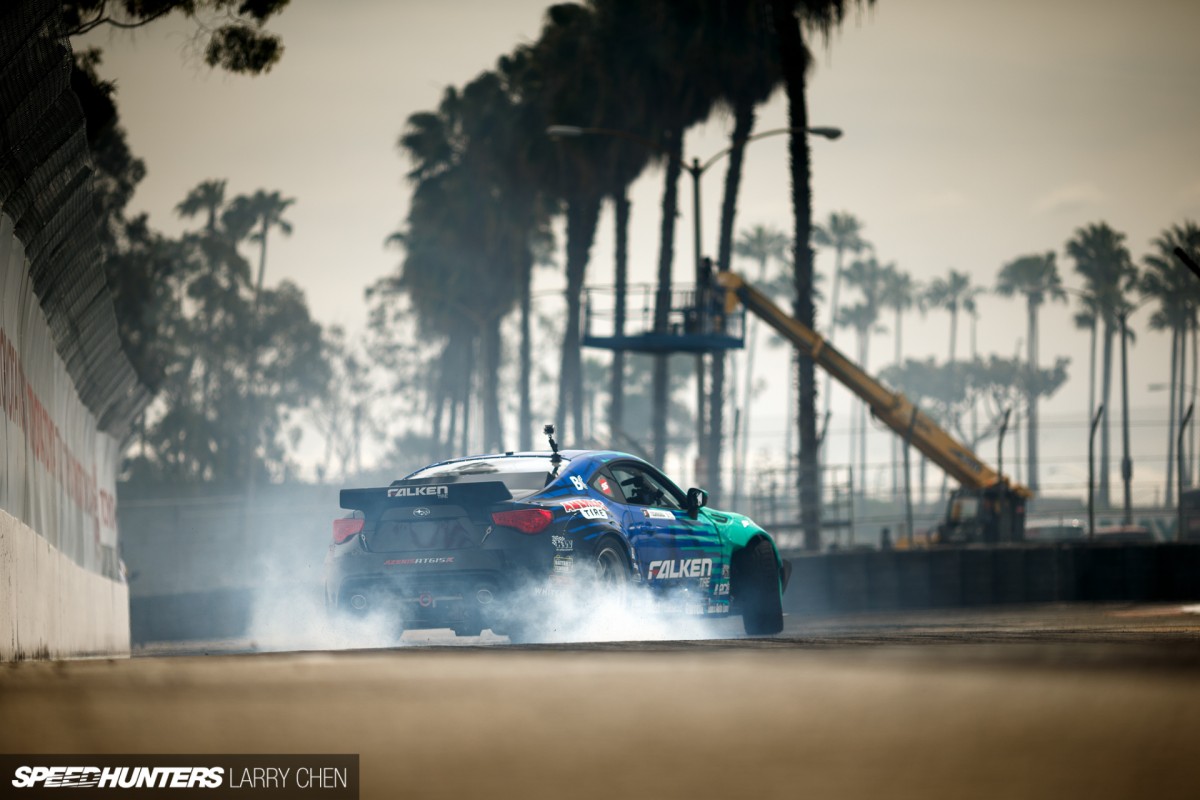 Of course, you can't mention American drifting without mentioning the Falken teal and blue scallops, which have been seen in Formula Drift since day one. Daijiro Yoshihara's all-new twin turbo BRZ is nothing short of amazing, with a very aggressive look from all angles.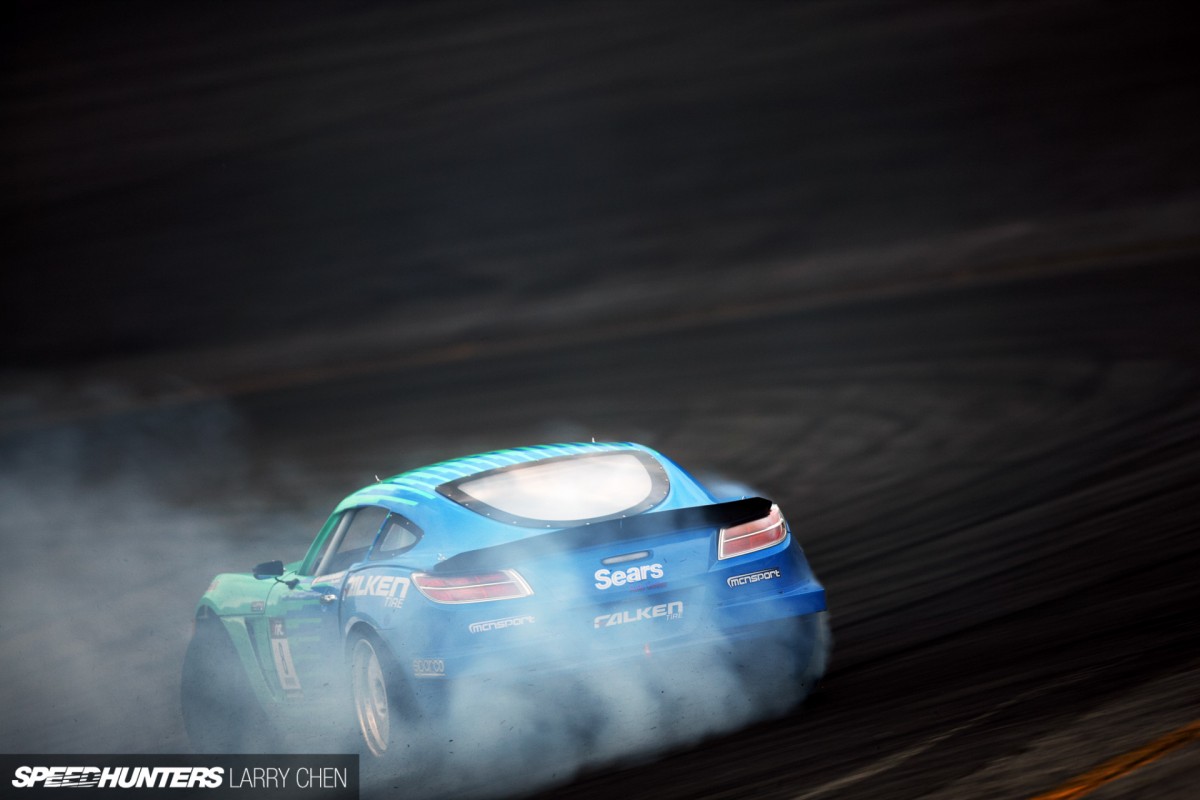 Of all the Falken cars past and present, Darren McNamara's hardtop Saturn Sky is my favorite. In fact, I think it's one of the best looking drift cars to have ever graced the FD paddock.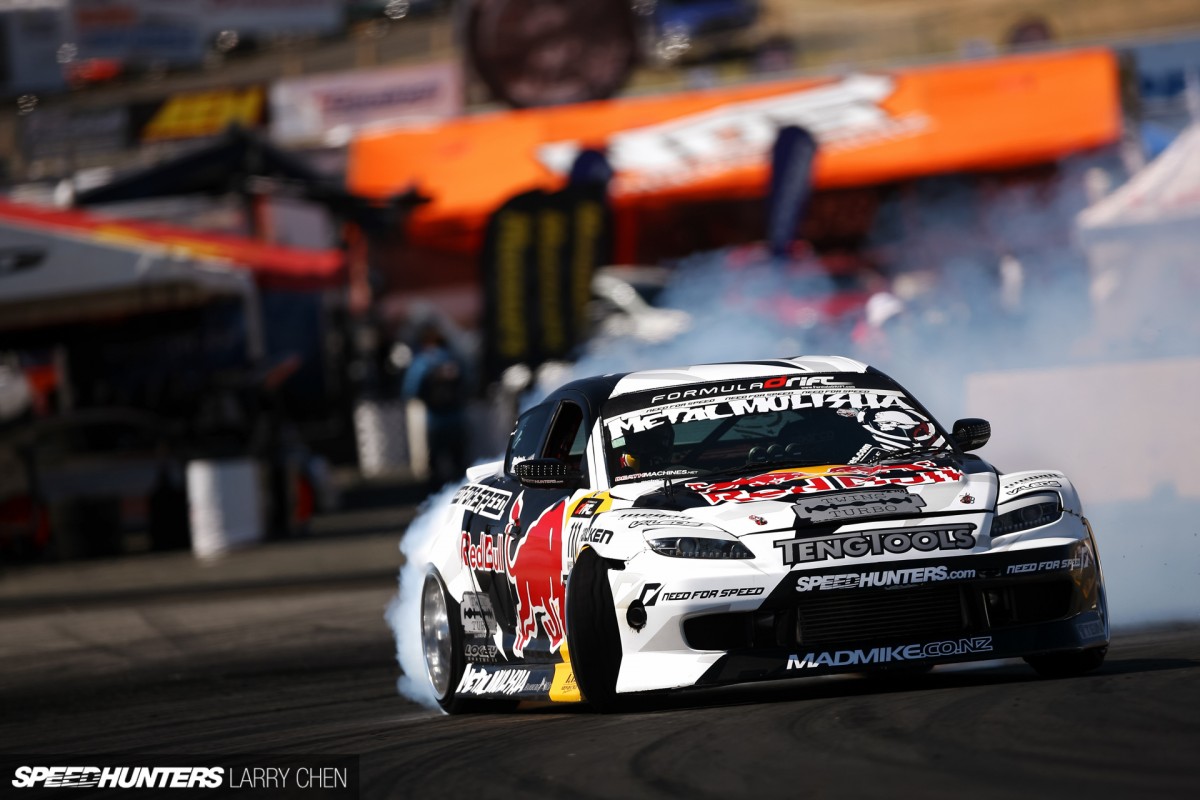 Let's finish off my list with Team Speedhunters. All of the Speedhunters car liveries were designed by Andy Blackmore, and they've become quite iconic with many teams all around the world borrowing traits of the style. To this day, Mad Mike Whiddett still has the most beautiful RX-8 in the world. What an amazing looking car.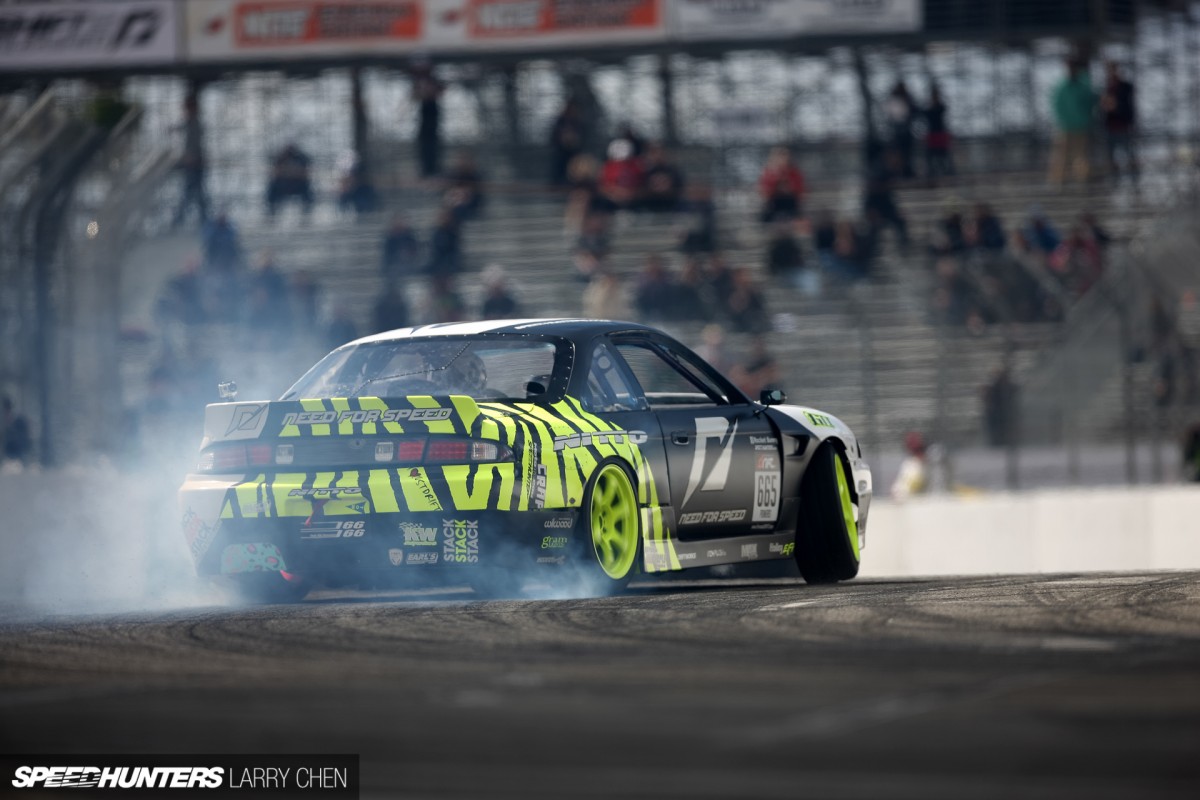 Matt Power's Team NFS/Speedhunters Rocket Bunny S14 (aka The Pirate Ship) was truly amazing. The style at the time was pretty groundbreaking, and I think it suited his personality very well. This S14 inspired many enthusiasts to take another look at the zenki model, when at the time most people were only interested in the S14's kouki version.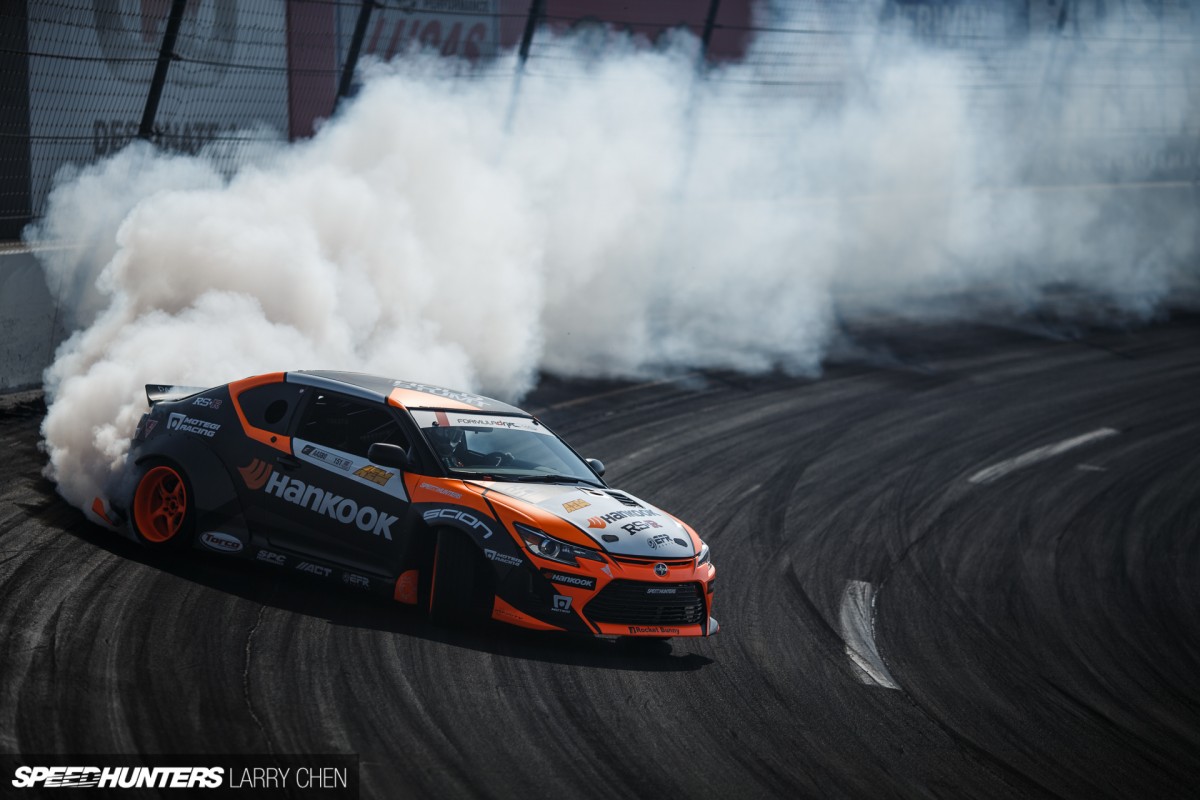 Finally, the Papadakis Racing Scion tC driven by our very own Fredric Aasbø finishes off my Top 25. While the car has gone through many looks and variations on a similar livery, I think this latest one with the Rocket Bunny kit really sets the car off. If only the tC came in rear-wheel drive so we could see more of these cars getting sideways.
These are my 25 favorite liveries from Formula Drift. Now tell me – what are your favorite liveries in drifting and racing in general?
Larry Chen
Instagram: larry_chen_foto
[email protected]
More Formula Drift stories on Speedhunters
Sours: http://www.speedhunters.com/2015/01/top-25-liveries-of-formula-drift/
All posts tagged formula drift
Been a busy few weeks here at Andy Blackmore Design wrapping up Formula Drift liveries, some graphic and corporate identity projects and no less than four Spotter Guides, three of which you can read about elsewhere, so individual posts and announcements had to be put to one side, so I'll catch up with a quartet of Formula Drift entries, which I designed for 2015.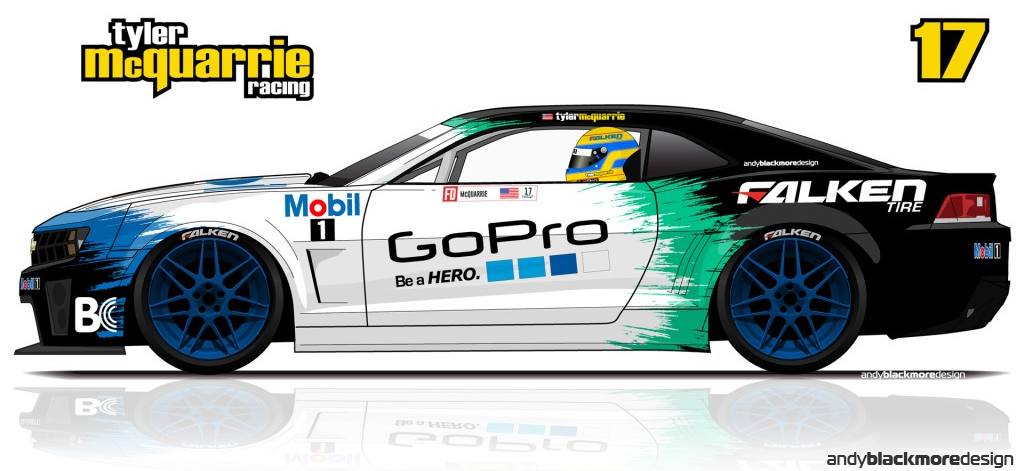 I have worked with Tyler for a number of years and we hit upon a design based off the previous owner of the Camaro and the same basic look has remained the same all of the years. Its a dilemma drivers and teams have. Create something fresh for the new season and you have to rebuild recognition and any chance of using previous imagery goes out the window. Retain or develop a design and you build an awareness which is important in advertising.
With the main sponsors using Black and White in their marketing, we decided to stick with the well known look and update elements of the design with Falken's iconic Blue and Teal. Wrapped in AERO product by The Decal Source.
I also supplied Tyler McQuarrie Racing with various graphics and layouts for branding and team shirts.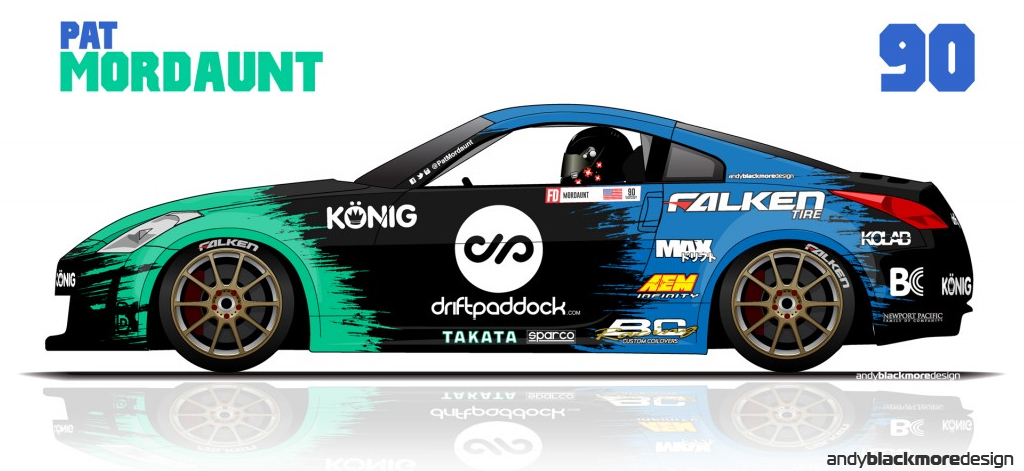 2015 see's Tyler expand his operation, bringing his old Nissan 350Z out of retirement, to be used by Pat Mordaunt. Pat and the Kolab agency came to me after their original announcement and imagery and wanted a different take on the livery original shown.
It was decided from the outset to have a livery based on Tyler's trademark look and the end result works individually as a livery with Falken coloration and also as a collective next to Tyler's Camaro. I also designed Pat's racesuit, using the same base graphic
Pat was pleased, in his pre season press release he remarked "Working with Andy  has been phenomenal. His creativity and attention to detail is unrivaled when it comes to car design".
Nice one, thanks Pat, great working with you!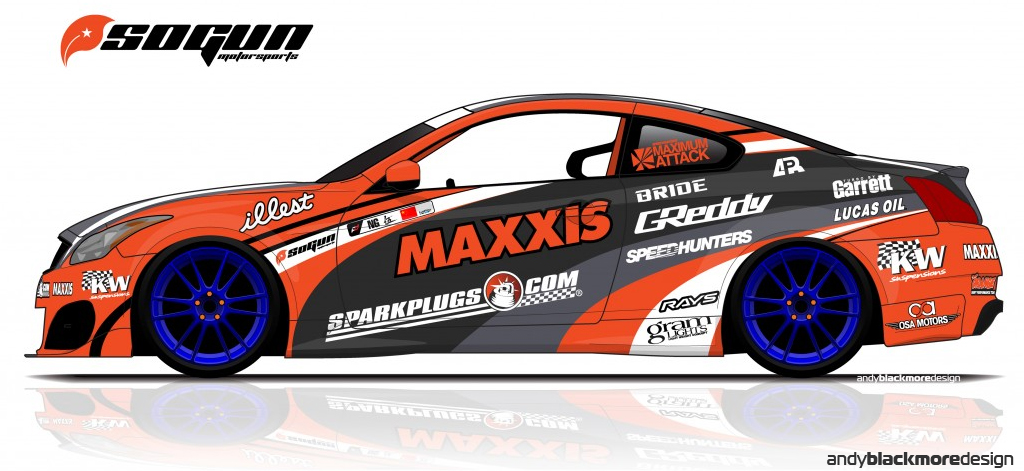 Charles Ng is another long term client. Many non drifters will recognise his name from the WTCC Where he campaigned an Independent BMW 320. Focus is now with drifting and as a top instructor with Mercedes AMG travelling around the world!
Charles's design was one of my favourites last year, clean and subtle and small aspects of Orange. For 2015, Charles wanted something vibrant, loud along with significant exposure from Maxxis Tires, his new sponsor.
As it happens, I designed a new 'global livery' for Maxxis in 2014 and has already been seen on a couple of cars. We took the Maxxis look and personalised it for Charles, tweaking the design here and there. Was a bit of challenge due to the large number of sponsors Charles' carries, but without these you don't have a racing program.
You won't miss that in the dark!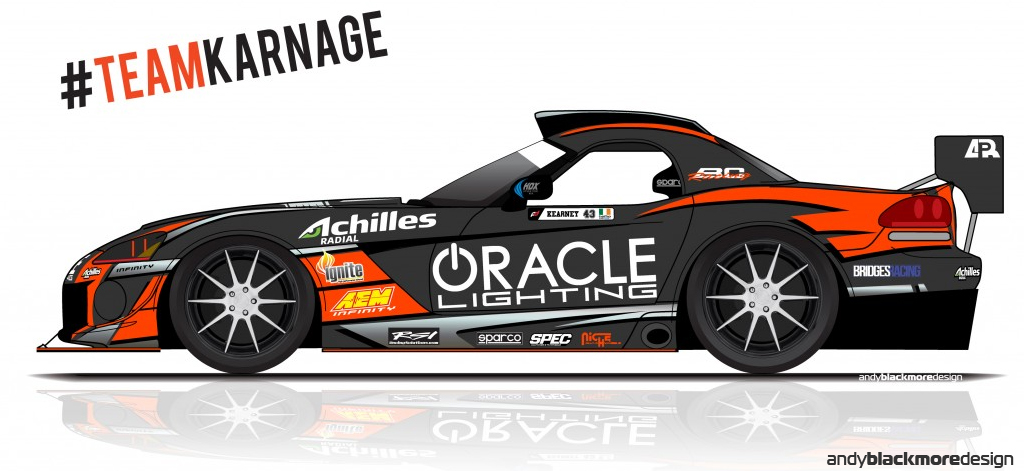 Final design is a new client, Oracle Client and Irish drifter, Dean Kearney. Dean has campaigned a Viper for a number of years and wanted an all new look this year.
Feedback from previous liveries and more recent proposals were the logos and branding were hard to read, so they wanted a design with maximum contrast and clarity. The brief also called for an aggressive, menacing design using Oracle's colours (Chrome on a Black base with Orange accents) and oversized logos.
You'll see Orange and Black is really in fashion this year. I've already done four liveries in these hues this year, plus Fredric Aasbo's livery 2010-2014, so it can be a challenge to make sure each design is different and is fully resolved for the client.
The final design proposal uses a Matte Black base, with some subtle Gloss Black drop shadows with accents of Orange and Chrome flashes  to show off the Viper's lines with branding, largely as before. I also created a suit design for Dean using this coloration and similar flashes of colour. Due to a lack of accurate line drawing and sweeping lines, large parts of this livery was cut on the car by hand by Daley Visual who did a great job bringing this and Pat's 350Z to life.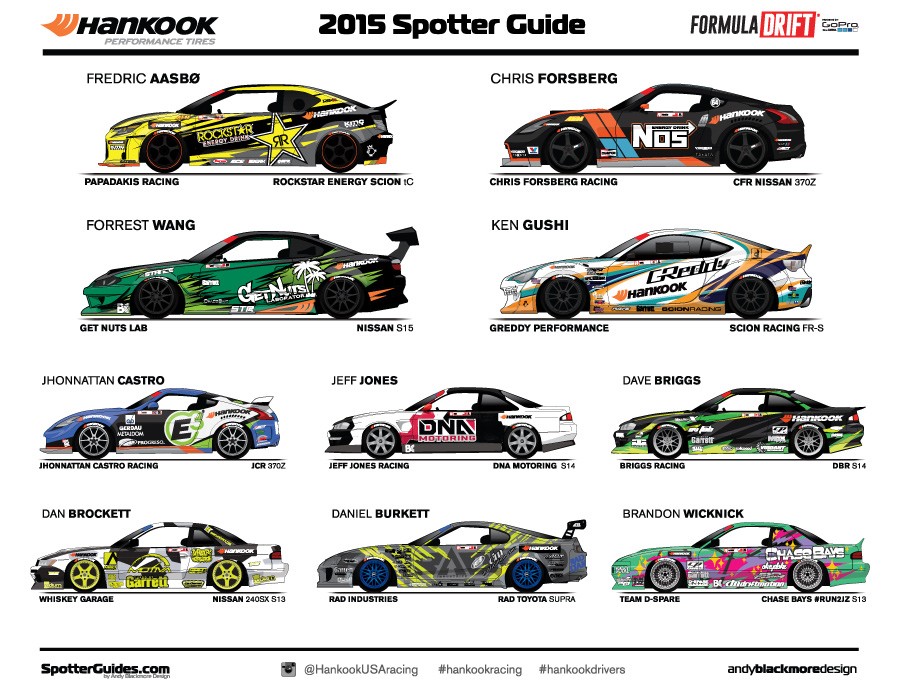 In addition, I was also recommissioned to produce the Hankook Tiire Formula Drift Spotter Guide again for 2015. One of the most popular guides in 2014 (only bettered by Le Mans!) the guide features all the Hankook runners in Pro and Pro2 championships. You can download the guide at Spotter Guides.com, or grab a printed version at FD events from the Hankook area, or during the Autograph sessions.
Good luck to all my clients past and present in FD this year.
April 11, 2015//Category: News/ Tags: Charles Ng, Dean Kearney, Formula D, formula drift, Hankook, livery design, Pat Mordaunt, Tyler McQuarrie
Sours: http://www.andyblackmoredesign.com/tag/formula-drift/
CarX Drift - Livery Tutorial Clean Drift Design GUIDE EXPLAINED FULL
.
Livery design drift
.
Top 15 Drift Liveries of the Month 2021 Best Designs Ep1
.
You will also like:
.
66
67
68
69
70