Category Archives: Monday's Flower Quote
FLOWER QUOTE: NO MATTER HOW CHAOTIC IT IS
January 20, 2020
MY TWO CENTS No matter how chaotic it is, wildflowers will still spring up in the middle of nowhere… Life often feels chaotic to me. Sheryl Crow's quote, though, calms my mind and spirit, knowing that moments and lovely flowers will pop up in the least expected ways. It reminds me that there is so much more to life than getting caught up in the chaos of it. ABOUT THE AUTHOR Sheryl Crow is...
Read More
FLOWER QUOTE: THE NEW YEAR STANDS BEFORE US
December 30, 2019
MY TWO CENTS The new year stands before us, like a chapter in a book, waiting to be written… The new year is a wonderful time for renewal. How fortunate are we to have a restart button to push and begin again. Happy New Year and here's to a great 2020! ABOUT THE AUTHOR Melody Beattie (1948) was born in St. Paul, Minnesota. Her father left when she was a toddler. As a child, Beattie wa...
Read More
FLOWER QUOTE: IT'S NOT ABOUT YOUR PRESENTS
December 09, 2019
MY TWO CENTS It's not about your presents, but it is about your presence. Therein lies the spirit of the holiday season... How quickly I can get caught up in the gift giving and the holiday season and forget to be here and present. It's an exciting time of the year, but I don't want to get lost in the hustle and bustle. I want to be in the moment and be present with those I'm celebrating...
Read More
FLOWER QUOTE: BE THANKFUL
November 25, 2019
MY TWO CENTS Be thankful for what you have; you'll end up having more. If you concentrate on what you don't have, you will never, ever have enough... I think Oprah said it best. Happy Thanksgiving! ABOUT THE AUTHOR Who doesn't know Oprah Winfrey (b. January 29, 1954) Admittedly, I wasn't sure what to share about Oprah, as most people know of her and something about her life. This weekend,...
Read More
FLOWER QUOTE: BEGIN WHAT YOU CAN DO
November 11, 2019
MY TWO CENTS Begin what you can do, or dream you can do. Boldness has genius, strength, and magic in it… I find it hard to go after what I'm dream about. My "monkey" brain works hard to defeat me. So, I appreciate Goethe pushing me along and encouraging me to begin, as beginning is the most important part to fulfill any dream, and often the hardest part. So stay true to what you are passi...
Read More
FLOWER QUOTE: LET US DECIDE
October 28, 2019
MY TWO CENTS Let us decide on the route that we wish to take to pass our life, and attempt to sow that route with flowers… The first part is the contemplative part; the part that is about choosing what kind of person you want to be and what kind of life you want to live. It takes thought, effort and work. It means not living day to day, but consciously making a choice on who you want to be, so ...
Read More
FLOWER QUOTE: EVERY FLOWER BLOOMS
October 14, 2019
MY TWO CENTS Every flower blooms at a different pace… What a true and lovely quote. As it is for flower, so it is the same for us. Each of us blooms and grows at different rates. Every part of the process takes effort and work: blooming and growing. With blooming there is the work of gathering the nutrition and the knowledge to bloom, but it makes a fuller life. Then sometimes it's nice to so...
Read More
BLOOMING INSPIRATIONS
October 06, 2019
Flowers inspire me every day and below are some blooming inspirations that also inspire me. These thoughtful quotes make me slow down and consider how I can apply them in my life. I hope these quotes fill your day and life with inspiration and encouragement, too. If you take a flower in your hand and really look at it, it's your world for a moment… Her quote encapsulates the meaning beh...
Read More
FLOWER QUOTE: BE HONEST, BE NICE
September 23, 2019
MY TWO CENTS Be honest, be nice, be a flower not a weed… I love how simple and straight forward Aaron Neville's quote is. Be honest in all you do, be nice to all who you interact with and be a flower: resilient, strong, and radiating joy and beauty. ABOUT THE AUTHOR Aaron Joseph Neville (born January 24, 1941) is an American R&B and soul vocalist and musician. He has had four platinum...
Read More
FLOWER QUOTE: CREATIVITY LIES IN PARADOX
September 09, 2019
MY TWO CENTS Creativity lies in paradox: serious art is born from serious play… This is something that Julia Cameron writes about in her book, The Artist's Way, and the necessity to play in order to create. Often, I forget to play, but I'm glad to be reminded to take the time to do so along with nurturing myself. Then the real art will come. ABOUT THE AUTHOR Julia Cameron (b. March 4, 194...
Read More
Previous posts
CHERYL PARKER
Chief Floral Officer
Sours: https://floatingpetals.com/category/mon-flower-quote/
55 Inspirational Flower Quotes
Flowers are meant to be photographed. They make us happy and inspire us. But what about inspirational quotes about flowers?
Inspirational Quotes can be found on Google, Pinterest, Facebook and Instagram or in stores on cards, posters and wooden signs. You may even be looking for one sometimes. They can give you new insights and offer recognition. They comfort, motivate and encourage you. Quotes can offer you a moment of reflection and contemplation. Pretty powerful stuff, right? That is the power of words: they influence you. Even if you are not searching for words, the words will find you.

Many beautiful and inspiring quotes have been created about flowers over the years. We have collected 55 of them and paired the majority of quotes with matching photography. Feel free to share these on Pinterest, Instagram, Facebook or anywhere else on the interweb!
1.
2.
"If you look the right way, you can see that the whole world is a garden."– Frances Hodgson Burnett
3.
4.
"Take time to smell the roses."– Proverb
5.
6.
"There are always flowers for those who want to see them."– Henri Matisse
7.
8.
"What a lonely place it would be to have a world without a wildflower!"– Roland R. Kemler
9.
10.
"Flowers are a proud assertion that a ray of beauty out values all the utilities in the world."– Ralph Waldo Emerson
11.
12.
"The smallest flower is a thought, a life answering to some feature of the Great Whole, of whom they have a persistent intuition."– Honore de Balzac
13.
14.
"A flower's appeal is in its contradictions — so delicate in form yet strong in fragrance, so small in size yet big in beauty, so short in life yet long on effect."– Terri Guillemets
15.
16.
"Flowers whisper 'Beauty!' to the world, even as they fade, wilt, fall."– Dr. SunWolf
17.
18.
"You're only here for a short visit. Don't hurry, don't worry. And be sure to smell the flowers along the way."– Walter Hagen
19.
20.
"My love for you blossoms every day."– Unknown
21.
23.
"All the flowers of the tomorrows are in the seeds of today."– Indian Proverb
24.
25.
"Mama was my greatest teacher, a teacher of compassion, love and fearlessness. If love is sweet as a flower, then my mother is that sweet flower of love."– Stevie Wonder
26.
27.
"She sprouted love like flowers, grew a garden in her mind, and even on the darkest days, from her smile the sun still shined."– Erin Hanson
28.
29.
"She is like a wildflower; beautiful, fierce, and free."– Unknown
30.
31.
"Open the bloom of your heart and become a gift of beauty to the world."– Bryant McGill
32.
33.
"Love is flower like; Friendship is like a sheltering tree." – Samuel Taylor Coleridge
34.
35.
"Minds are like flowers; they open only when the time is right." – Stephen Richards
36.
"Earth laughs in flowers." – Ralph Waldo Emerson
37.
38.
39.
"Even the tiniest of flowers can have the toughest roots."– Shannon Mullen
40.
41.
42.
"Open the bloom of your heart and become a gift of beauty to the world."– Bryant McGill
43.
"A flower blooming in the desert proves to the world that adversity, no matter how great, can be overcome."– Matshona Dhliwayo
44.
45.
46.
47.
"A flower does not use words to announce its arrival to the world; it just blooms."– Matshona Dhliwayo
48.
"A rose can never be a sunflower, and a sunflower can never be a rose. All flowers are beautiful in their own way, and that's like women too."– Miranda Kerr
49.
"In joy and in sadness, flowers are our constant friends."– Unknown
50.
51.
52.
53.
54.
55.
Looking for beautiful flowers to match a quote?
Visit the Bloomaker store and score high quality Amaryllis Bulbs for wholesale prices! Get 10% off any order over $50.
Follow Us on Instagram!
quotesflowerquotesflowersdaily quotesinspirational quotestulipsamaryllis
Sours: https://www.bloomaker.com/blog/55-inspirational-flower-quotes

Flowers are some of the most beautiful creations on earth. They remind us of the beauty of life and allow us to feel loved and remembered. Flower quotes play a huge role in helping us relate to, understand, and appreciate the different stages of life.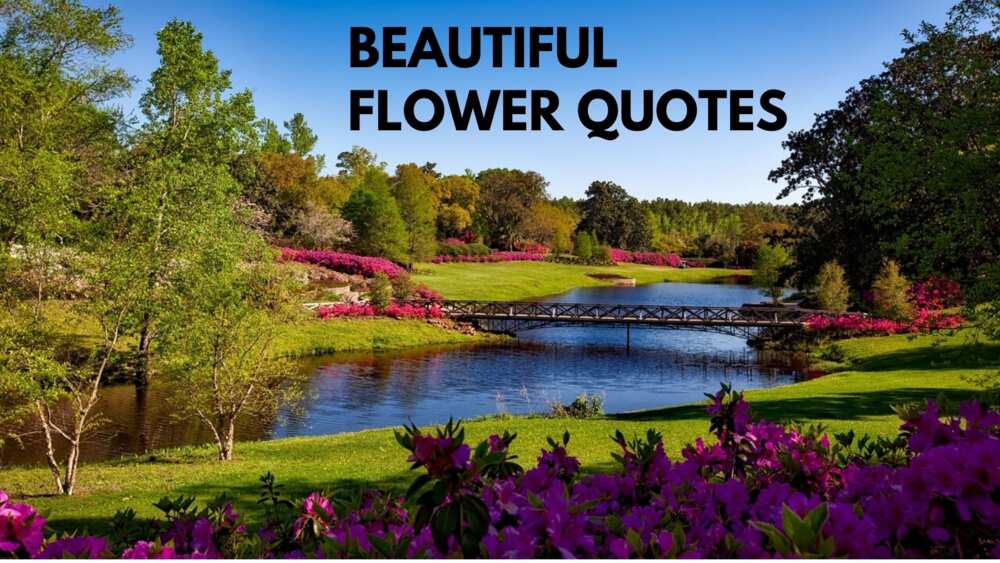 When a flower dies, it is usually making way for new growth. When facing adversities, it is necessary for us to be aware that it is simply a phase leading to something new.
In the process, we get to learn and experience a lot of things, making us stronger and more resilient. Therefore, when our season of glory comes, we are already stronger and ready to conquer.
Lovely inspirational flower quotes
Flower sayings and quotes teach us how to appreciate life as it is, reminding us that there are better days to come. In all stages, it is important that we remain grateful for the blessings we have at the moment.
10 inspiring quotes about flowers on life
The gift of life can be compared to the beauty that lies within flowers. It is up to us to decide how we want to view it and what to make of what is already given to us.
A flower is not always beautiful and blooming as there comes a time when environmental conditions do not support its growth.
Similarly, life is not always about laughter and celebrations. There comes a time when we experience challenges, and it is our responsibility to hold on and fight until things get better. Any quote about flowers stated below will add some beauty to your life today.
Flowers have spoken to me more than I can tell in written words. They are the hieroglyphics of angels, loved by all men for the beauty of their character, though few can decipher even fragments of their meaning. – Lydia M. Child
You are only here for a short visit. Do not hurry; do not worry. And be sure to smell the flowers along the way. – Walter Hagen
Spring: A lovely reminder of how beautiful change can truly be.
To plant a garden is to believe in tomorrow. – Audrey Hepburn
Be patient with yourself; nothing in nature blooms all year.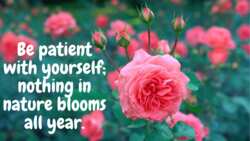 If you look the right way, you can see that the whole world is a garden. – Frances Hodgson Burnett
Open the bloom of your heart and become a gift of beauty to the world. – Bryant McGill
Do not let the tall weeds cast a shadow on the beautiful flowers in your garden. – Steve Maraboli
If you have a garden and a library, you have everything you need. – Marcus Tullius Cicero
Like the lotus: Trust in the light, grow in the dirt & mud, believe in new beginnings.
10 amazing flowers quotes about love
Wildflower quotes can be somewhat thrilling, as love and wildness are such a lethal combination. Love can be expressed in so many ways, one of them being through a quote on flowers.
Whether talking about a simple lily, a big bouquet, or any other related theme, having the right words to express your feelings can make a huge difference.
Additionally, some of these quotes do not necessarily need to be accompanied by a gift. They are simply related to flowers, love, and all the beauty and joy they carry.
I would far rather have two or three lilies of the valley gathered for me by a person I like than the most expensive bouquet that could be bought! – Elizabeth Gaskell, "Wives and Daughter"
My love for you blossoms every day.
Your fragrance wafts around me all the time! – Avijeet Das
The stems stood tall and straight, one series arranged in a single line, the other in a crudely shaped heart, the final one in the shape of the letter U. I love you. – Lurlene McDaniel, Don't Die, My Love
It is at the edge of a petal that love waits. – William Carlos William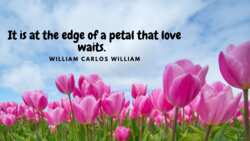 I would rather have roses on my table than diamonds on my neck. – Emma Goldman
If I had a rose for every day I thought of her, I would have a garden full. – Giovannie de Sadeleer
When you have only two pennies left in the world, buy a loaf of bread with one and a lily with the other.
Where there is love, there is life. – Mahatma Gandhi
Maybe what everybody really loves is just our petals. – Jomny Sun, Everyone's a Aliebn When Ur a Aliebn Too
10 inspirational quotes about roses
Roses quotes talk about the strength of character, innocence, love, and much more. Get inspired by these quotes and a variety of quotations on flowers today!
Did you hear about the rose that grew from a crack in the concrete? Proving nature's laws wrong, it learned to walk without having feet. Funny, it seems to by keeping its dreams; it learned to breathe fresh air. Long live the rose that grew from concrete when no one else even cared. – Tupac Shakur
Beauty is an ecstasy; it is as simple as hunger. There is really nothing to be said about it. It is like the perfume of a rose: you can smell it, and that is all. – W. Somerset Maugham
Some women feel the need to act like they are never scared, needy, or hurt; like they are as hardened as a man. I think that is dishonest. It is ok to feel delicate sometimes. Real beauty is in the fragility of your petals. A rose that never wilts is not a rose at all. – Crystal Woods
Do not be fooled by the beautiful petals of the rose; it is just a subtle hint of all that is to come, including the thorns that are just around the corner. – Napoleon Hill
A rose must remain with the sun and the rain or its lovely promise will not come true. – Ray Evans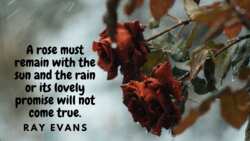 Understand that thorns like everything that protects you are likely to hurt those who try to reach you, so make sure that your petals are alive and full like the rose. Then, it would have been worth the pain.
You may break, you may shatter the vase, if you will, but the scent of the roses will hang round it still. – Thomas Moore
Do not watch the petals fall from the rose with sadness, know that, like life, things sometimes must fade, before they can bloom again.
The fact of life is that pain and pleasure reside just side by side. Just like the Roses and the thorns, you cannot have one without the other.
What makes you remember that she would love a Rose is because of this brand that has accompanied years of love and romance, that the perfect gift is one that involves sacrifice.
10 inspiring plant quotes for you
To reap the fruits of a harvest, you ought to have planted seeds a while before. Life takes a similar approach to this theory.
For you to see results in any aspect of your life, you need to make the necessary investments to achieve the desired results. This is because you can only get what you put in.
Always do your best. What you plant now, you will harvest later.
Life is a balance of holding on and letting go. Do not grieve. Anything you lose comes round in another form.
Wherever life plants you, bloom with grace.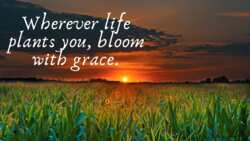 Beauty surrounds us, but usually, we need to be walking in a garden to know.
Landscaping is a never-ending attempt to make some parts of nature look civilized. - Mokokoma Mokhonoana
Some people plant in the spring and leave in the summer. If you are signed up for a season, see it through. You do not have to stay forever, but at least stay until you see it through. – Jim Rohn
One of the most tragic things I know about human nature is that all of us tend to put off living. We are dreaming of some magical rose garden over the horizon instead of enjoying the roses that are blooming outside our windows today.
A few blossoms float into the room. They drop like frayed yellow ribbons on the gray carpet. – Eileen Granfors
Life is like a garden: it gives you a few things, and you make of them what you can. – Neel Burton
Men are mortal. So are ideas. An idea needs propagation as much as a plant needs watering. Otherwise, both will wither and die. – B. R. Ambedkar
10 plant quotes on growth
Any development that occurs physically, spiritually, or mentally can be defined as growth. As plants sprout from the ground, they grow in size. This is physical development, which is, therefore, growth.
This is similar to human beings. We begin our physical growth after conception. Interestingly, it is a process that does not cease as we are privileged to grow mentally and spiritually as well, unlike plants. Which are the best quotes about growth of plants? These ones are relatable to the human experience:
Even in the dark soil, a seed is becoming something beautiful.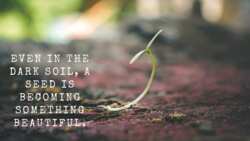 Love yourself enough to create an environment in your life that is conducive to the nourishment of your personal growth. Allow yourself to let go of the people, thoughts, and situations that poison your well-being. Cultivate a vibrant surrounding and commit yourself to make choices that will help you release the greatest expression of your unique beauty and purpose. – Steve Maraboli
We've got this gift of love, but love is like a precious plant. You cannot just accept it and leave it in the cupboard or just think it is going to get on by itself. You've got to keep watering it. You've got to really look after it and nurture it. – John Lennon
In a growth mindset, challenges are exciting rather than threatening. So rather than thinking, oh, I am going to reveal my weaknesses, you say, wow, here is a chance to grow. – Carol S. Dweck
One can choose to go back toward safety or forward toward growth. Growth must be chosen, again and again, fear must be overcome again and again. – Abraham Maslow
Take time to enjoy the simple things in life.
Plant seeds of expectation in your mind; cultivate thoughts that anticipate achievement. Believe in yourself as being capable of overcoming all obstacles and weaknesses.
Everything that slows us down and forces patience, everything that sets us back into the slow circles of nature, is a help. Gardening is an instrument of grace. – May Sarton
The lesson I have thoroughly learned, and wish to pass on to others, is to know the enduring happiness that the love of a garden gives. – Gertrude Jekyll
Slow down, and soak it up.
Flower quotes are beautifully enlightening and should be used to brighten up our lives whenever it is necessary. Keep them close to your heart and maximize the message they carry at all times.
Source: Legit.ng
Be the first to get hottest news from our Editor-in-Chief
Thank you!
Check your email and confirm your subscription
You are already subscribed to our newsletter!
Check your inbox to be the first to know the hottest news
Sours: https://www.legit.ng/1320401-50-beautiful-flower-quotes-sayings-bring-spring-mood.html
Quotes About Flowers
Flower Quotes make all of us mindful that life's basic delights are the best. Nature hues with its gathering of roses, daisies, peonies, tulips, daffodils and that's only the tip of the iceberg. Flowers are a mainstream approach to express one's adoration and warmth, which is the reason they assume a significant job in Life.
Look at these marvelously delightful flower cites with pictures. Much the same as genuine blossoms, flower statements can include a sprinkle of warmth and shading to a generally horrid day. They can lift your spirits and bring joy. Underneath you will discover our gathering of rousing, savvy, and entertaining old flowers cites, flowers platitudes, and flowers maxims, gathered throughout the years from an assortment of sources.
Good Morning Flower Quotes:
Flowers offer more to the planet than simply normal craftsmanship and wonderfulness. They are major to removing carbon dioxide and toxic substances recognizable all around. They feed the honey bee people that is responsible for announcing sustenance crops. To most by far, in any case, blooms pass on enormous symbolism, give mitigating affectability and are an essential bit of countless life's administrations.
Flowers assumed a noteworthy job all through mankind's history. The most significant capacity that flowers have is that the ability to pass on human feelings and contemplation's. The flower that conveys the great importance is the rose, the interminable image of adoration and want. Alongside precious stones, they are for the most part preferred by young ladies. With its positive vitality they are talented to emergency clinic patients.
After women, flowers are the most lovely thing God has given the world.
Flowers carry delight to individuals and they can show you obligation on the off chance that you are developing them. Plants heals from depression and anxiety. Most flowers have explicit implications behind them. For instance, red roses symbolize love.
Utilizing the correct soil, compost, getting enough and watering flowers all the time shows an individual how to think about a living thing.
Flower Quotes Banners:
The Flowers are the most significant thing in numerous lives. It fills in as a mood changer, it gives happiness, it utilized for sympathy, It can be utilized for demonstrating somebody the amount you care about them and the amount you adore them by offering flowers to extraordinary individual. You can give it as a present for birthday just as commemoration day.
Flowers don't tell, they show – Stephan Skeem
Some Flowers can likewise sustain individuals. Certain flowers are palatable or can be utilized as natural medication. As should be obvious, there are numerous significant characteristics to flowers.
A flower cannot blossom without sunshine, and man cannot live without love. – Max
Flowers are forever my favorite. They are the most lovely formation of god.Their sight is a delight forever.The sweet smell of flowers makes the air wonderful to breathe. These are exceptionally excellent objects. They give much joy to our psyche. Flowers fulfill our feeling of touch,sense of sight and feeling of smell. They are an uncommon endowment of nature.They instruct us to live for the delight of others.
Good Morning With Roses:
Flowers are the inestimable blessing given essentially. There are various employments of flowers like irregular employments of flowers, intermittent employments of flowers.
You're the first thing that comes into my mind as I wake up. Just give my morning kiss darling! I love you.
Visit here if you are looking for Good Morning Love Quotes.
Good Morning Rose:
Roses have nearly the same vitamins as apples, raspberries, cherries, peaches, plums, nectarines, pears and almonds. Some roses are the richest source of Vitamin C. People use them to make jams, jellies and also brewed for tea.
Flowers are a tasteful advantage for the nature, speaking to the eye and satisfying to the brain. With the main innovation, one could request flowers on the web.
You can begin by settling in and settling down. Slowly Center your body and you can peel away any masks that are no longer needed. Be able to breathe in and out deeply, just tune to a place of a simple truth, don't rush, take your time, just settle down and settle in, Settle in and settle down: What is your deepest calling for today and Share it with the world and let the transformation begin. And we don't know whether its today, tomorrow, next week or next month even you may be surprised as to positive possibilities that may come your way.
Flowers significance in nature is wherever they can sustain insects, birds, provides medications and much more. Without flowers plants would simply be green and the world will be a more blunt spot… .Thank you for perusing.
Inspirational Flower Quotes
All positive growth in life come to people who have a habit of stepping out from their comfort zones. Comfort Zones are situations where people feel safe and at ease, often it takes lot of courage, energy and motivation to make a bold move and step out of the Comfort Zone, which is the key to discovering our passions, accomplishing our goals, and finding happiness. Good Morning have a stepping out of the comfort zone and enhancing happiness day ahead.
In today's world, too many lack inner peace. One way to counter anger, jealousy and competitiveness is to cultivate non-violence and compassion towards others.If we don't change, we don't grow. If we don't grow, we aren't really living. Spread love everywhere you go. *Good morning have a joyful Sunday*
Click here for more Inspirational Good Morning Quotes with HD Images.
Happiness Flower Quotes:
Great dreams and visions can only be realized from a position of strength and not from that of weakness. Keep trusting and believing and being thankful and keep getting the strength needed to follow and realize your dreams and create magic no one thought was possible, and keep enhancing well being joy and abundance in your world all along. Good Morning have a day filled with strength.
Happiness is a inner Joy. It is a delicate balance between "What I want & What I have".
Click here for more Good Morning Flowers
Sours: https://www.goodmorningfun.com/good-morning-with-lovely-flower-quotes
Quotes monday flower
Life is Like a Camera
Happy Monday all…here's to a new week….let's make the most of it!
Want to download the above photo in a higher resolution to print and frame???
Just click below.
LIFE IS LIKE A CAMERA PRINTABLE
Enjoy!
I hope all are well and ready to begin a new week. Though I have had a relapse with the strep throat and the virus that brought it on I am going get some painting done today. It is not too taxing and I will feel better for having accomplished something.
Happy Monday!
Feel Free to Share!
Sours: https://www.flowerpatchfarmhouse.com/life-is-like-a-camera/
The Pink Panther in \
Ralph Waldo Emerson once said, "Many eyes go through the meadow, but few see the flowers in it." It's easy to get caught up in all of the noise and chaos that surrounds us daily—we often forget to stop and appreciate the beautiful (often little) things that are consumed by the noise. Even though we're in the midst of fall at the moment, it still doesn't hurt to take a note from the old proverb: "take time to smell the roses." That's why we've compiled the very best flower quotes right here to inspire growth and hope!
🌻 Join the Country Club today and

You can turn to these encouraging quotes when the days start to get shorter and you need more energy and enthusiasm to make it through the day. Like Corita Kent said, "flowers grow out of dark moments." Even through tough times these nature quotes can bring joy to anyone in need of a pick me up. From more personal quotes (like Arundhati Roy's "She wore flowers in her hair and carried magic secrets in her eyes") to more basic truisms (like Aaron Neville's "Be honest, be nice, be a flower not a weed" comes to mind), there's something here for just about everyone.
So skim through our favorite flower quotes, and get ready to celebrate beauty, joy, and new beginnings! And if you're needing more sunshine in your life, check out our favorite gratitude quotes and spring quotes to hold you over until you can get outside to plant those early spring flowers.
Sours: https://www.countryliving.com/life/g18368675/flower-quotes/
Similar news:
.
762
763
764
765
766