Windows 10 Insider Build 16193 Introduces Story Remix
Today Microsoft released Insider Preview Build 16193 for PC and Insider Preview Build 15213 for Mobile to insiders on the fast ring. With build 16193, Microsoft gives insiders the ability to try out a new feature called Story Remix that is coming to Windows 10 Fall Creators Update. Story Remix uses AI to automatically tag your photos and string individual photos into videos, with accompanying soundtracks and transitions.
This build also introduces the ability to adjust the volume for UWP apps, such as Edge, so that they are independent from main system volume. This allows you to play videos in your browser at a different volume level than you would a game or music coming from a standard desktop application.
Microsoft also announced at Build 2017 that Windows Server is joining the Windows Insider Program. Beginning this summer, early builds of Windows Server will be made available to testing by Insiders. More information about what will be offered and how to sign up can be found here.
What's New in Build 16193 For PC
Tell your story your way: Today at Build we unveiled a big update coming to the Windows 10 Creators Update and the Windows 10 Fall Creators Update. Story Remix is an evolution of the Photos app that makes it easier than ever to relive your memories and introduces video story creation from your photos and videos. Windows Insiders will be the first to try out many of the new features demonstrated today – with more to come!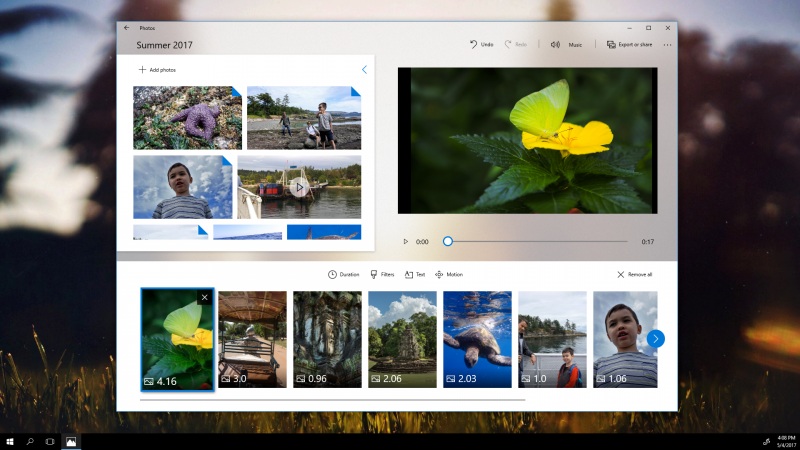 Videos made easy: Story Remix uses its understanding of your content to find collections of content most relevant to you and automatically brings it together into video stories – each with a soundtrack, theme, and transitions. You can keep these suggested video stories to enjoy and share, remix them with just a click of a button, or edit them yourself in story editor to get it just right. Anyone can get started creating great videos with the help of Story Remix.
Search: Story Remix uses deep learning and AI to automatically tag your content. Now you can search by people, places or things to easily find specific photos in your ever-growing collection so that you can view, edit or create a story.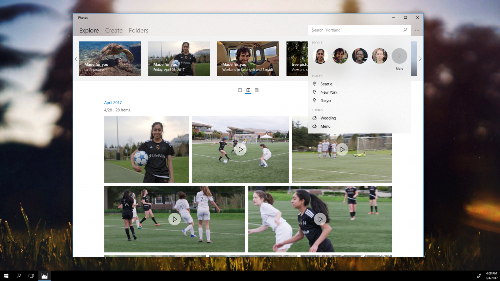 Updated UX: The Story Remix app now includes elements of Fluent Design like connected animations, conscious scrollbars, and acrylic. The Explore page is the hub for your entire collection of photos and videos, where you can view your content in three different sizes – small, medium, and large. The Create page is the jumping off point for creating new stories.
Discovery bar: The new discovery bar gives you quick access to delight and common tasks, making it easy to create a new story, see stories we've created for you, and discover your past memories of people, places, and things.
Share your stories: Upload your video stories quickly to YouTube and Facebook, or share them easily via email or via OneDrive.
Power Throttling Update: Starting with Build 16193, the Task Manager column name has changed from "Background Moderated" to "Power Throttling". For more information on Power Throttling, read this blog post here.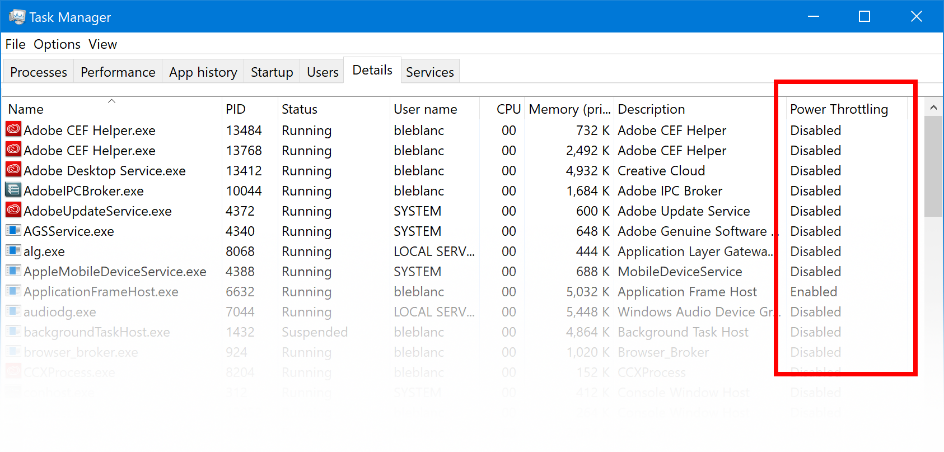 Individually controlling the volume of your UWP apps: We've updated the Volume Mixer to now include UWP apps (like Microsoft Edge, or Groove Music), so you can set their volume without impacting the overall system volume. Appreciate everyone who's shared feedback requesting this, let us know what you'd like to see next! Note: UWP apps will only appear in the Volume Mixer once they start playing sound. To open the Volume Mixer, right-click on the speaker icon in the taskbar.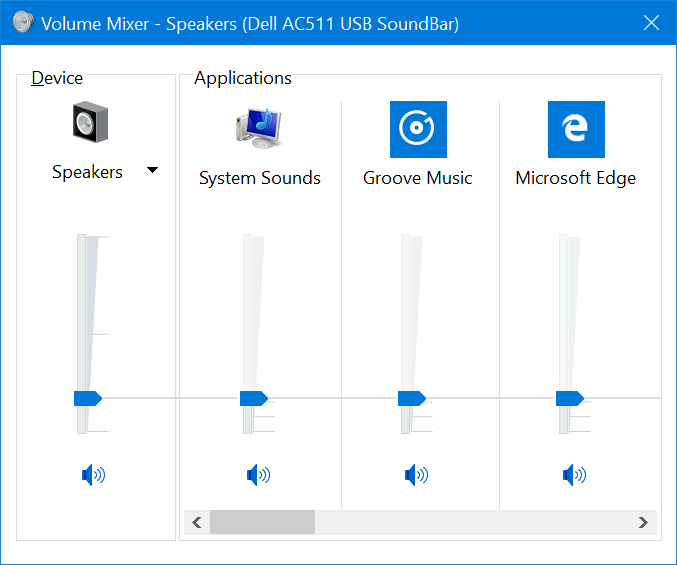 Changes, improvements, and fixes for PC
PC Reset via Settings > Update & security > Recovery works again on non-English Insider Preview builds.
Navigating to Settings > Personalization > Lock screen should no longer crash Settings app.
We fixed an issue where Settings would crash on launch for Insiders using certain display languages, including Russian, French, Polish and Korean. If you were impacted by this on Build 16188, that means you won't be able to open Windows Update to check for updates. However, your PC will download the new build in the background. Once the build is downloaded and staged, your device should automatically restart to install it when idle and outside of your configured active hours. Or you could go to Start and Power and choose to Update and Restart to install the build.
We fixed the issue causing XAML designers in Visual Studio and Blend for Visual Studio to show an exception when a XAML file from a Universal Windows Platform project is opened.
We fixed an issue resulting in some fonts not rendering properly in Greek or other single-byte system locales such as Hebrew or Arabic.
We fixed an issue where the "clear all" button in Action Center wouldn't work if a notification had been expanded.
You can now use Ctrl + Win + N to directly open Narrator Settings.
We fixed an issue where the Windows Store App Troubleshooter was erroneously showing the message "Not Fixed" instead of "Fixed" after following the steps to troubleshoot the error "Windows Store cache may be damaged".
We fixed an issue from recent flights that could lead to the PC no longer recognizing any USB device until the USB Root Hub had been disabled and re-enabled in Device Manager.
Known issues for PC
Windows Defender Application Guard (WDAG) will fail to work on touch PC's, showing a solid black window on launch. Non-touch enabled devices should not experience the issue. A temporary workaround if you would like to use WDAG is to go to Device Manager, expand Human Interface Devices and disable the "HID-compliant touch screen" and "Intel Precise Touch Device" if they are present. After a reboot try WDAG again. Re-enable these devices to restore touch.
[DEVELOPERS] The XAML designer in Visual Studio 2017 hits an error causing a squiggle error under ThemeResource references to XAML's generic.xaml resources.
Some Insiders have reported seeing this error "Some updates were cancelled. We'll keep trying in case new updates become available" in Windows Update. See this forum post for more details.
Surface 3 devices fail to update to new builds if a SD memory card is inserted. The updated drivers for the Surface 3 that fix this issue have not yet been published to Windows Update.
Outlook 2016 may hang on launch due to an issue where the spam filter gets stuck reading the Outlook Data File and the UI waits indefinitely for it to return. We're investigating.
We are investigating reports that Microsoft Edge fails to open PDFs with "Couldn't open PDF. Something is keeping this PDF from opening" error.
You will be unable to type in your password to log in to the Facebook, Instagram or Messenger apps. A workaround is to use the "Login with the browser" button.
Changes, improvements, and fixes for Mobile
We fixed an issue where the Battery Settings page caused the device to become unresponsive and appear to have hung.
We fixed a general issue where certain background tasks were being incorrectly starved under resource contention. This issue would impact music and video playback.
Under low memory conditions, additional app launches will cause the OS to run out-of-memory and the device will restart unexpectedly to recover. This fix detects the condition and blocks app launches until memory is freed up.
We fixed an issue with Microsoft Edge which prevented the phone from entering Connected Standby which caused battery drain.
We fixed an issue where the word auto-correction service would crash.
We fixed 2 issues causing the device screen to stay off when unplugging from the Continuum dock after screen has timed out normally requiring the device to be rebooted to recover.
We fixed an issue with the Notifications Settings page which made the UI appear unresponsive.
We fixed an Enterprise MDM issue where the policy could hide all pages except the Work Access page.
Known issues for Mobile
The copyright date is incorrect under Settings > System > About. It shows as 2016 when it should be 2017. Thanks to the Windows Insiders that reported this!
In some cases, the WeChat app may crash on launch.
Lawrence Abrams
Lawrence Abrams is the owner and Editor in Chief of BleepingComputer.com. Lawrence's area of expertise includes Windows, malware removal, and computer forensics. Lawrence Abrams is a co-author of the Winternals Defragmentation, Recovery, and Administration Field Guide and the technical editor for Rootkits for Dummies.
You may also like:
Sours: https://www.bleepingcomputer.com/news/microsoft/windows-10-insider-build-16193-introduces-story-remix/
Windows Story Remix Is Microsoft's Ultimate Creative Tool
SEATTLE -- As part of its Windows 10 Fall Creators Update, Microsoft announced Windows Story Remix, an app for curating memories though photo and video.
The app was presented at Microsoft's Build Developer conference by Lorraine Bardeen, general manager for HoloLens and mixed reality. The app uses data from the Microsoft Graph to stitch together photos and videos from you and your friends with a soundtrack and unique transitions and themes.
The Graph can recognize people and places, and allows for customization of videos based on specific people as the star of the video.
You can take photos or videos from your phone, send them to your PC and use Groove Music for soundtracks. It also allows you to add 3D objects to your photos and videos to view in mixed reality. It also has Windows Ink support to write on photos and videos easily. In videos, writing will follow the subject around.
MORE: Microsoft Details Windows 10 Fall Creators Update
The app supports multi-camera angles using several phones, and 3D modelers can share their add-ons through the app for public use in augmented reality a-la Snapchat. On stage, Bardeen made her daughter's simple soccer goal into a flaming fireball that made a crater in the ground.
It's a Universal Windows App, so you can use it on any Windows device, and there will also be versions for iOS and Android so you can work on projects on the go.
Microsoft PowerPoint Tips
Sours: https://www.laptopmag.com/articles/windows-story-remix-details
Microsoft's new Story Remix experience in Windows 10 is one of the headline features of the upcoming Fall Creators Update for the operating system. The update is shipping next month, on the 17th of October to be exact. It brings lots of minor updates throughout the operating system, along with a touch of a new design language called the Fluent Design system. Two other headline features of the Fall Creators Update — the new Windows Timeline experience and Cloud Clipboard — won't be making the cut for the Fall Creators Update release.
It was also recently reported that the new Story Remix experience's main cool feature — the special effects — won't be making the cut either and there's been some confusion around what exactly is happening with Story Remix. Well, the good news is that Story Remix will be shipped with the Windows 10 Fall Creators Update as expected. But more importantly, the special effects feature will arrive sometime soon for Windows Insiders part of Skip Ahead — and it will also be available on the Windows 10 Fall Creators Update when it ships in October, according to a Microsoft spokesperson. It isn't clear whether Redmond is planning to ship the feature as a regular app update for the Microsoft Photos app in Windows 10, or if it will be included out of the box with the update. At least for now, anyway.
I was actually able to try out the new special effects (all 57 of them) in Story Remix today and it they work really nicely for the most part. The experience is a bit buggy and lacks a bit of stability as it's probably still under development, but the core features work just fine. The special effects are also really cool, and the automatic tracking feature ("Attach to a point") also works amazingly well:
I'd still prefer if it Microsoft just made a modern Movie Maker that could compete with Apple's iMovie, though. Story Remix is pretty cool, but a modern Movie Maker for simple video editing (and some of the Story Remix) features would have been perfect for a lot of users.
But yes — Story Remix, and all of its special effects will be shipping with the Windows 10 Fall Creators Update. And if everything goes according to Microsoft's plans, that shouldn't change.
Sours: https://mspoweruser.com/story-remix-windows-10-fall-creators-update-real-story/
Now playing:Watch this: Microsoft debuts Windows Story Remix to edit and organize...
3:54
Microsoft hopes to make a show of creative force for its Fall Creators Update with Windows Story Remix, a new application that incorporates all the 3D technologies it rolled out with the initial Creators Update to help intelligently create mixed-reality montages. It's like a combination of Google's intelligence and consumer focus with Adobe's design automation for its subscription-based apps. And while Story Remix is designed as a proof-of-concept of its new Fluent Design system, it stands alone as what looks like a pretty impressive application that can sweep up the large group of bottom-of-the-pyramid creatives that Adobe is alienating with its relatively all-or-nothing subscriptions.
Related coverage from Microsoft Build
Story Remix uses the personal data provided about you to the Microsoft Graph to build thematic stories combining your photos and videos, and you can add 3D objects and scribble with Windows Ink.
The application's ability to automatically select, trim and create videos, then incorporate them into themes with editable storyboards isn't new, nor is the ability to change music or sync to beats. But the integration with 3D objects that you can anchor to moving subjects -- you can anchor ink as well -- is, at least in a consumer application. Further, it can automatically and intelligently revise this based on your selection of a different subjects to highlight within a composition. And that's huge. And not just because it enables exploding soccer balls."
Stay tuned -- I'll be back with a better analysis as soon as possible!
Sours: https://www.cnet.com/news/microsoft-windows-story-remix-headlines-windows-10-fall-creators-update/
Story date release windows remix
Microsoft's Story Remix was expected to be one of the highlights of the Windows 10 Fall Creators Update, and it lives up to that promise, combining the existing, excellent Photos app with a video and slideshow editor that adds transitions, music, and even fantastic 3D animations.
Remember how Paint 3D brought Paint into a new dimension, with stamped textures and 3D objects? Story Remix adds the same creative element to Windows 10's Photos app. Unfortunately, it's not quite the cohesive experience you might hope for, as Photos now has two different interfaces—the traditional app and Story Remix—and you may need to bounce back and forth between the two.
We tested Story Remix as a special beta update of the Photos app for Windows Insiders, complete with an odd Photos Add-on app that unexpectedly tagged along. Microsoft has promised Story Remix will be part of a Photos update released with the Fall Creators Update. (Though we tested a "final build" of the Fall Creators Update supplied by Microsoft, that build lacked the 3D effects. We've instead based this story on our previous work with the Insider builds, which included them.)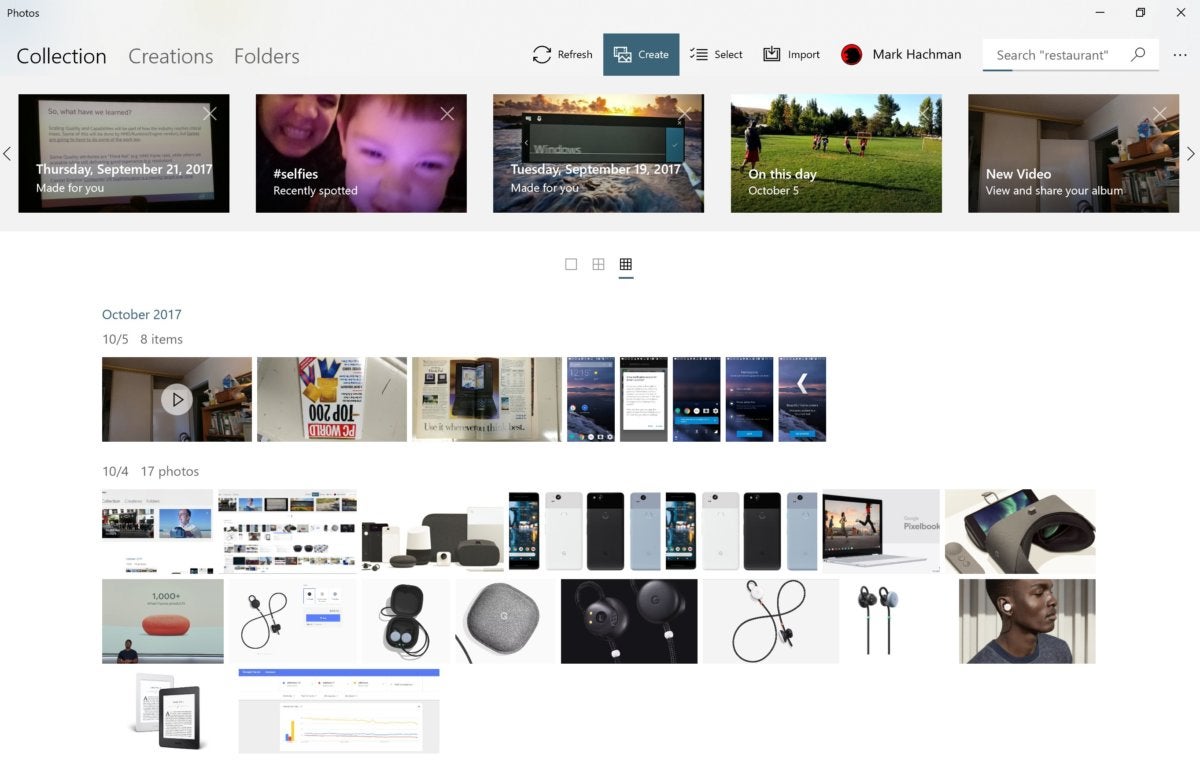 Story Remix, or Windows Photos? How to tell
How do you know if you have access to Story Remix? The tipoff is the new tab names at the top of the app: Collection, Creations, and Folders, which replace the older Collections, Albums, Folders hierarchy. "Collection" is where your camera roll of photos are stored, and "Creations" is where your new slideshows and video projects will live.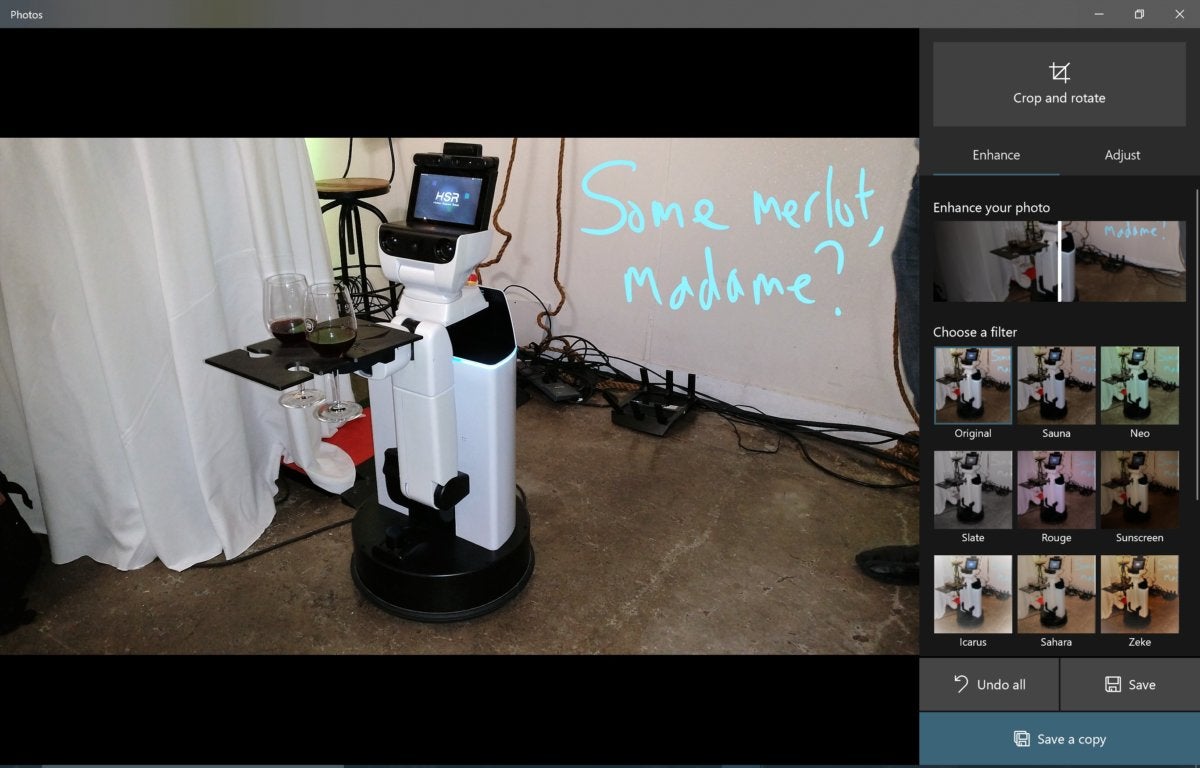 It's worth noting, though, that Story Remix and Photos coexist (for now) within a sort of odd, yin-yang duality. If you choose to open or edit a file within Photos via File Explorer, Windows will open the "traditional" Photos interface. But if you simply launch the Photos app, the Story Remix interface will open. Interestingly, there also seems to be no way to transition between the two interfaces within the app itself. For the purposes of this evaluation, though, we'll concentrate almost exclusively on Story Remix.
Once you launch Photos (Story Remix), don't jump past the search box—this is one of its better features. Once Story Remix is enabled, Photos will slowly index (about one image per second, according to a progress bar on my machine) each of the photos stored on your PC and OneDrive. The search bar allows you to search by location and topic using Microsoft's own machine learning—when I searched for "snow," for example, it pulled up pictures of a recent ski trip.
Side note: I back up my photos to both Google Photos and OneDrive, and both services are somewhat equally matched. Google found many more "snow" photos, but Microsoft unearthed more "beach" photos. Where Google excels, though, is its ability to search by face, and even name those faces. It makes it immeasurably easier to hunt down photos of your sister Christina. Microsoft also offers this feature—just click on the blank search box—but it pulled up far fewer pictures than Google.
In the current Windows 10 Creators Update, you may notice Photos occasionally sending you notifications that it has "created a story" for you, based on Photos you took on a certain date. That story was originally just a page of photos. Story Remix goes a step further, with "Made for You" collections at the top of your Collection page. Inside you'll find an algorithmically created slideshow made of photos Story Remix finds interesting, each with a bit of variation: a slight pan across, a bit of motion. This is where Story Remix really kicks off.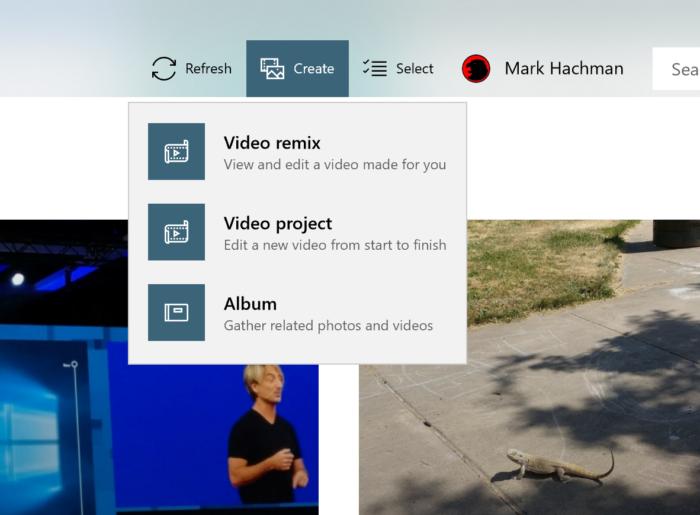 How to get started with Story Remix for Photos
To get started with Story Remix, click the highlighted Create button at the top of the screen. You'll be able to select from three options: Video remix, Video Project, and Album.
Album is the simplest option. It allows you to pull out whatever photos and video you'd like into a collection. If you open the album, you'll see the same dynamic slideshow that the "Made for You" creations display, with a bit of motion tying them together. You can save it as a video project.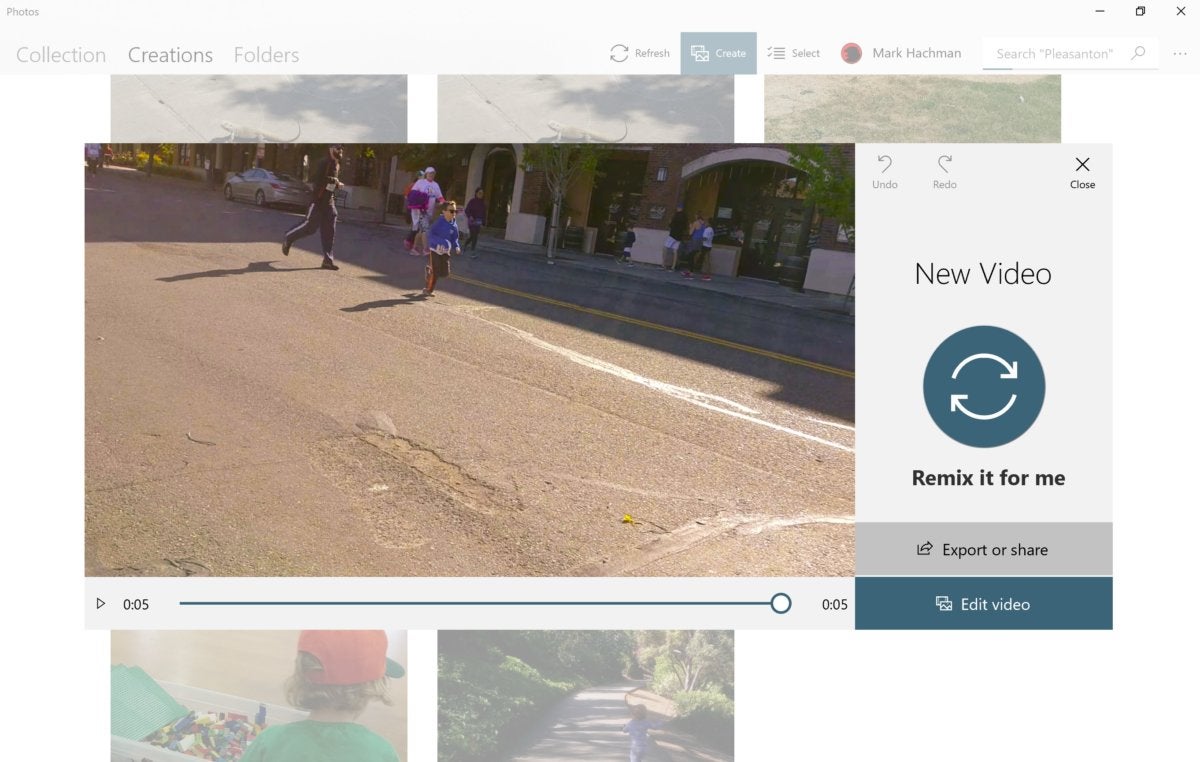 Like Albums, the Video Remix option allows you to select a group of photos and/or videos. Then Microsoft's algorithms go to work, trimming them down to their essentials, and adding music.
Note: While Albums save as "albums" in your Collection, Microsoft seems to use "Video" and "Story" somewhat interchangeably within Creations. All of the various terminology is unnecessarily confusing.
I found "Video Remix" to be just plain lousy. It took a few minute-long videos and edited them down to composites of just about six seconds. If you don't like the way it turned out, though, you can click the Remix button and Microsoft will automatically redo the whole thing.
Fortunately, there's also the Video Project portion of Photos, which allows you to take total control, from start to finish. In it lies the real reasons for using the Story Remix portion of Photos, anyway: the fun stuff.
Create your first slideshow with Photos and Story Remix
The Video Project portion of the Photos app, like the other options, begins within Collection. Here, you can pick your photos and video to add to your video project. (If you forget something, you can add it in later.)
Once you've settled upon your choices, Photos opens an editing screen. All of your videos and photos are collected in the upper left, with a preview screen for your slideshow video to the upper right. Underneath, on the bottom, is where you'll organize each segment within the timeline. Here, you can place each photo or video however you'd like, so that one transitions into the next.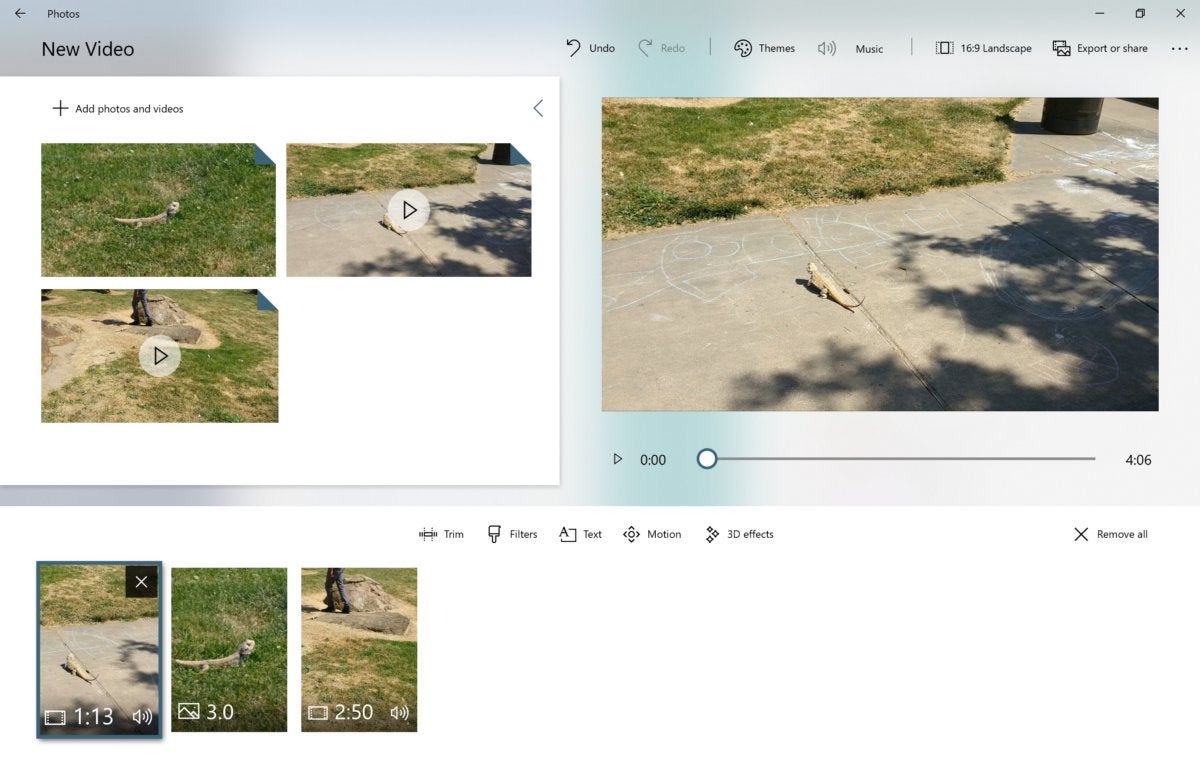 Tweak at will
Slightly above the timeline, you'll see even more options. You can lengthen the time a photo appears onscreen, apply an image filter, or add text, dynamic panning, and those 3D objects. Oddly, the one thing you can't do is ink within Story Remix, like you can within Photos. Remember that odd duality we referred to earlier? To write with e-ink on a video, you'll need to ink it within the standard Photos app, save it, then open it within Photos (Story Remix). It's an odd twist that makes little sense.
Don't be confused by the numbers attached to each photo or video—they're not the file size, but the number of seconds each photo appears on the screen. Why is a photo on screen for exactly 3.43 seconds? Because of the Story Remix beat matching.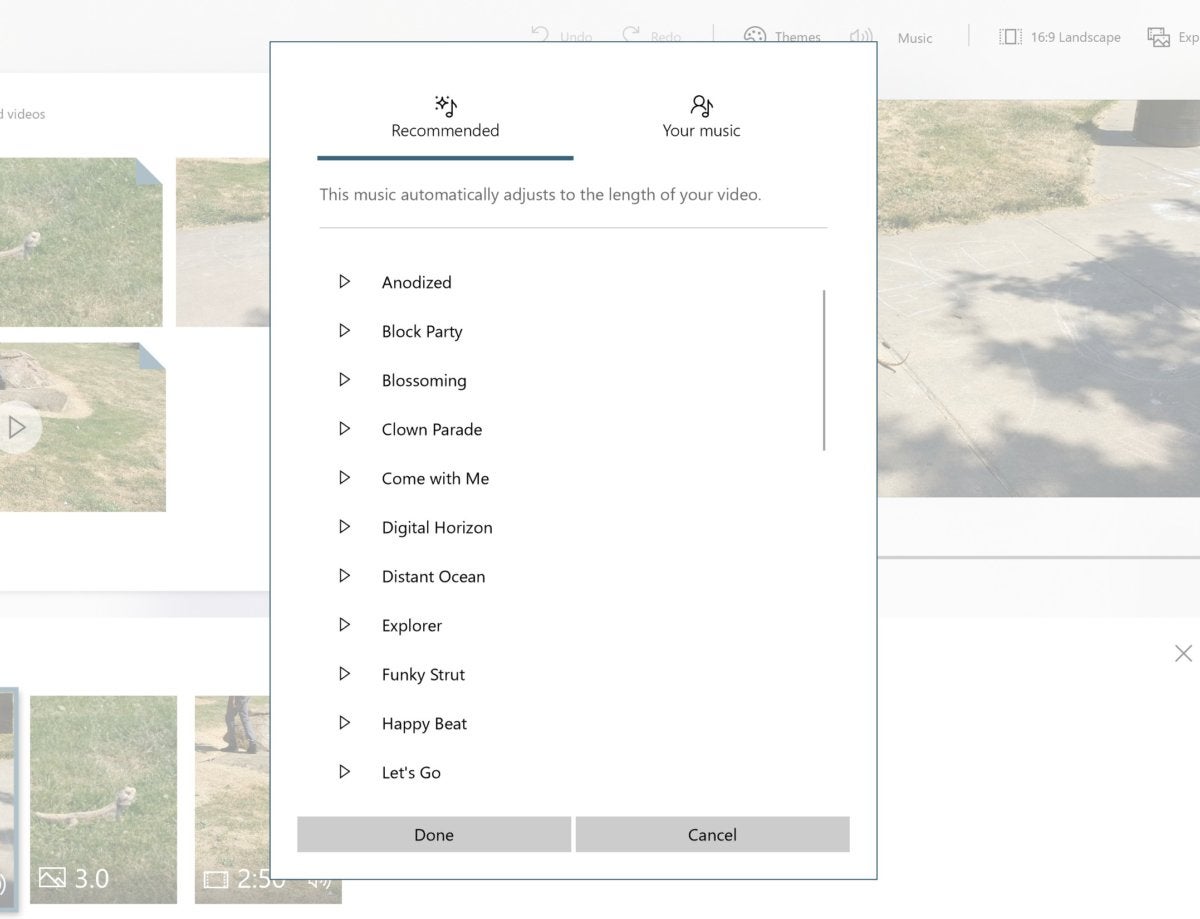 Because you just can't tell a proper story without music, each slideshow Story is usually accompanied by music, supplied either by Microsoft or from a file in your Music folder. Photo transitions happen on the beat, to give them a bit more pop. The music will also adapt itself, looping to fill the time available.
How to add 3D animations to your Story Remix videos
One of the most exhilarating moments during Microsoft's Build keynote was when the presenter attached a virtual fireball to a soccer ball that a player kicked into the net. That fantastic capability is finally here, though a bit more limited than what Microsoft originally demonstrated.
3D objects can be added into any video segment—any true video segment, that is. Ignore Microsoft's confusing terminology, where "video" also refers to the composite slideshow. Here, we're referring to a few seconds or minutes of actual video, shot with your phone or camera.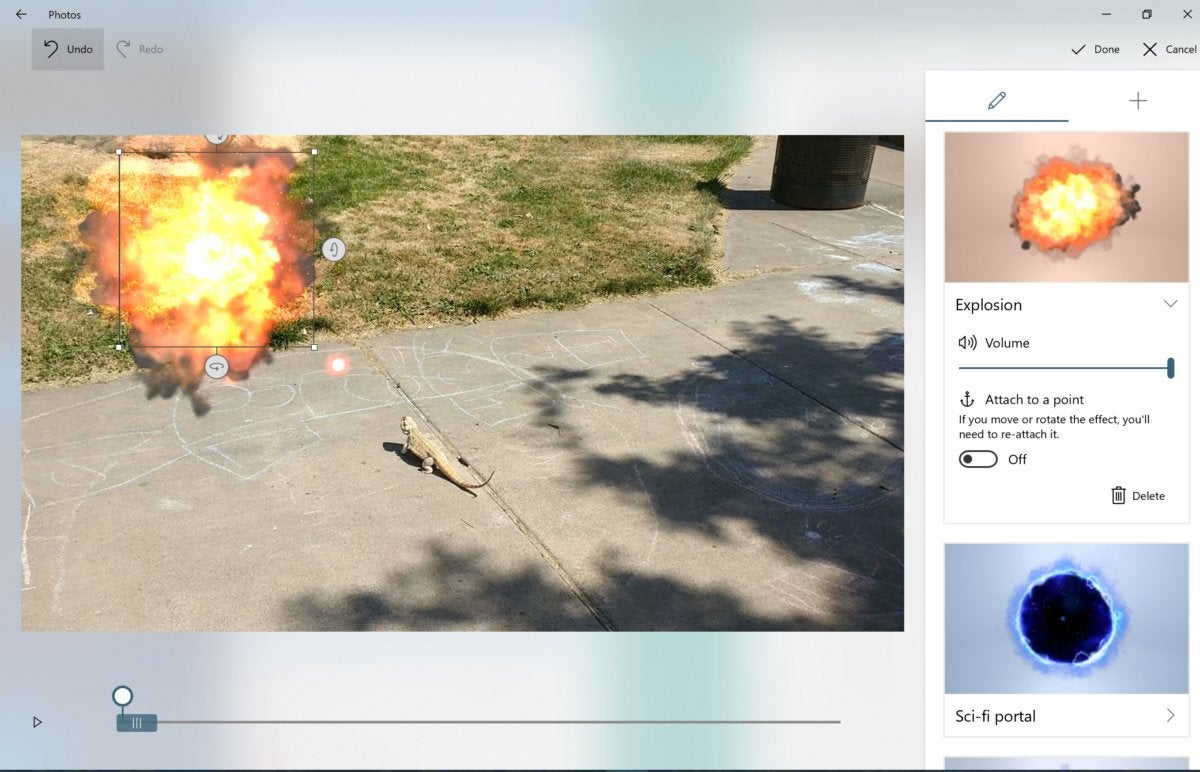 Clicking the 3D effects segment opens up a second screen, where you can start adding objects to your scene. If this seems somewhat reminiscent of another Windows 10 app, Paint 3D, you're right. Just like in Paint 3D, these effects can be rotated around multiple axes, enlarged, and set to persist over a prolonged period of time. Multiple 3D effects can be in play at once. They can even be anchored to a point in space, so as the video moves, the effect will remain.
That's not what Microsoft showed at Build, where Microsoft showed off effects anchored to objects within the video, such as the soccer ball, as well as surfaces. Nevertheless, Microsoft representatives assured us that the functionality remains. If you attach an effect to an object like a soccer ball, any effects should remain fixed to it as it moves about the screen, we're told. As they say, your mileage may vary.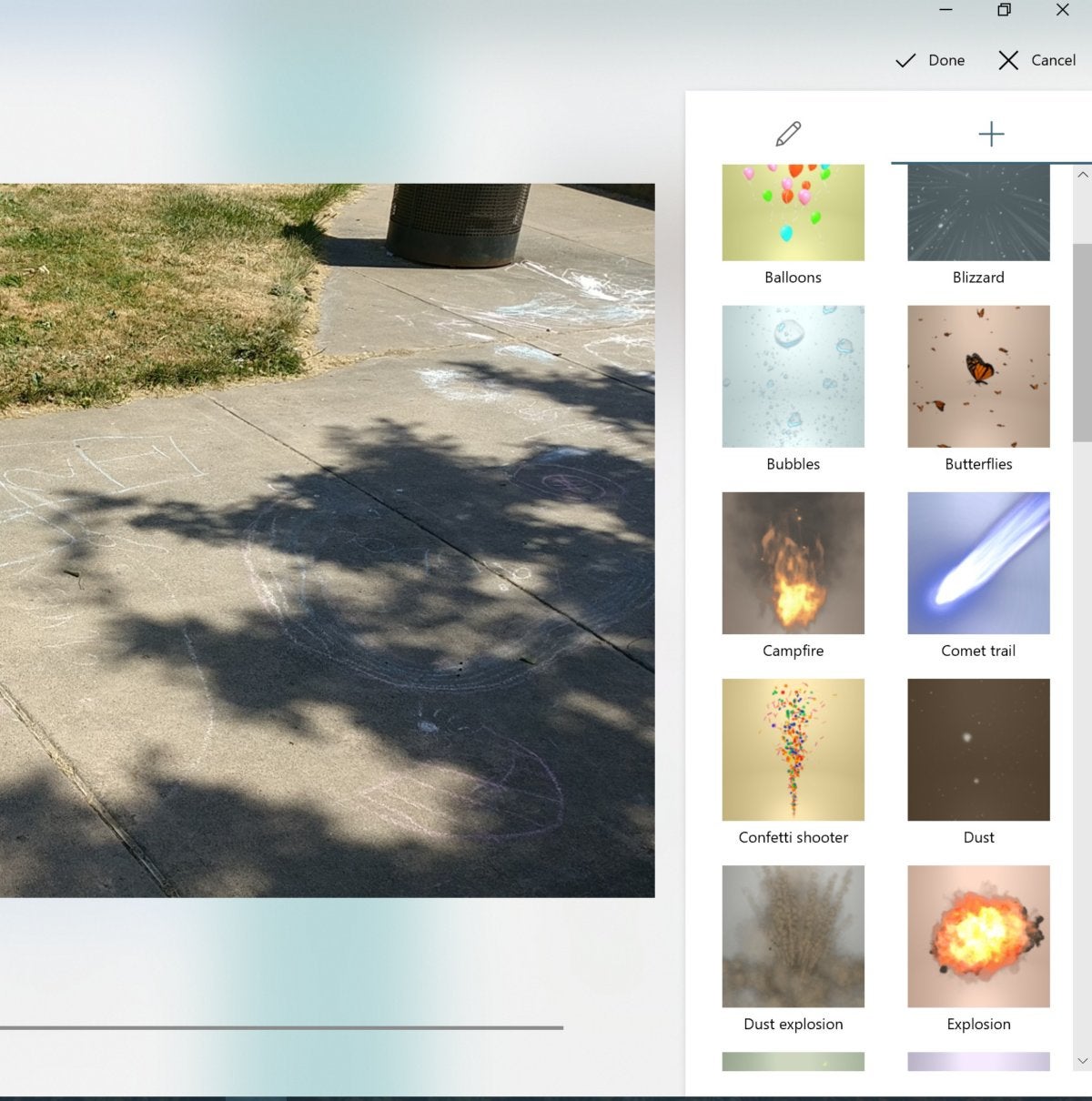 Microsoft offers 42 effects to begin (including laser lights, explosions, falling leaves, and tornadoes) with the promise that more will be added later. It seems likely that the 3D effects Microsoft already designed for its HoloLens app, called ActionGrams, will eventually make their way into the Story Remix update to Photos. Still, the animated dragons and wizards with which Microsoft introduced Story Remix to us have yet to arrive. And we're also seeing reports that some effects will be held back for Office 365 subscribers—let's hope those aren't true.
Naturally, your slideshow can be shared. Due to their complexity. however, you may find that you'll be sharing a link to the slideshow on OneDrive, rather than the actual file. You'll also have the option to share them at three different levels of resolution, to minimize file sizes.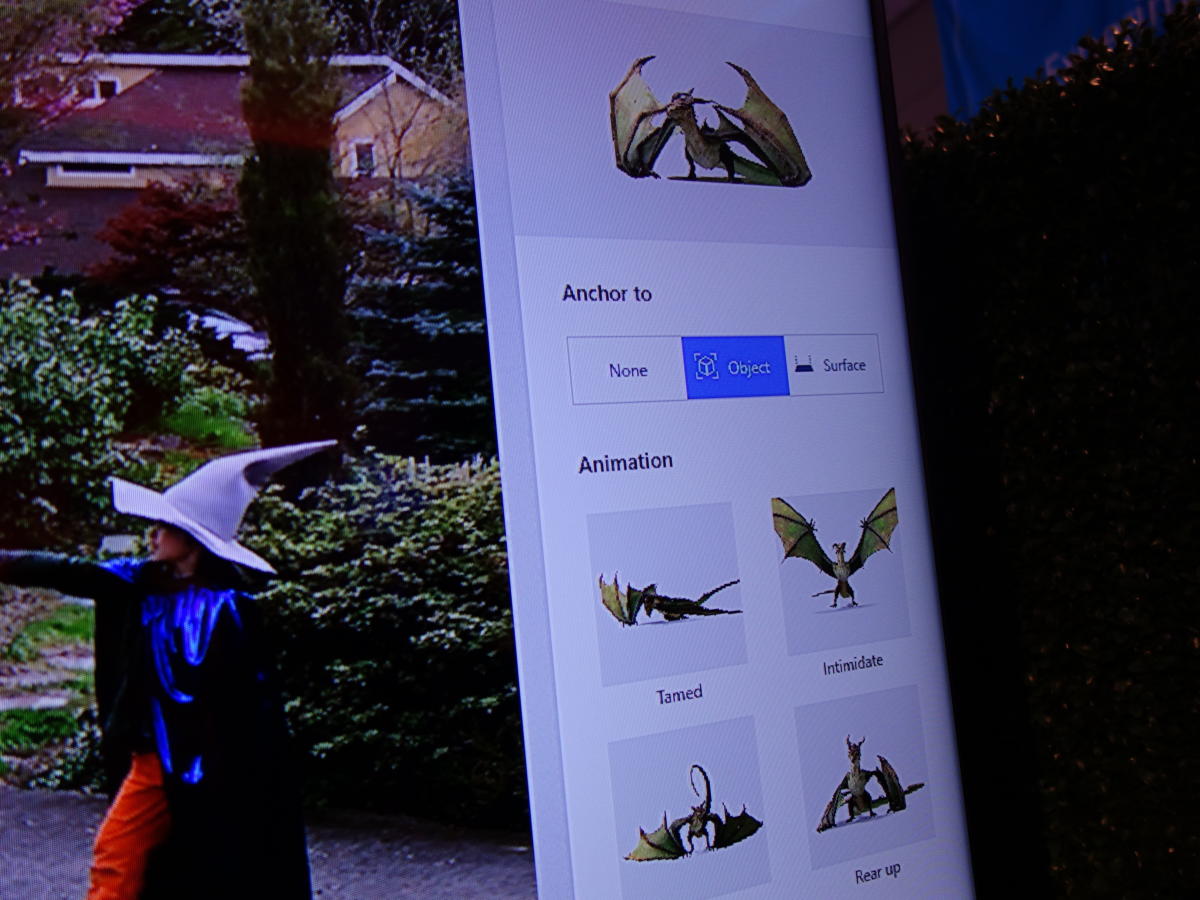 It's great to see Microsoft delivering on a feature it promised for the Fall Creators Update from the very beginning. More importantly, Story Remix injects a note of the creativity that the term "Fall Creators Update" implicitly promises. In all, Story Remix deserves a bit more polish. But Microsoft has once again opened the door into creative expression within Windows. Hopefully it finds an audience.
Sours: https://www.pcworld.com/article/406776/hands-on-with-microsofts-story-remix-the-new-tool-to-make-your-photos-pop.html
Microsoft Photos
| | |
| --- | --- |
| | Parts of this article (those related to Screenshot, icon, the face recognition feature) need to be updated. Please help update this article to reflect recent events or newly available information.(December 2019) |
Photos in Windows 10 in dark mode with Fluent Design

Developer(s)
Microsoft
Initial release
October 26, 2012; 8 years ago (2012-10-26)

| | |
| --- | --- |
| Windows 10 | 2019.19061.18920.0 / September 6, 2019; 2 years ago (2019-09-06)[1] |

Operating system
Windows 8, Windows 8.1, Windows 10, Windows 11, Xbox system software[2]
Predecessor
Windows Photo Viewer, Windows Photo Gallery, Windows Movie Maker
Available in
64 languages
Type
Image viewer, image organizer, video editor, video player, raster graphics editor
License
Freemium – Free base app, with in-app purchases
Website
microsoft.com/store/productId/9wzdncrfjbh4
Microsoft Photos is an image viewer, image organizer, raster graphics editor, photo sharing app, and video clip editor developed by Microsoft. It was first included in Windows 8 as a functional replacement for Windows Photo Viewer.[3][4] Photos has Microsoft Sway integration and can use selected photos as a source for creating a Sway project. Users can also upload photos to OneDrive, Facebook, Twitter, Instagram and GroupMe for sharing.
Photo management[edit]
Microsoft Photos is a single-instance app that can organize digital photos in its gallery into albums. The default view is Collection, which is sorted by date. Users can also view items by Album or Folder. The album view shows both auto-generated and user-generated albums. The folder view displays files based on their location in the file system or on OneDrive. Users can choose what folders are displayed and which files are placed in albums.
Photo editing[edit]
Microsoft Photos provides the following basic raster graphics editor functions:
Crop and rotate
Correct exposure or colors
Fix red eye
Remove spots and blemishes
Reduce image noise
Users can edit with a sidebar similar to the one in Google Photos, which allows them to adjust the photo's shadows, highlights, sharpness, and filters.[5] Further, Photos also allows users to trim, slow down, and save photos from videos.
Photo editing technologies developed by Microsoft Research,[6] including Panoramic stitching, Photo Fuse, and AutoCollage are not currently included in Photos. Neither is the ability to batch resize photos, where multiple photos can be resized in a single action.[7]
Unlike Photo Gallery, which autosaves edits, Photos only saves when a user clicks the Save or Save As button. Photos allows users to compare the original file to the file with unsaved changes and to save the photo with a different name and location.
Video Editor[edit]
Main screen of Video Editor
Video Editor (formerly Story Remix)[8] is a 3D video editing software built into the Photos app. Intended to replace the older Windows Movie Maker, this feature was added to Microsoft Photos with the Fall Creators Update to Windows 10.[9] Video Editor uses AI and "deep learning to organize and transform your photos and videos into stories." Video Editor allows users to create videos from pictures and songs from the Photos app, or by importing them. It also contains features to add 3D effects, soundtracks, 3D animations, and styles to the videos.
The tool also includes an "Add narration" feature in Windows 10 Pro, which allows the user to add multiple audio clips to their video.
Photo and video import[edit]
The Photos app's photo/video import tool provides the ability to view and select photos that are automatically grouped by date taken and choose where the files are saved.[10]
The Photos app can show individual pictures, display all pictures in a folder as a slide show, reorient them in 90° increments or through a granular control, print them either directly or via an online print service, send them in e-mail or save them to a folder or disc.[5] It supports images in Animated GIF,[11]BMP, JPEG, JPEG XR (formerly HD Photo), PNG, ICO, RAW, PANO, and TIFF file formats.[citation needed]
Evolution[edit]
Photos is built from a separate code base from those of Photo Gallery and Windows Photo Viewer. It was first included in Windows 8.0 and had a customizable background and a Facebook photo viewer, both of which were removed in the Windows 8.1 update to the app. It also introduced the ability to view immersive photo PANO files and set a photo as the app's live tile or the Windows lock screen. Like most other apps designed for Windows 8, the controls were hidden until the user right-clicks on the screen.
In Windows 10, Photos originally used a hamburger menu for the photo management interface and to make basic controls visible to users. Unlike most Microsoft apps designed specifically for Windows 10, Photos used round buttons like the ones on Windows 8 for editing. Control categories were listed as buttons on the left side of the app, and specific editing options were listed as buttons on the right side of the app. Folder view and the ability for users to edit albums were added to the app after the initial release on Windows 10 in response to user feedback. Photos includes all features from Windows Photo Viewer except the Burn to Disc feature and may gain more features from Photo Gallery in the future. The original view exclusively featured a dark theme.
A major update in October 2016 replaced the hamburger menu with a ribbon, replaced the radial editing tools with an editing sidebar, and added a full-screen view, ink editing for photos and videos, and a light theme.[12]
References[edit]
External links[edit]
Sours: https://en.wikipedia.org/wiki/Microsoft_Photos
You will also like:
.
853
854
855
856
857