Ana Banana Fishing Company Captain Joel Brandenburg, from Marathon Key, Florida, toured the new Sea Chaser 35 HFC Bluewater Series by Carolina Skiff, LLC. – the company's biggest and boldest offshore boat yet.
Based on his years as a charter captain, Brandenburg said the new 35 HFC is a fishing enthusiast's dream because of it many angler-friendly features and amenities. In fact, he said the first thing that jumped out to him was the its two huge live wells –with one in the rear and one in the leaning post.
"For Sea Chaser to put two live wells on the boat tells me that they know what anglers want and need," said Brandenburg during his visit to the company's Waycross, GA. headquarters. "Sometimes I'll be going out with a live well full of pinfish for bait, but I'll be wanting to target other fish toward the end of the trip, so I'll also have a live well full of shrimp. If I put the shrimp in the same live well with the pinfish, then by the time I get to the hole where I'm going to use the shrimp, all the shrimp would be eaten up by the pinfish. So I have to keep them separated."
Other fishing features he noted is the boat's rear fold-away bench seats, which not only accommodate multiple people, but can be folded up to allow room for fighting a fish.
Compared to other boats on the market where the fish box is commonly in the center of the boat, Brandenburg said the 35 HFC's rear in-floor, removable fish box is much more convenient for anglers.
"A lot of the boats nowadays have a coffin box in the middle of the boat, and when you gaff a tuna and you bring it into the boat, and it turns the boat into Texas Chainsaw Massacre," he said. "Instead, right here with this removable fish box being in the back, you can keep all your mess back here, which cuts down on your cleaning time. Anytime you can cut down on your cleaning time, it increases your fishing time. The fact that it's removable and you can clean it up is a great feature too."
Ample rod storage is crucial for fishing, said Brandenburg. He said he appreciates that the boat comes equipped with 12 gunwale combination rod and cup holders, six gunwale-mounted rod storage with coaming pads and seven rod holders mounted to the T-top.
One area of the boat Brandenburg said he loves is the 35 HFC's center console and helm seating. Standing more than six feet tall, the tenured fishing captain said he often feels cramped at the helm of other big boats.
"Sitting in these big seats, the captain's chair and co-captain's chair with the armrests that fold up and down, it seems like they made them triple XL," said Brandenburg of the plush vinyl upholstery, which features new diamond pleating with black welting.
At the helm, Brandenburg said the dual 12" Simrad electronics, which come included with the boat, are a big lure for anglers and cruisers. Additionally, he said the front and side windshields with a fold-down top vent, are nice features that help keep everyone onboard dry in big waves and heavy rain.
"In bad weather, you can hunker down behind the center console and not get wet," he said.  "It's a big area."
What Brandenburg said blew him away was the sheer size of the boat's bathroom, which is located inside the center console. The bathroom is spacious, offers plenty of storage, has luxurious Corian countertops, an electric-flushing head and a sink and shower combo.
"The bathroom is so big, you could actually change diapers in there," said Brandenburg, who added that bathrooms are especially important to women and children. "A lot of these big boats skimp on the restroom, where you have to slide in shoulder first and get beat around. The 35 HFC's bathroom is a big area with a lot of storage and a lot of room."
For families or big fishing parties, he said the 35 HFC has more than enough comfortable seating, including the bow U-shaped seating area, forward console lounger with an armrest and storage and the two fold-away rear bench seats.
He also explained how the boat's port-side-entry door improves overall safety because it won't slam shut or come unlatched in big waves.
"The side entry door has a gravity hinge on it," he explained. "The door won't slam on a kid's fingers or anything else. When you open it, it stays open until you're ready to shut it."
Some of the many features that Brandenburg said gave him a great impression are the boat's six heavy-duty, stainless-steel pull-up cleats, its ample storage throughout the deck, the windless anchor system being located right in the bow and the vessel's self-bailing deck, to name a few.
TAKE A VIDEA TOUR OF THE SEA CHASER 35 HFC BLUEWATER SERIES!
"The 35 HFC is a game changer," he said. "You could take this boat out to Cuba if you want. You could go to the Bahamas. The quality of this boat is just as strong, if not stronger, than any 35-foot boat that I've seen on the market, and it's half the price."
Discover more about the new Sea Chaser 35 HFC Bluewater Series here and order it today at your nearest authorized Sea Chaser dealer.
Stay up to date on all things Sea Chasers by following us on Facebook, Instagram, YouTube and Twitter.
Sours: https://www.carolinaskiff.com/news_events/a-captains-review-of-the-new-sea-chaser-35-hfc-bluewater-series/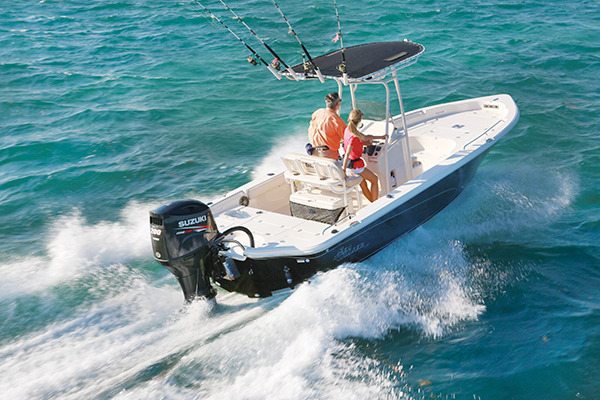 Carolina Skiff's LX Series offers affordable boats to the serious angler also interested in a vessel for family fun time. Revolutionary performance, style and more standard features at an incredibly affordable price make the series an ideal choice for family fishing and fun.
Built of 100-percent composite materials, the LX Series is available in 21-, 23- and 26-foot lengths and all come loaded with standard features including twin forward locking rod storage boxes, locking fiberglass hatches, gunwale rod storage with combing boards, stainless steel folding cleats, storage locker with five gallon cast net bucket, console bait well, stainless steel low profile bow and stern handrail, hydraulic steering, rear jump seats, stainless steel blue LED-lighted cup holders, underwater LED lighting, patented rub rail LED navigation lights and a quick-release windshield.
Custom add-ons allow boaters to personalize these vessels to their specific uses and include an AM/FM Bluetooth radio with USB, iPOD, AUX plugs, a flip-up console with step-down changing station and Porta Potty, stainless steel flush-mount rod holders for top gunwale mount, raw water wash down, 6-inch Hydraulic Jackplate (Atlas) system, electric trim tabs, front deck padded swivel seat with base and an electric, flushable head with 9-gallon holding tank. Boaters also have several T-Top options to add more storage and lighting.
Like the entire Carolina Skiff family, the LX lineup is NMMA certified to the highest quality standards in the industry and comes with Carolina Skiff's industry-leading five-year limited warranty.
They are great all-around boats for fishing, cruising, snorkeling or just having fun with the family.
Length: 21', 23', 26'
Beam: 103"
Max HP: 200, 250, 350
Weight: 2,250, 2,450, 3,432 lbs.
Fuel Capacity: 52, 52, 84 gallons
Check out https://www.carolinaskiff.com/ for more information.
Sours: https://coastalanglermag.com/sea-chaser-lx-series-boat-review/
Research 2012 Sea Chaser Boats
iboats review of Sea Chaser: Manufacturer of Sea Chaser Offshore Center Console Boats, Bay Boats and Flats Boats.

Sea Chaser by Carolina Skiff is based in Waycross, Georgia(GA). All the Carolina Skiff brands are known to be quality boats with good value for the price. Offshore center console boats made by Sea Chaser are great fishing boats. The sport fisherman is has many options for the offshore center console from outriggers on the T-Top and stowing areas with seating in the bow with up to a 200 gallon fuel tank.

Sea Chaser bay boats are a great boat with options from fishing to water skiing to diving as well as cruising the waters. Sea Chaser bay makes a great family boat at an affordable price. The options for the Bay boat include a trolling motor plug, a console with Faria gauges and dry storage with a locking option. Sea Chaser after seeing the prices others were charging for their flats boats decided it was time to make a flats boat line that was more affordable. Sea Chaser flats boats only need 7.5 inches of water to move in. With the poling platform and outboard engine for the power options and the fishing platform works great for fishing in all depths of water.

Sea Chaser uses a hand-laminated process to build their boats. The materials are all marine grade and Sea Chaser uses suppliers that can be trusted to provide this type of quality. Sea Chaser uses a foam filled process on the construction of each boat area, the bulhead, the stringers and the enclosed cavities. The fiberglass is laminated by hand and 100 percent composite is used making it no wood for no rot hull. A series of layers are used to provide strength and durability to the boat. The fiberglass layer is put on in several directions for the best hold and strength and then hand rolled to ease out any air. The last stage is the inspection process to make sure the finished boat stands up to the expectations of Sea Chaser and then the Sea Chaser name is put on the boat.
Sours: http://boats.iboats.com/research/sea-chaser-boats/2012/m2159/
New Truck and Boat!! Offshore Center Console!! (2021 Sea Chaser 24 HFC)
Sea Chaser boats for sale
Sea Chaser boats on Boat Trader
Sea Chaser is a boat builder in the marine industry that offers boats for sale spanning different sizes on Boat Trader, with the smallest current boat listed at 18 feet in length, to the longest vessel measuring in at 35 feet, and an average length of 22.73 feet. Boat Trader currently has 66 Sea Chaser boats for sale, including 41 new vessels and 25 used boats listed by both individuals and professional boat dealers mainly in United States. The oldest model listed is a contemporary boat built in 2003 and the newest model year was built in 2022.
How much do Sea Chaser boats cost?
Sea Chaser boats for sale on Boat Trader are listed for a variety of prices, valued from $12,944 on the bargain side of the spectrum all the way up to $246,640 for the most advanced boats. Higher performance models now listed have motors up to 600 horsepower, while more economic more functional models may have as modest as 90 horsepower engines (although the average motor size is 250 HP).
What kind of boats does Sea Chaser build?
Of the boats listed, Sea Chaser offers familiar boat hull types and designs including modified vee, deep vee and other. These vessels are frequently considered ideal for traditional boating endeavors including day cruising, saltwater fishing, freshwater fishing and overnight cruising. The boats available here currently from this builder come with outboard, outboard-4S and outboard-2S propulsion systems, available in gas and other fuel systems.
Why are Sea Chaser boats popular?
Sea Chaser is popular for their Center Console, Bay, Skiff, Flats and other among other classes and models. Overall these available boats have an exceptionally shallow draft and average beam, traits that make them a favorite for day cruising, saltwater fishing, freshwater fishing and overnight cruising.
What is the best Sea Chaser model?
Some of the best-known Sea Chaser models right now include: 24 HFC, 22 HFC, 20 HFC, 27 HFC and 23LX.
Sours: https://www.boattrader.com/boats/make-sea-chaser/
Review sea chaser
Mission
Buying a new boat can sometimes be overwhelming with the number of choices in the decision-making process. What Sea Chaser has done is provide some standard features so the boat comes from the factory water-ready for fishing with the addition of an outboard engine and a few other things. Serious anglers and those wanting to spend more time on protected and coastal waters with family and friends will want to add a number of options.
The name of this boat's game is to keep the base price low so that each consumer can outfit the vessel for a specific purpose, without wasting money on needless equipment and frills. This can make a boat affordable to a greater number of people, and get new owners into boats at an affordable price.
This is a boat mainly designed for coastal and protected water, but on good days she can go offshore if conditions permit. She is primarily a fishing boat, but she can also be used by a small family for traveling in the Intercoastal Waterway and other protected locations for a day's outing on the water.
Hull Step
Major Features
• Stepped hull
• Locking rod storage
• Dual access center console with flip-up face
• Dual flip-up stern bench seats
• LED lighting in cup holders, deck, and underwater
• Easy access bilge compartment hatch
• Dual baitwells
• Pre-wired for trolling motor
• Step up to bow deck
Bow Casting Deck
The deep recess in the bow casting deck gives an angler the feel of standing in the boat, rather than just on it -- very reassuring when fishing in sloppy conditions. The built-in handrails have a dual purpose of a place to hang onto going forward and to help control the boat dockside.
Stern Casting Deck
The stern casting deck is recessed and can be used for additional seating when not in use for fishing.
Center Console
Our test boat was equipped with an upgraded center console that offers maximum access to the interior of the console. The entire face lifts up and is held open with a pair of gas shocks.
In this close-up image, the red arrows show how the curtain is stowed in a net, the green arrows indicate plastic caps over bolts, and the black arrows point out a modest coaming that should keep rain water out of the compartment. Note that the cables and wiring are bundled in a vinyl tube.

Power
The max horsepower rating for the Sea Chaser 23 LX is 250-hp -- but does she need that much muscle? We don't think so, nor did the owner of this boat. Our test boat was powered with a 175 Evinrude E-TEC G2, which has a gear ratio of 2.17:1, a 25" shaft, and was propped with a 15 1/8" diameter by 20" pitch Rebel 3-blade stainless steel propeller. This setup provided plenty of performance and had no issues powering the boat.
Performance Numbers
Top Speed. Our test boat had an estimated test weight of 3,170 lbs. We hit a top speed of 47.5 mph at 5840 rpm. For the mission of this boat, and given its size, we think 47.5 mph is fast enough. Too much seep in a vessel this size and classic calm water is asking for trouble. And if it is rough, conditions will dictate slower speeds that the human body can tolerate.
Best cruise was 32.6 mph with a fuel burn of 4.3 mpg. The boat was on plane in 3.3 seconds.
Ride and Handling
The 23 LX rode surprisingly well across a choppy Biscayne Bay on test day. The hull was solid with no rattles or T-top shutter. The boat responded quickly to the rotation of the steering wheel and the turns were predictable without any slide. We experienced no chine waking or ventilation of the prop in hard over turns. By no means is this boat underpowered with the 175-hp outboard.
Price
$28,551 Boat only
Available Options
• Electric flushable head with 9-gallon holding tank
• 6" hydraulic jackplate
• Electric trim tabs with indicator panel
• Forward deck padded swivel seat with base
• Raw water washdown
• T-top hard shell with LED lights, PFD storage, and electronics box
• Canvas Bimini top
• Flip-up console with changing station and Porta-Potti
• Sound system
Observations
This boat can accommodate a variety of activities on the water. Large open lakes, inshore bays, and even some light offshore duty when conditions permit -- all would be possible. The feel of the boat is slightly larger than many traditional bay boats in the same size range because of the large fore and aft casting decks. The boat carries a USCG capacity rating for 8 people, which is based on a volume formula and not on the number of appropriate seats -- which is 5.
Sours: https://boattest.com/node/74336
Boat Review - Sea Chaser 30 HFC CC
Seachaser T-Tops
2009 Seachaser 210 with a Fishmaster Original Folding T-Top
Love it | "Easy install, very nice product, no boat should be without one"
James Miller Greenville FL
I recommend this product
Seachaser with a Fishmaster Original Folding T-Top
"I just finished installing my new Fishmaster T-top. The quality, the customer service, the instructions, and the packaging are all fantastic. You have to be the best company I have ever dealt with."
Jim Munch
I recommend this product
Seachaser with a Fishmaster Original Folding T-Top
"Very pleased with product and ease of installation."
Ronnie Raffield
I recommend this product
Seachaser with a Fishmaster Original Folding T-Top
Seachaser 17.5 foot with a Fishmaster Original Folding T-Top
"OH MY GOSH!!! What an amazing addition to our 17.5 Sea Chaser! The super fast shipping, quality, easy assembly and installation were well above our expectations. We absolutely love it and have had so many people say how great it looks. Of course we told them where we got it and pointed to the stickers on the side. I took a couple pics of us coming in off the water today. This is definitely one of those things you can't believe you have fished so long without it. Thank you very much for an amazing product!!"
Mark & Sharon Roberts
I recommend this product
Seachaser with a Fishmaster Original Folding T-Top
"This is 1 great T-Top ! Nothing chinsey about the product ! I've seen many tops like this go for much more ! My boat looks great & I got many comps from this top! The mechanic who installed it told me 6 times what a great top for a great price ! Dont second guess this top , its a great deal ! Thanks fishmaster !"
Mike Bongiorno
I recommend this product
Seachaser with a Fishmaster Original Folding T-Top
Seachaser with a Fishmaster Original Folding T-Top
"I am very satisfied with the quality and workmanship of your top. I was 17 miles offshore and in rough seas 4 to 6 with winds 15 plus and had no issues with top. I'm still glad that I chose vertical stand offs. I recommend your top to friends and other anglers."
Gildo Martinez
I recommend this product
Seachaser with a Fishmaster Original Folding T-Top
"Very pleased with product. Thank You."
Dennis Raffield
I recommend this product
Seachaser with a Fishmaster Original Folding T-Top
2011 Seachaser 220BR with a Fishmaster Original Folding T-Top
"I have a 2011 carolina skiff sea chaser 220BR. I live at Lake Oconee in Georgia and cannot use a fixed t top on my boat due to a few low bridges on the lake that a fixed top would not fit under. I looked at the folding top from fishmaster for a few months before I purchased one. I am sure glad that I did. I was surprised by the thickness and the quality of the frame. It was very easy to install and it only took me 4 hours from start to finish. The top is very easy to fold down using the quick release bolts. The top looks great on the boat and it is very functional. I have taken the boat on the lake a couple of times since I installed the top and I have already had several compliments on how good the top looks. Thanks for such a quality product at a reasonable price. I have attached a couple of photos of the finished top installed."
David Dail Lake Oconee Georgia
I recommend this product
Seachaser with a Fishmaster Pro Series Folding T-Top
Sours: https://fishmaster.com/customer-gallery/seachaser-t-tops
Similar news:
Sea Chaser boats for sale
2020 Sea Chaser 23LX The "LX Series" by Carolina Skiff boasts revolutionary performance, style and more standard features at an incredibly affordable price. It's perfect for family, fishing and fun. The LX Series can be used as a general- purpose boat for bays, rivers, lakes and even venture offshore. Constructed using 100% composite materials, a 103" beam and respectable gunwale height, the LX series is a great all around boat. Loaded with standard features like, twin forward locking rod storage boxes, locking fiberglass hatches, gunwale rod storage with combing boards, stainless steel folding cleats, storage locker with five gallon cast net bucket, console bait-well, stainless steel low profile bow and stern handrail, hydraulic steering, rear jump seats, stainless steel blue LED lit cup holders, underwater LED lighting, patented rub rail LED navigation lights, a quick release windshield and a whole lot more. Whether you're fishing, cruising, snorkeling or just out having fun with the family, the LX Series gives you confidence and comfort. But don't take our word for it, give it a try and "LET THE RIDE DECIDE!
Sours: https://www.boats.com/boats-for-sale/?make=sea-chaser
901
902
903
904
905