Greetings Adventurers!
The first GM Note of 2020 is… a Content Update Roadmap of the First Half of 2020!  

Before we delve into the nitty-gritty, we would like to deliver some season's greetings, and wish you a happy New Year. We hope you'll continue to have fun adventures with Black Desert in 2020 as well. (๑•̀ㅂ•́)و✧

Now then, shall we begin? 
---
Next week! The update for the newest class "Guardian" arrives with the upcoming maintenance. 

Watch her video and get a glimpse into Guardian - the merciless protector wrapped in the chill of eternal winter. 

Breaking from the turmoil of forgotten memories in her search of Ynix, the holy flame that can immolate even the gods, Guardian returns as the slayer of the light. At the end of her journey with the Black Spirit, she met the followers of Ynix and overcame the trial of the Holy Flame for her Awakening.

Now holding the Ynix, Guardian wields a massive weapon to slay her enemies as the judicator of the flame.    
First, let's check out a video of Guardian's Awakening! 
Guardian's awakening weapon looks similar to a halberd, also called a polearm, but this weapon holds a unique feature, the holy flame burning in its blade.

Her primary Awakening skills are: "Searing Fang" - smashes the ground to ignite it and charges towards her enemies for an explosion of fire; "God Incinerator" - releases a fiery blaze to incinerate nearby enemies; "Cleansing Flame" - swings Jördun in a massive arc to strike foes; "Infernal Nemesis" - leaps into the air with the power of the Holy Flame to scorch enemies.

So, when will you get to play the Awakening?


Guardian's Awakening update is being prepared for the maintenance on February 5th. We hope you will forward to her upcoming Awakening.

3. New Territory: O'dyllita
Next up is the new territory - O'dyllita. 
▲ Turo's Area
O'dyllita is where the stories of the Black Spirit, Edana the ancient, Elionism, and the children of Slyvia - cornerstones in the lore of Black Desert - will all come to a conclusion.       
The unfolding story will follow the frantic vendetta of the Ahib - who were chased out of Kamasylvia, the secrets behind the once arid land of O'dyllita before the arrival of the Ahib, and the immortal alchemist Caphras. 
▲ The view at Thornwood Castle
The Turo with their rugged bodies and cow-like heads, powerful golems powered by ancient technologies, and the Ahib - consumed with the goal of conquering Kamasylvia and headed down a darker path…
All are a part of the deep and engaging stories in your upcoming journey. 
▲The capital of O'dyllita
▲ Ancient Golem's area
▲ Ancient Golem's area
▲ Inside Thornwood Castle
We are currently working hard to complete the localization of the Kamasylvia Renewal Quests; afterwards, the development of O'dyllita is being accelerated with the goal of releasing the update in the first half of 2020. The Kamasylvia Renewal was well-received by our Korean Adventurers for its story, we believe our global Adventurers will feel the same.
Since December 4th, 2019 - Warrior, Ranger, Valkyrie, Tamer, Musa, Maehwa, Kunoichi, Ninja, Sorceress, Berserker, and Dark Knight - a total of 11 classes have received a Succession update.
▲ Kunoichi and Ninja Succession update
▲ Dark Knight Succession update
For the classes that haven't had Succession yet, we are continuing to develop and work on them internally.

Please be patient for just a bit longer as development is underway with the goal of completing all the Succession updates within the first half of 2020.


We'll be working harder to present you with these updates as soon as possible.
Papua Crinea is an island that is home to the adorable and iconic Papus and Crios. While they may be adorable, these two have been waging a massive and fearsome war in this remote location of the Black Desert world.
Papua Crinea is a place that offers an uniquely different experience from your previous experiences in the world of Black Desert. You will pick a side between the Papus or Crios on Papua Crinea as you accept their quests or you can even transform into a Papu or a Crio and fight monsters. 
However, due to hostile relations between the Papus and Crios, helping the one side will put on bad terms with the other, and vice versa. 
The Papu and Crio you meet on this island are entirely different from the ones you could meet before. This is a place where all interactions - such as dialogues, quests, and knowledge - follow the unique rules of the island.   

We hope you will join us in Papua Crinea where you can experience a thousand year history and a desperate fight for survival once it is updated in the first half of 2020.
And the final content we'd like to introduce is Shai's musical performance.
Let's take a look at a video! 
We can't wait to hear the amazing and stunning music composed by our Adventurers! ♬
Now that you've seen Black Desert's roadmap for the first half of 2020 through this GM Note, which content do you look forward to the most~?  
We will work hard to become a more enjoyable and polished Black Desert in 2020, and hope for your continued support and love. 

Then for one more time!
Have a Happy New Years~♥
Sours: https://www.sea.playblackdesert.com/News/Notice/Detail?boardNo=3327&countryType=en-US


A wiki guardian is a special user who has claimed a wiki that had no previous admin, or the previous admin is no longer with the wiki. A user with this role can be identified by having a special label on the profile page near the username. The role comes with the same default permission set as the normal administrator status but is in general granted at the very early stages of a wiki's existence, or because of a lack of an existing editorial community.
While in general, wiki administrators are no more than registered wiki users, who have been trusted with janitorial responsibilities, wiki guardians are also expected to be proactive in recruiting editors from within the game community, being active on forums, and/or social media. They are in general expected to take more of a leadership role while establishing the wiki than an administrator on a more mature wiki. They are also expected to be active editors, adding game content, and working with the community in establishing the wiki's "style".
If a wiki guardian is inactive on a wiki, the wiki manager assigned to that wiki may decide to remove their permissions. There is no fixed period of inactivity after which wiki guardians are demoted, demotion is at wiki managers' discretion. Should that guardian become active again, their rights can be restored.
In every other way, wiki guardians are the same as administrators. Wiki guardians are encouraged to read the administrators guide.
User rights
Access wiki analytics
Allows access to wiki admin tools, via Special:AdminDashboard
Allows classifying multiple templates at once
Block a user from sending email
Block other users from editing
Bypass IP blocks, auto-blocks and range blocks
Change protection levels and edit cascade-protected pages
Create a theme for your wiki at Special:ThemeDesigner
Create and (de)activate tags
Create new user accounts
Delete achievements
Delete comments on blog articles
Delete pages
Delete pages with large histories
Delete tags from the database
Edit achievements
Edit blog articles
Edit interwiki data
Edit meta style local achievements
Edit other users' CSS files
Edit other users' JSON files
Edit other users' JavaScript files
Edit pages protected as "Allow only autoconfirmed users"
Edit pages protected as "Allow only administrators"
Edit restricted form fields
Edit sitewide CSS
Edit sitewide JSON
Edit sitewide JavaScript
Edit the content model of a page
Edit the user interface
Have one's own edits automatically marked as patrolled
Import pages from a file upload
Import pages from other wikis
Manually award or unaward achievements
Mark others' edits as patrolled
Mark rolled-back edits as bot edits
Mass delete pages
Merge the history of pages
Moderate user profiles
Modify abuse filters
Modify abuse filters with restricted actions
Move blog articles
Move category pages
Move files
Move pages
Move pages with their subpages
Move root user pages
Not be affected by IP-based rate limits
Not be affected by rate limits
Not create redirects from source pages when moving pages
Override files on the shared media repository locally
Override the title or username blacklist
Overwrite existing files
Overwrite existing files uploaded by oneself
Perform administrator tasks on achievements
Protect blog articles
Quickly rollback the edits of the last user who edited a particular page
Restore deleted achievements
Revert all changes by a given abuse filter
Search deleted pages
Toggle comments on blog articles
Unblock oneself
Undelete a page
Upload files
Use higher limits in API queries
User is eligible to earn achievement points (Overrides exempt)
View a list of unwatched pages
View abuse filters
View deleted history entries, without their associated text
View deleted text and changes between deleted revisions
View detailed abuse log entries
View private data in the abuse log
View the abuse log
View title blacklist log
View user wiki points history
⧼right-becp_user⧽
⧼right-canremovemap⧽
⧼right-commentdelete⧽
⧼right-commentedit⧽
⧼right-commentmove⧽
⧼right-curatedcontent⧽
⧼right-deleteinterfacetrusted⧽
⧼right-deleteprofilev3⧽
⧼right-dumpsondemand⧽
⧼right-dumpsondemandrequest⧽
⧼right-editwallarchivedpages⧽
⧼right-flags-administration⧽
⧼right-forum⧽
⧼right-forumoldedit⧽
⧼right-gameguidespreview⧽
⧼right-globalblock⧽
⧼right-places-enable-category-geolocation⧽
⧼right-renameprofilev3⧽
⧼right-reportedcontent⧽
⧼right-search_log⧽
⧼right-specialvideosdelete⧽
⧼right-walladmindelete⧽
⧼right-wallarchive⧽
⧼right-walledit⧽
⧼right-wallmessagemove⧽
⧼right-wallremove⧽
⧼right-wikifeatures⧽
⧼right-wteditimagelist⧽
From non-default extensions
DPL3
Mass deletion of pages using DPL
Mass update of pages using DPL
Translate
Change workflow state of message groups
Edit using the translate interface
Import offline translations
Manage message groups
Mark versions of pages for translation
Review translations
See also
Sours: https://blackdesertonline-archive.fandom.com/wiki/Black_Desert_Online_Wiki:Wiki_guardian
Pearl Abyss has revealed the Black Desert Guardian class, the next playable character coming to the fantasy MMORPG. This news has been circling the web for over a week, but it is worth sharing with you all because it is going under the radar.
Well, it's also worth mentioning the Guardian class because she looks brutal, and there is some speculation that she could be the female counterpart to the Berserker. While the official page reveals some lore, most of it about gods, the black spirit, and how the Guardian is the master of the Holy Flame.
The Black Desert Guardian class is earning some criticism for being "another female class". An understandable point of view considering that of the current 18 classes available, only seven are male. However, this is a common practice in MMORPGs because female classes are in more demand. The Guardian's side-boob and thick thighs are surely going to win her some fans, but the massive axe is also a big selling point.
On a related note, if you're wondering why we're discussing a premium game like Black Desert Online here, there are a few reasons for it. First and foremost, this is a free-to-play game in various territories, although not in North America and Europe; furthermore, there are frequent offers where you get to play the game for a few days and keep it for free forever, so it's not like this one is playing hard to get.
Pearl Abyss hasn't yet revealed when the Guardian class will be available. The Korean studio is working on Crimson Desert, the PvE-focused MMORPG that began development as a prequel to Black Desert. Running on a new proprietary engine, Crimson Desert is a promising MMO where the story seems to be the at the forefront.
Check the new class in all her tattooed glory below.
If you click on a link and sign up for a game we may receive a small commission. Read our affiliate policy.
Sours: https://www.freemmostation.com/news/black-desert-guardian-class-revealed-female-counterpart-berserker/
Should You Main Guardian (2021 Updated) - BDO Console
Pearl Abyss Introduces The Guardian Class Into "Black Desert Online"
Posted on by Gavin Sheehan
|
Pearl Abyss has introduced a brand new class to Black Desert Online as players will now be able to take everyone on as the mighty Guardian. The character will be available on January 22nd with pre-registration being available on December 24th. This is essentially a badass woman fighter with a battleaxe that can wreck everything in its path. Enjoy the info on the character and trailer below before they power their way into Black Desert Online next month.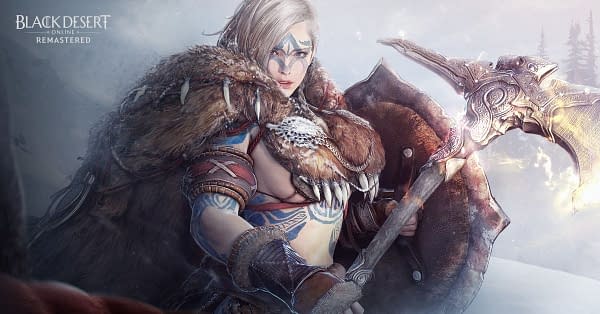 The Guardian is a female combatant from the mountains who follows the will of the ancient dragon Omua. This hardened warrior must wade through the turmoil of her fragmented memories and willingly made a pact with the Black Spirit in search of Ynix, the holy flame that could kill even the gods…

The Guardian wields a battleaxe and shield and uses heavy melee attacks to suppress her enemies. She charges enemies and grabs them by the neck to smash them with her shield as her axe mercilessly hacks away at her foes. She is the bastion of the battlefield and strikes with perfectly calculated blows to fend off all who dare oppose her. The Guardian uses a variety of skills to control the ebb and flow of the battlefield with wide and powerful strikes of her axe and shield.
Posted in: Black Desert Online, Games, Pearl Abyss, Video Games | Tagged: Black Desert, Black Desert Online, Pearl Abyss
Enjoyed this? Please share on social media!
About Gavin Sheehan
Gavin is the current Games Editor for Bleeding Cool. He has been a lifelong geek who can chat with you about comics, television, video games, and even pro wrestling. He can also teach you how to play Star Trek chess, be your Mercy on Overwatch, recommend random cool music, and goes rogue in D&D. He also enjoys hundreds of other geeky things that can't be covered in a single paragraph. Follow @TheGavinSheehan on Facebook, Twitter, Instagram, and Vero, for random pictures and musings.



Sours: https://bleedingcool.com/games/pearl-abyss-introduces-the-guardian-class-into-black-desert-online/
Guardian lore bdo
.
(Xbox One) Black Desert Online DARK KNIGHT LORE!!!
.
You will also be interested:
.
942
943
944
945
946