Switchplates you're sure to love!!

Delightful decorative switchplates, all handmade in the USA, are what you will find here at Switchplate Gallery. We have compiled an extensive collection of beautiful, tasteful designs for light switch plates that blend perfectly with your decor. Hundreds of designs by America's favorite artists have been used to turn ordinary switch plates into charming works of art. Whatever your decorating theme--tropical or beach, wine or Parisian, wildlife or horses, music or golf--contemporary, traditional, country, southwestern or eclectic-- we have switchplates that will ultimately be your favorite decorating tool. A very small item, with a very big impact!!



Decorative light switch plate covers are great for housewarming gifts and also a clever gift for collectors. Know anyone into Coca Cola, lighthouses, fishing, fashion, elephants, Santas, snowmen, trains or vintage cars? They'd love a light switch to match! We have lots of designs for cat lovers, golf nuts, and kids, too!

You can get decorative light switch plates in larger sizes with four switches - commonly called QUADS. We even make both five gang and six gang switches (six gang Special Order only). Of course we have regular triples and doubles, or just a little single switch! If you need a switch and a plug together, we have those - and those wide switches called decora switches, rockers, or GFI's. You can see the many sizes of switchplates available by using the Size Chart tab above. If you don't see what you need there then see our Special Order size chart where you will see many more weird sizes such as blanks, switches with blank, plugs with blank, etc, or call 800 497 6946 during our regular business hours of 9AM-5PM (EST). We would love to help you get the size you need in a design that you'll love!!

Light switchplates are little things that can be a lot of fun... when you get them from Switchplate Gallery!

Links/Resources
WHAT OUR CUSTOMERS ARE SAYING!
So, here's my story, and I'm stickin' to it:
When I bought my house here in Clovis Ca (it is right next to Fresno), I was excited to make it my own. I paid attention to detail, down to the knobs and switch plates and all of the other fun fiddledee-bits.
One of the funnest things was finding your website and buying stuff. Every now and then I'll find antother switchplate I forgot about, and get a new switchplate. Luckily, it is a two-story house, so I can buy more of them! I follow a budget, otherwise I would buy enough to change for every holiday.
After years of wear, they're still beautiful. The quality is supberb. One of the things I was very impressed about, was that you didn't feel you had to use the unnessasary screws in the plates. The plates are very secure, never get loose, and most of all, they don't mess with the continuity of the design.
AND your customer service is g-r-e-a-t! Every time I've ordered the wrong configuration of plate, you used your psychic abilities and knew to check with me. Yup, you've always been right, and I always feel that you're communications are personalized and friendly.
Thanks ever so much,
Tani C

------------------------------------------
We're from RI. We went to the BigE and I fell in love with your switchplates. We did an entire wine theme in our kitchen with your wine switchplates. It looks fabulous. It makes the entire kitchen so unique. Thank you very much.
Janet

------------------------------------------
Love your products, especially the invisible screws. When my handy man/painter decided to remove the switchplates in order to do a better painting job, he managed his screwdriver to "slip" and dig into the paint, resulting in an awful blob drawing attention to the screws instead of permitting them to remain invisible. Would love to sue him for the damage he caused. Yes, not just one switchplate, but throughout my house. Warn your customers to beware any painters - remove the switchplates yourself!

And, I have to tell you that I have noticed this and I absolutely love the fact that you take the time to do this. I have probably more that 15 of your switchplates all around my house, and I will not stop until every plate is redone! Keep them coming!
You guys are so awesome. I enjoyed working with you on my purchases, and so many great comments on my switchplates...people are just amazed, it's so fun! Keep up the great work and many thanks!
Paula

------------------------------------------
I received my switchplates - both were grape varietal switchplates - & can only say that the photos on-line do not do these switchplates justice. I was very pleased with how beautiful they are & the detail - down to the screws so as to not ruin the painting of the grapes - was something I did not expect.
I've had them up on my light switches a few days & already guests visiting my home have commented on how nice they look.
Thank you.
Maria-E

------------------------------------------

Hi Janet, your company has I believe, 7 of my images. There are 2 in the folkart category, a red saltbox house and another with 3 houses, and some hills. There is also one in the kitchen category, it has lemons in a black basket, and "olio di oliva" in the background. I haven't found the others, but maybe they were not produced yet. I just wanted to let you all know that you have a really great product, and the way the screws disappear, is fantastic!
Thanks for getting back to me, and thanks again for the interest in my work. Have a wonderful week!
Best regards!
Anne T
------------------------------------------
Hi Janet,
I just wanted to first, thank you for your quick response. I received my order and I couldn't be happier. You guys have a great product and great customer service. So again, thank you so much!!
Now, as soon as I finish painting the rest of the house, I'm picking out more items to order from you. This is one of those good customer experiences that the recipient tends to blab to all his friends about and I promise to spread the word.
Have a great day!
Jason W

------------------------------------------

Received my new switchplates and receptical covers yesterday and I certainly do like them!!!! You do a beautiful job! I always like to have switchplates and the receptical covers to match in all the rooms of the house and we recently re-did our living room, dining room and entry. Had covers for the entry but not the living and dining rooms and Ihad no luck looking locally. I then resorted to ordering on line and what a terrific selection your company offers!
Thank you so much and have a blessed day.
Jeanette L

------------------------------------------

Hi Janet,
I just wanted to let you know we received the wine theme switch plate covers and they are fabulous! They look very professional and are a lovely added touch to our newly remodeled family room and wine tasting area and wine cellar.
Thanks,
Jennie.
Sours: https://www.switchplategallery.com/
As an often-neglected finishing touch to a room, the humble light-switch cover deserves more than a little attention. Here are several simple, high-quality options. While we show single- and double-switch models, all of these are available with the appropriate openings for outlets, dimmers, and so on.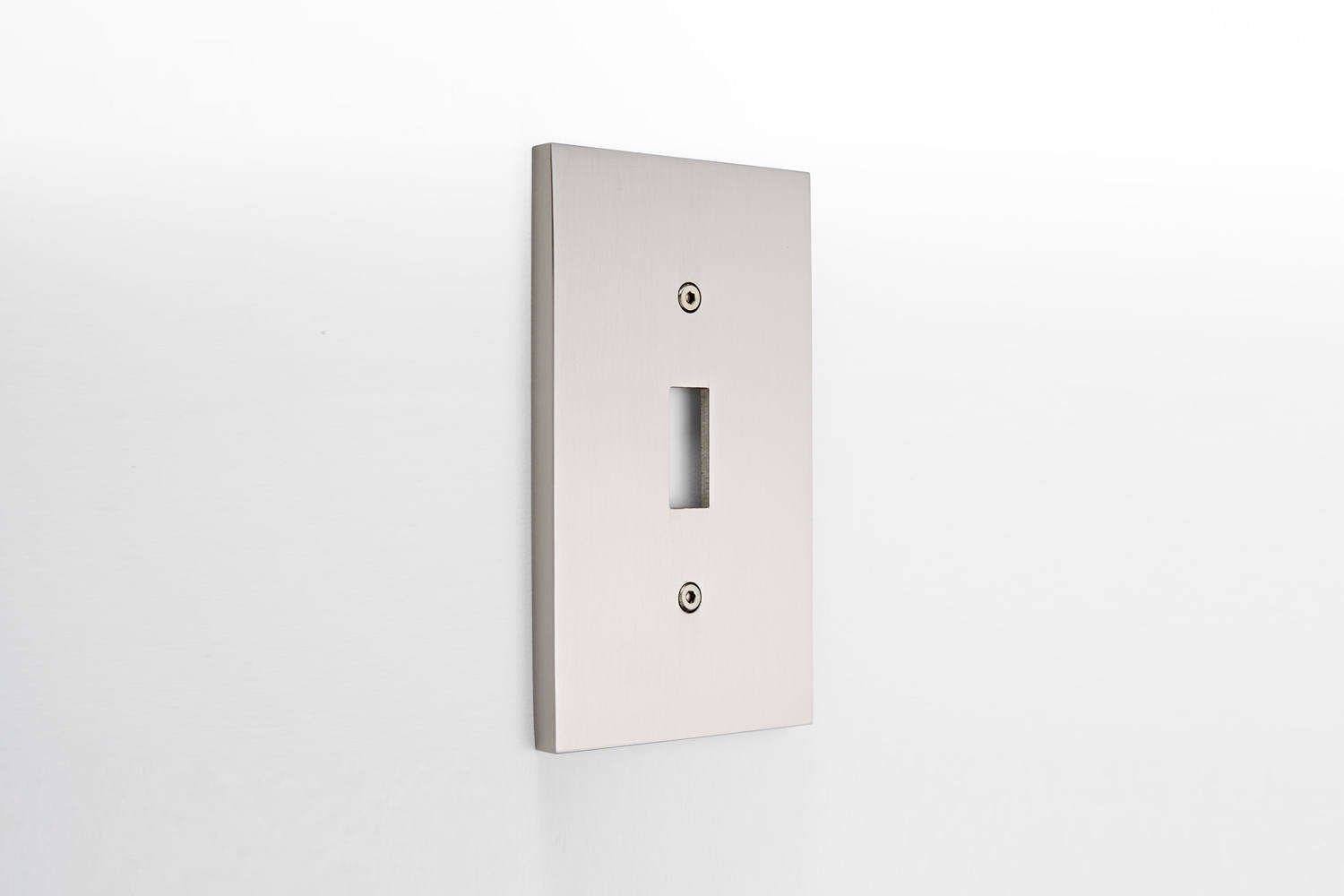 For more electrical hardware see our posts:
Sours: https://www.remodelista.com/posts/10-easy-pieces-switch-plate-covers/
Colonial
Switch Plates & Outlet Covers
We at House of Antique Hardware remain open to receive and ship orders. Our Customer Service team is available to answer any questions you may have.
Due to state shelter-in-place regulations, you may experience delays in the shipping of your order.
For items with delayed shipping, an email will be sent notifying you of a delay and the estimated shipping date on the specific products affected.
If a delay notice is received and the estimated ship date is acceptable, there is no action needed.
If you would like to modify or need support for your order, please call (888) 223-2545 or
email us at:
[email protected]
houseofantiquehardware.com
As we navigate this unprecedented situation, we continue our goal of providing an exceptional customer experience. If you have any questions or concerns, do not hesitate to contact our customer service team.
House of Antique Hardware is following local, state, and federal guidelines to ensure the safety of our employees and customers.
Sours: https://www.houseofantiquehardware.com/colonial-style-switch-plates
DIY: CUSTOMIZED SWITCH PLATE COVERS (using a greeting card!)
The 6 Best Switch Plate Covers of 2021
Final Verdict
Overall, we recommend the Hampton Bay Ascher Steel Wall Plate (view at Home Depot), which is made of durable stamped steel, comes in three styles and finishes, and budget-friendly. For something even more affordable, we recommend the Leviton Nylon Wall Plate (view at Home Depot), which is easy to install and maintain, comes in four finishes, and costs under $1 each.
Size
Switch plates come in a few different sizes. Smaller options tend to be about 3.1 x 4.8 inches, whereas larger ones may be 3.5 x 5.25 inches. These increments may seem tiny. But when you're framing something as small as a light switch, fractions like these can make a big difference. Consider the size of the space you need to cover and make sure the switch plates you buy will cover it appropriately.
Shape
Switch plates are typically designed to accommodate between 1 to 4 toggle light switches, between 1 to 4 rocker light switches or some combination of the two. Odds are, your light switches are already installed. So just look at the spaces you need to cover and make sure to stock up on switch plates that properly accommodate them.
Material
Switch plates can be crafted from plastic, metal, ceramics, and more. These materials come with their own upsides and downsides—with some being more durable and others being budget-friendlier. Weigh considerations like cost and durability as you shop, and stock up on a set that meets your unique needs.
Style
Your switch plates can be as subtle or as statement-making as you want them to be. If you're looking for a set of simple switch plates that will simply get the job done, you can easily find it. But if you're willing to spend a little more time (and often, money) shopping, you can also find a set that complements the rest of the decor in your home.
As a seasoned lifestyle writer, Lindsey Lanquist understands what a difference a great product recommendation can make. That's why she makes sure to recommend products that are sleek, reliable, and well-reviewed by those who've tried them.
Sours: https://www.thespruce.com/best-switch-plate-covers-4160843
Covers switch plate
.
DIY: CUSTOMIZED SWITCH PLATE COVERS (using a greeting card!)
.
You will also be interested:
.
957
958
959
960
961