Set up disaster recovery to Azure for on-premises VMware VMs - Classic
This article describes how to enable replication for on-premises VMware VMs, for disaster recovery to Azure using the Azure Site Recovery service - Classic.
For information about disaster recovery in Azure Site Recovery Preview, see this article
This is the third tutorial in a series that shows you how to set up disaster recovery to Azure for on-premises VMware VMs. In the previous tutorial, we prepared the on-premises VMware environment for disaster recovery to Azure.
In this tutorial, you learn how to:
Set up the source replication settings, and an on-premises Site Recovery configuration server.
Set up the replication target settings.
Create a replication policy.
Enable replication for a VMware VM.
Note
Tutorials show you the simplest deployment path for a scenario. They use default options where possible, and don't show all possible settings and paths. For detailed instructions, review the article in the How To section of the Site Recovery Table of Contents.
Before you start
Complete the previous tutorials:
Make sure you've set up Azure for on-premises VMware disaster recovery to Azure.
Follow these steps to prepare your on-premises VMware deployment for disaster recovery to Azure.
In this tutorial we show you how to replicate a single VM. If you're deploying multiple VMware VMs you should use the Deployment Planner Tool. Learn more about this tool.
This tutorial uses a number of options you might want to do differently:

The tutorial uses an OVA template to create the configuration server VMware VM. If you can't do this for some reason, follow these instructions to set up the configuration server manually.
In this tutorial, Site Recovery automatically downloads and installs MySQL to the configuration server. If you prefer, you can set it up manually instead. Learn more.
Select a protection goal
In Recovery Services vaults, select the vault name. We're using ContosoVMVault for this scenario.
In Getting Started, select Site Recovery. Then select Prepare Infrastructure.
In Protection goal > Where are your machines located, select On-premises.
In Where do you want to replicate your machines, select To Azure.
In Are your machines virtualized, select Yes, with VMware vSphere Hypervisor. Then select OK.
Set up the source environment
In your source environment, you need a single, highly available, on-premises machine to host these on-premises Site Recovery components:
Configuration server: The configuration server coordinates communications between on-premises and Azure, and manages data replication.
Process server: The process server acts as a replication gateway. It receives replication data; optimizes it with caching, compression, and encryption, and sends it to a cache storage account in Azure. The process server also installs the Mobility Service agent on VMs you want to replicate, and performs automatic discovery of on-premises VMware VMs.
Master target server: The master target server handles replication data during failback from Azure.
All of these components are installed together on the single on-premises machines that's known as the configuration server. By default, for VMware disaster recovery, we set up the configuration server as a highly available VMware VM. To do this, you download a prepared Open Virtualization Application (OVA) template, and import the template into VMware to create the VM.
The latest version of the configuration server is available in the portal. You can also download it directly from the Microsoft Download Center.
If for some reason you can't use an OVA template to set up a VM, follow these instructions to set up the configuration server manually.
The license provided with OVF template is an evaluation license valid for 180 days. Windows running on the VM must be activated with the required license.
Download the VM template
In the vault, go to Prepare Infrastructure > Source.
In Prepare source, select +Configuration server.
In Add Server, check that Configuration server for VMware appears in Server type.
Download the OVA template for the configuration server.
Import the template in VMware
Sign in to the VMware vCenter server or vSphere ESXi host with the VMware vSphere Client.

On the File menu, select Deploy OVF Template to start the Deploy OVF Template Wizard.

On Select source, enter the location of the downloaded OVF.

On Review details, select Next.

On Select name and folder and Select configuration, accept the default settings.

On Select storage, for best performance select Thick Provision Eager Zeroed in Select virtual disk format.

On the rest of the wizard pages, accept the default settings.

On Ready to complete, to set up the VM with the default settings, select Power on after deployment > Finish.

Tip

If you want to add an additional NIC, clear Power on after deployment > Finish. By default, the template contains a single NIC. You can add additional NICs after deployment.
Add an additional adapter
If you want to add an additional NIC to the configuration server, add it before you register the server in the vault. Adding additional adapters isn't supported after registration.
In the vSphere Client inventory, right-click the VM and select Edit Settings.
In Hardware, select Add > Ethernet Adapter. Then select Next.
Select an adapter type and a network.
To connect the virtual NIC when the VM is turned on, select Connect at power on. Select Next > Finish. Then select OK.
Register the configuration server
After the configuration server is set up, you register it in the vault.
From the VMware vSphere Client console, turn on the VM.
The VM boots up into a Windows Server 2016 installation experience. Accept the license agreement, and enter an administrator password.
After the installation finishes, sign in to the VM as the administrator.
The first time you sign in, the Azure Site Recovery Configuration Tool starts within a few seconds.
Enter a name that's used to register the configuration server with Site Recovery. Then select Next.
The tool checks that the VM can connect to Azure. After the connection is established, select Sign in to sign in to your Azure subscription. The credentials must have access to the vault in which you want to register the configuration server. Ensure that necessary roles are assigned to this user.
The tool performs some configuration tasks and then reboots.
Sign in to the machine again. In a few seconds, the Configuration Server Management Wizard starts automatically.
Configure settings and add the VMware server
Finish setting up and registering the configuration server. Before proceeding, ensure all pre-requisites are met for successful set up of configuration server.
In the configuration server management wizard, select Setup connectivity. From the dropdowns, first select the NIC that the in-built process server uses for discovery and push installation of mobility service on source machines, and then select the NIC that Configuration Server uses for connectivity with Azure. Then select Save. You cannot change this setting after it's configured.
In Select Recovery Services vault, select your Azure subscription and the relevant resource group and vault.
In Install third-party software, accept the license agreement. Select Download and Install to install MySQL Server. If you placed MySQL in the path, this step can be skipped. Learn more
In Validate appliance configuration, prerequisites are verified before you continue.
In Configure vCenter Server/vSphere ESXi server, enter the FQDN or IP address of the vCenter server, or vSphere host, where the VMs you want to replicate are located. Enter the port on which the server is listening. Enter a friendly name to be used for the VMware server in the vault.
Enter user credentials to be used by the configuration server to connect to the VMware server. Ensure that the user name and password are correct and is a part of the Administrators group of the virtual machine to be protected. Site Recovery uses these credentials to automatically discover VMware VMs that are available for replication. Select Add, and then select Continue.
In Configure virtual machine credentials, enter the user name and password that will be used to automatically install Mobility Service on VMs when replication is enabled.

For Windows machines, the account needs local administrator privileges on the machines you want to replicate.
For Linux, provide details for the root account.

Select Finalize configuration to complete registration.
After registration finishes, open the Azure portal and verify that the configuration server and VMware server are listed on Recovery Services Vault > Manage > Site Recovery Infrastructure > Configuration Servers.
After the configuration server is registered, Site Recovery connects to VMware servers by using the specified settings, and discovers VMs.
Note
It can take 15 minutes or more for the account name to appear in the portal. To update immediately, select Configuration Servers > server name > Refresh Server.
Set up the target environment
Select and verify target resources.
Select Prepare infrastructure > Target. Select the Azure subscription you want to use. We're using a Resource Manager model.

Site Recovery checks that you have one or more virtual networks. You should have these when you set up the Azure components in the first tutorial in this tutorial series.
Create a replication policy
Open the Azure portal. Search for and select Recovery Services vaults.

Select the Recovery Services vault (ContosoVMVault in this tutorial).

To create a replication policy, select Site Recovery infrastructure > Replication Policies > +Replication Policy.

In Create replication policy, enter the policy name. We're using VMwareRepPolicy.

In RPO threshold, use the default of 60 minutes. This value defines how often recovery points are created. An alert is generated if continuous replication exceeds this limit.

In Recovery point retention, specify how longer each recovery point is retained. For this tutorial we're using 72 hours. Replicated VMs can be recovered to any point in a retention window.

In App-consistent snapshot frequency, specify how often app-consistent snapshots are created. We're using the default of 60 minutes. Select OK to create the policy.
The policy is automatically associated with the configuration server.
A matching policy is automatically created for failback by default. For example, if the replication policy is rep-policy, then the failback policy is rep-policy-failback. This policy isn't used until you initiate a failback from Azure.
Note: In VMware-to-Azure scenario the crash-consistent snapshot is taken at 5 min interval.
Enable replication
Enable replication for VMs as follows:
Select Replicate application > Source.
In Source, select On-premises, and select the configuration server in Source location.
In Machine type, select Virtual Machines.
In vCenter/vSphere Hypervisor, select the vSphere host, or vCenter server that manages the host.
Select the process server (installed by default on the configuration server VM). Then select OK. Health status of each process server is indicated as per recommended limits and other parameters. Choose a healthy process server. A critical process server cannot be chosen. You can either troubleshoot and resolve the errors or set up a scale-out process server.
In Target, select the subscription and the resource group in which you want to create the failed-over VMs. We're using the Resource Manager deployment model.
Select the Azure network and subnet to which Azure VMs connect when they're created after failover.
Select Configure now for selected machines to apply the network setting to all VMs on which you enable replication. Select Configure later to select the Azure network per machine.
In Virtual Machines > Select virtual machines, select each machine you want to replicate. You can only select machines for which replication can be enabled. Then select OK. If you are not able to view/select any particular virtual machine, learn more about resolving the issue.
In Properties > Configure properties, select the account to be used by the process server to automatically install Mobility Service on the machine.
In Replication settings > Configure replication settings, verify that the correct replication policy is selected.
Select Enable Replication. Site Recovery installs the Mobility Service when replication is enabled for a VM.
You can track progress of the Enable Protection job in Settings > Jobs > Site Recovery Jobs. After the Finalize Protection job runs and a recovery point generation is complete, the machine is ready for failover.
It can take 15 minutes or longer for changes to take effect and appear in the portal.
To monitor VMs you add, check the last discovered time for VMs in Configuration Servers > Last Contact At. To add VMs without waiting for the scheduled discovery, highlight the configuration server (don't select it) and select Refresh.
Next steps
After enabling replication, run a drill to make sure everything's working as expected.
Feedback
View all page feedback
Sours: https://docs.microsoft.com/en-us/azure/site-recovery/vmware-azure-tutorial
No compromise private cloud solutions
VMvault provides specialist cloud services to customers from a wide range of industries. We combine state of the art technologies and equipment to provide a secure, reliable and robust platform which enables us to meet the magic 5 nines of uptime – 99.999%. Our clients range from small businesses with 10 staff, right to up to large multinational corporations and government departments.
VMvault has the capability to host almost anything in the cloud, with the knowledge and experience to do this efficiently and cost effectively.

Top of the line equipment and data centres, built in redundancy
VMvault exclusively uses top of the line HP servers and EMC SANs for all VMware servers, and high performance Cisco Catalyst switches, routers and firewalls for all network connectivity. All server, SAN and network components are configured with redundancy, ensuring maximum uptime even in the event of equipment failure. The combination of these superior components, combined with VMware's VMotion, HA (High Availability) and DRS (Distributed Resource Scheduler) allows VMvault to offer 99.999% uptime to all virtual machines housed in our facilites.
Sours: http://www.vmvault.com.au/
VMware backup solutions
Commvault's data management platform makes it easy to protect and manage your entire VMware infrastructure. From a single, intuitive interface, Commvault offers intelligent data management capabilities including backup, recovery, disaster recovery, easy migration and cloud-optimized data mobility.
Get started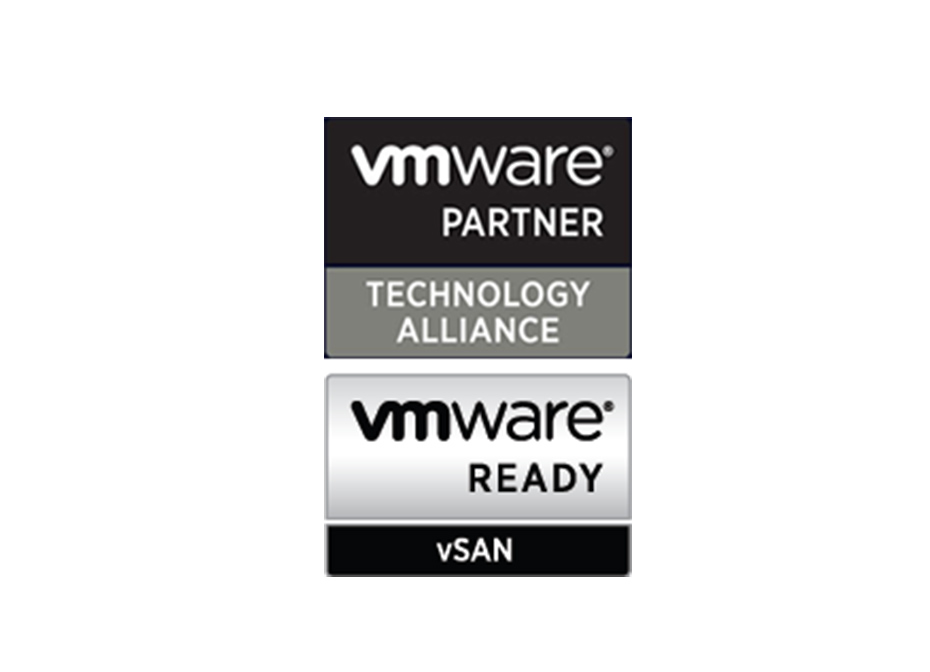 A simplified approach to managing and protecting your VMware environment
Our intuitive, web-based console provides an interface that makes it easy to identify, monitor, and manage your virtualized environment from any location or device. An at-a-glance dashboard allows you to quickly perform everyday tasks like reporting, backup and recovery with a few clicks.
Leverage service-level agreement (SLA)-based plans to easily provide protection that fits your business SLAs for VMs — reducing costs and streamlining operations. Our management console can also simplify administration and increase user satisfaction by giving your administrators and end users role-based, self-service access to VM recovery.
Comprehensive support for VMware
VMware offers enterprise-proven features. These include software-defined storage with vSAN and external storage solutions using Virtual Volumes (vVOLs), NFS and VMFS. Move your virtual machines easily and confidently within your data center or extend to the cloud using VMC on AWS.
Commvault integrates with VMware solutions, whether in on-premises infrastructure or in the cloud. Our platform provides extensive integration with VMware, with comprehensive capabilities including:
Certified on and full support of vSphere 7
Agentless guest protection
Application-aware protection
vSphere tags and custom attributes
vSAN Support
vSphere APIs for I/O Filtering (VAIO)
vRealize Automation and vRealize Orchestrator Plugins
Support for VMware Cloud Director
Support for VMware Cloud Director Plug-in
Backup and restore using vStorage APIs for Data Protection (VADP)
Changed block tracking (CBT)
Restore full VMs, VMDKs, guest files, and folders
Support for vSphere with Tanzu (Kubernetes)
Support for VMware Cloud on Amazon Web Services
Support for VMware Cloud on AWS Outposts
Support for VMware Cloud on Dell/EMC
Get more details
Quickly and easily migrate on-premises VMware virtual machines into Microsoft Azure using the Commvault Command Center™ – a simple yet powerful tool that can help you quickly and effectively manage your cloud migrations.
Simplified and scalable data protection powered by Commvault virtual server agent
The Commvault Virtual Server Agent for VMware allows you to easily protect and recover virtual machines and data without agents on each virtual machine. The VSA provides an agentless data management solution that provides a powerful and simple-to-manage platform to protect you VMware environment. With Commvault VSA, you benefit from:
Service level-based data management and protection plans
Agentless protection with automatic, application-aware plugins
Native integration with both public and private clouds
Disaster recovery powered by Live Sync replication to meet business requirements
VM conversions and migrations across hypervisors
Policy-based provisioning, power-down, and archiving
VMware Backup Solutions
To protect your VMware environment you need the ability to quickly protect and recover your virtual machines. Commvault VMware backup solutions leverages hardware array snapshots to reduce your backup and restore windows to just minutes. Commvault's industry-leading snapshot management framework (create, maintain, delete) lets you easily move your data from snapshot to disk, tape, or the cloud.
Enterprise proven data management capabilities for VMware
The Commvault data platform provides a single, robust VMware backup solution. Why settle for multiple point solutions for backup and recovery, disaster recovery, and test/development when you can deploy the Commvault Data Platform to provide these capabilities in a single solution? With Commvault, you can:
Reduce traditional disaster recovery costs by using a single toolset
Orchestrate migrations, conversions and recoveries of virtual machines to the cloud
Align your VM disaster recovery RPOs to your specific business requirements
Automate complex manual application recoveries beyond the virtual machine and operating system by using customized workflows
Enable stress-free, push-button disaster recovery testing for both planned and unplanned virtual machine failover and failback
Accelerate digital transformation with Hedvig
Cloud-based storage offers the flexibility the new hybrid world requires. The Hedvig Distributed Storage Platform provides a modern private cloud experience through a software-defined storage solution that is designed for the hybrid world.
The Hedvig Distributed Storage Platform spans across workloads, clouds, and tiers, making it easy for your organization to create and scale your private cloud solutions. Dynamically add capacity and performance as you grow without the disruptive downtime of traditional siloed offerings. Benefits of the Private Cloud
Automatically and dynamically provision storage assets using only software on standard x86 servers. Multi-protocol needs? No Problem. A unified, multi-protocol software platform that collapses SAN, NAS, and object infrastructure makes the next generation private cloud a reality.
Extend the life of storage assets by 52%
Reduce storage costs by 49%
Automate and simplify storage management by 45%
Key features of Hedvig private cloud storage
Works with any storage workload, OS, or hypervisor
Uniquely supports SDS file, block, and object storage
Offers natively built database replication
Enables GDPR compliant storage management
Hedvig infrastructure as a service
Storage provisioning and management is a significant bottleneck for 58% of enterprise cloud deployments. Using Hedvig IaaS, you can consume storage on demand and provision it as you need it.
Our IaaS:
Provides web-scale infrastructure using commodity hardware
Simplifies your organization's infrastructure through a single pane of glass
Requires fewer resources to maintain infrastructure
Reduces storage infrastructure costs by up to 60%
Leverage the full capabilities of VMware with Commvault data protection and management today.
Chat now
Sours: https://www.commvault.com/supported-technologies/vmware
Install AT\u0026T AlienVault OSSIM in VMWare Workstation
.
Vault vmware
.
How do client applications authenticate themselves against Vault?
.
Now discussing:
.
972
973
974
975
976